Basic Approach and Systems for Sustainability Management
Basic Approach: Grow the Business by Providing New Value That Helps Build a Sustainable Society
Konica Minolta has prospered together with society by continuing to provide the new value required in each era, living up to its philosophy, "The Creation of New Value." Helping to build a sustainable society also promotes corporate sustainability. If greater social unrest is triggered by the destruction of the global environment, it will also impact economies and financial systems worldwide. However, by working to solve global environmental and social problems, Konica Minolta can minimize future risks while creating opportunities for growth.
Konica Minolta's management vision is "Imaging to the People." It states the company's determination to be a robust, innovative company, continually evolving and contributing to the sustainable growth of society and individuals. Konica Minolta will continue to take on the challenge of innovation — and co-innovation with customers — that can promote both the growth of its business and the creation of new value for the global environment and all of human society.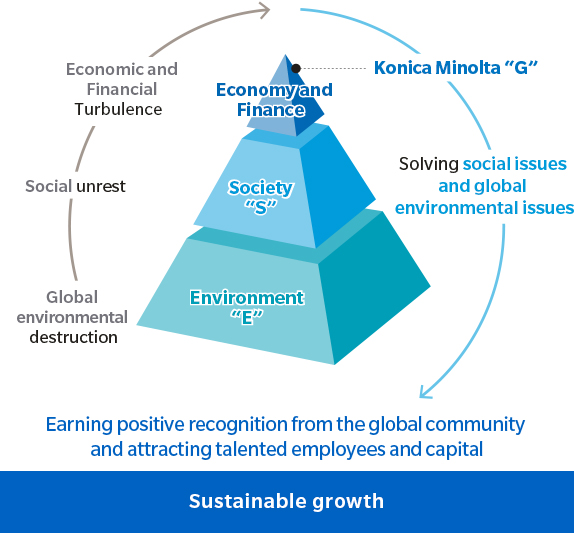 Enhancing Corporate Value for Sustainable Growth
For a company to grow sustainably, it must continually provide new value for human society as well as achieve business growth. To further its own evolution, Konica Minolta is determined to generate innovation to help solve social and environmental issues. By linking this effort to financial performance, Konica Minolta seeks to enhance its corporate value and achieve sustainable growth.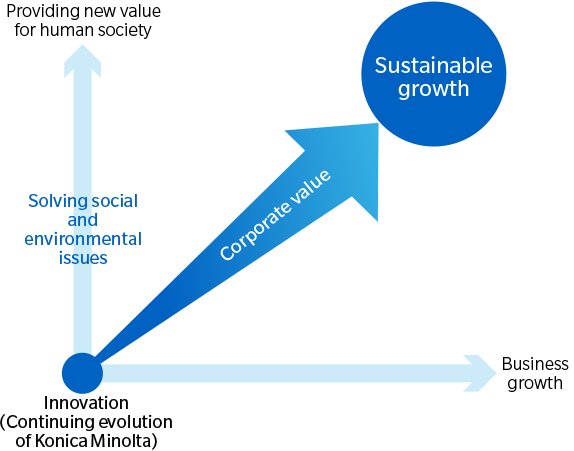 Konica Minolta Group Charter of Corporate Behavior
Konica Minolta's efforts to achieve sustainability are based on the Konica Minolta Group Charter of Corporate Behavior and its basic approach to sustainability management. The Konica Minolta Group Guidance for the Charter of Corporate Behavior is shared globally and illustrates desirable behavior in each of the categories included in the Charter as a basis for understanding and practicing desired behavior.
Respect for International Best Practices
The Konica Minolta Group respects and follows widely adopted international social responsibility initiatives, including the Global Compact initiated by the United Nations.
Sustainability-Related Principles, Charters, and Norms That Konica Minolta Observes
Universal Declaration of Human Rights
Sustainable Development Goals (SDGs)
United Nations Guiding Principles on Business and Human Rights
OECD Guidelines for Multinational Enterprises
ISO26000
Japan Business Federation (Nippon Keidanren) Charter of Corporate Behavior
■Support for the Japan Business Federation Charter of Corporate Behavior
Konica Minolta, Inc., is a member of the Japan Business Federation (Nippon Keidanren) and respects its Charter of Corporate Behavior.
Sustainability-Related Organizations in Which Konica Minolta Participates or Is a Signatory
United Nations Global Compact
Sustainability Management System
At Konica Minolta Inc., the President and CEO, who is a member of the Board of Directors, is tasked with the ultimate responsibility and authority for overall sustainability management and is also responsible for the effectiveness of the company's sustainability management. The actual sustainability management activities for the entire Group are executed by each Group executive for corporate sustainability, under the President. Each Group executive for corporate sustainability creates a medium-term plan for sustainability, which is approved by the Board of Directors as a management plan for the entire Group. Each Group executive for corporate sustainability then reports to the President and the Audit Committee established in the Board of Directors on progress made on and issues in sustainability management.
Each Group executive also reports annually on sustainability progress under the medium-term management plan DX2022 (FY2020-FY2022) during Board of Directors meetings, and obtains advice and opinions.
The company established a Committee as an organization that promotes the Group's medium-term sustainability plan. The major divisions which promote corporate sustainability serve as the secretariat of the Committee, whose members are persons responsible for promotion appointed by the heads of the business divisions, corporate planning and management divisions (planning, IR, HR and others), and R&D divisions. The Committee discusses the medium-term sustainability plan and the annual plan, checks the quarterly progress, and reviews the Group's sustainability issues.
Since fiscal 2017, the company has been promoting sustainability as part of its management activities by including non-financial indicators such as ESG in the performance evaluation items of executive officers.
Click image to enlarge