Environmentally Sound Products

Environmental Soundness Check
Promoting Environmentally Sound Designs from a Comprehensive Viewpoint
Konica Minolta manufactures products under its Design for Environment approach, taking into account various environmental aspects of our products, including global warming prevention, product recycling and hazardous emissions elimination. We assess the environmental impact at each stage in a product's lifecycle, from raw material / part procurement to manufacture, transportation / sale, use, reuse / recycling and disposal. We have established assessment criteria that enable us to take appropriate measures from a comprehensive viewpoint. During the new product planning phase, numerical targets are set for environmental goals regarding items of standard product assessment. During the prototype phase, we check whether the targets are being met. Then we do a final assessment before production, to ensure that only products meeting the targets reach the market.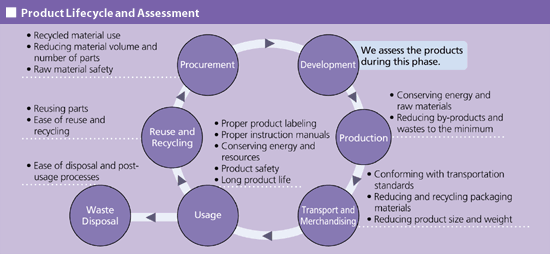 Global Promotion of Green Procurement
To ensure that products are environmentally sound, it is necessary to check the environmental impact of the raw materials and parts that go into those products. This is why the Konica Minolta Group promotes its Green Procurement policy globally. To our raw materials and parts procurement assessment criteria (quality, cost and delivery) we have added environmental factors to ensure emphasis on materials and parts with less environmental impact. We have also augmented our Green Procurement criteria with substance assessment, whereby we evaluate substances contained in raw materials and parts to be procured, both inside and outside Japan. We also use corporate assessment surveys to evaluate our suppliers in terms of their environmental management systems. These survey data are saved in an information database and shared throughout the Group.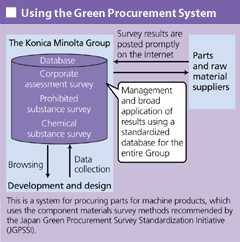 Prevention of Global Warming
Devising Appropriate Measures for Curbing CO2 Emissions in Accordance with Product Characteristics
We have introduced the Lifecycle Assessment (LCA) method, and collect and check data on CO2 emissions throughout the lifecycle of a wide range of products. To effectively reduce CO2 emissions, on the basis of our assessment results we take measures tailored to each product's characteristics, e.g., products with higher emission rates during the production stage, or with higher rates when in use.
Energy Efficiency Improvement of Digital Multifunctional Peripherals (MFPs)
Each time we redesign MFPs, which combine printer / copier / scanner / fax functions, we strive to realize even greater power conservation.
In fiscal 2005, Konica Minolta first introduced induction heating (IH) fuser technology, which improves energy efficiency by electromagnetically heating the fuser roller. In applying this technology, the Company released a digital MFP "bizhub600 / 750" in September 2005. This product requires less warm-up time and substantially cuts energy consumption; it features a small-diameter fuser roller with small heat capacity, and a polymerized toner (digital toner) that fuses at lower temperature than conventional toners.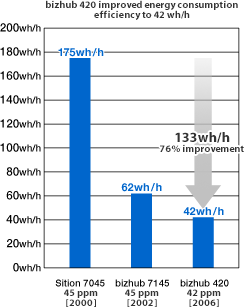 In March 2006, Konica Minolta released bizhub420, which boasts top-level energy-saving performance in the medium output-speed category. The bizhub420 model uses 76% less energy than its predecessor, released in 2000.
Regarding materials production, the development of polymerized toner (Digital Toner) has enabled us to reduce CO2 emissions during toner production by more than 30%, as compared to conventional pulverized toner production.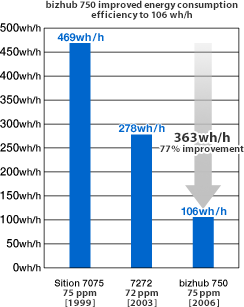 Resource Conservation through Design
Resource Conservation by Minimizing Product Size and Weight or Reducing Film Thickness
Designing products so as to use less raw materials greatly helps reduce raw material and energy consumption during production, as well as environmental impact upon product disposal. In keeping with our efforts to design environmentally sound products, Konica Minolta is committed to achieving ever more resource-saving designs.
Reducing Thickness of TAC Film for Liquid Crystal Displays
Further advancing our resource-saving efforts, Konica Minolta Opto, Inc. has reduced the thickness of triacetyl-cellulose (TAC) film - used to protect liquid crystal display polarizing plates - by half, as compared with conventional film.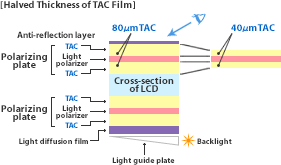 Saving Resources in Lenses and Lens Units
In seeking to reduce the resources used in our products, Konica Minolta Opto has reduced the size and weight of lens and lens barrel components. These lenses and lens units are used in digital cameras, camcorders and mobile devices, which are becoming increasingly lighter and compact.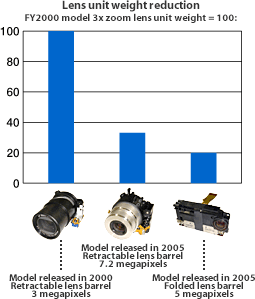 Reuse and Recycling of Information Technology Equipment
We promote measures to facilitate the recycling and reuse of digital multifunctional peripherals (MFPs), which combine copier, printer and other functions. In terms of recycling, we have established a Practical Design Manual for Recycling, to enable easy removal of recyclable parts and resources from used products. For ease of reuse, we promote component standardization. Our aim is to design standardized parts for our new products - for example, motors that can also be used for next generation products - and to increase the reuse rate over the long term.
Promoting Recycling through Uniformity of Outer Casing Plastics
All outer casing parts for every MFP are made from the same two types of plastic, so as to foster a closed material-recycling loop for recycling plastics from end-of-life MFPs and incorporating them into the manufacture of newer models.
We focus particularly on recycling into outer casing parts, which require high levels of appearance, strength and flame resistance. We have installed a crusher for this solo purpose in our recycling facilities, and reinforced the foreign matter removal mechanism for recycling. In so doing, we have enabled the recycling of high purity plastics. In fiscal 2005, approximately 100 tons of plastics were recycled.


Outer Casing Plastic Part of MFPs
Toner Recycling System Eliminates Toner Waste
Our original Toner Recycling System collects, recycles and re-uses toner that is not transferred to the paper during the printing process in MFPs. Without this system, about 20% of the toner put into a copier would go to waste, but this system eliminates that waste.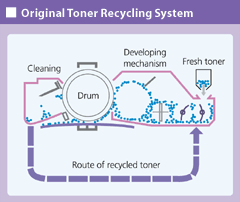 Toner Recycling System
Collecting and Recycling Printer Cartridges
Konica Minolta has established a system for free-of-charge collecting and recycling of used toner cartridges in Europe, the U.S. and Japan. In Europe, this system was operating in 16 countries as of the end of fiscal 2005. We are planning to expand the scope of the system to include Poland, Hungary, the Czech Republic and Slovakia.
Collecting and Recycling MFPs and Printers
In March 2005, Konica Minolta was approved by Japan's Ministry of the Environment as a "designated industrial waste disposer for wide-area recycling." This authorizes Konica Minolta, although a manufacturer, to collect the copiers, MFPs and printers we sell in Japan, beginning in fiscal 2005. Konica Minolta has established its own recycling route to collect our copiers, printers and other equipment that are ready for recycling.
Restriction of Hazardous Substances Directive (RoHS)
Promoting Action for all Products, including Non-RoHS Designated Products
Beginning in July 2006, EU sales of electrical and electronic equipment containing any of six specified hazardous substances - namely lead, cadmium, mercury, hexavalent chromium and two types of polybromic fire retardants (PBB & PBDE) - will generally be prohibited, as per the RoHS Directive. Konica Minolta has already discontinued use of these six specified hazardous substances in all RoHS-designated products.