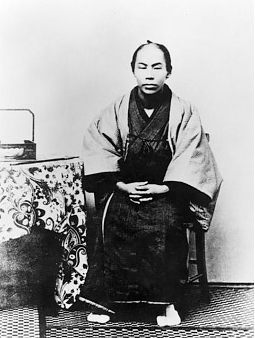 Rokusaburo Sugiura begins selling photographic and lithographic materials at Konishiya Rokubeiten in Kojimachi, Tokyo (the beginnings of Konica Corporation)
Konishiya, which started as a rice merchant, was a leading business establishment in Tokyo. Rokusaburo Sugiura, who was later renamed Rokuemon Sugiura VI, had his photograph taken at a photography studio when he was twenty-five years old. This experience impressed him greatly and prompted him to begin selling photographic materials. Later, he left his family's business and launched his own shop, Konishi Honten, in Nihonbashi, Tokyo, to deal in photographic materials and medicines.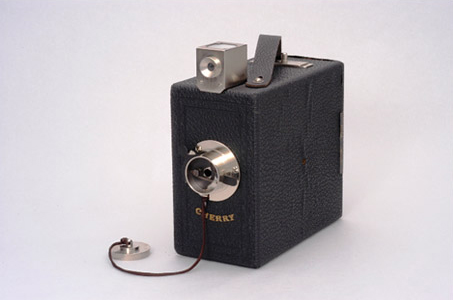 The Cherry Hand Camera, Japan's first brand name camera, and Sakura Hakkin Type Paper, Japan's first photographic paper are marketed
Rokuemon established Rokuosha Factory in Shinjuku, Tokyo in 1902 to develop and manufacture photosensitive materials. The Cherry Hand Camera could accommodate six dry plates (57 mm x 83 mm) and was sold at a reasonable price. While cameras had been a special product available only to a limited group of people, such as photography studio owners, the introduction of the Cherry Hand Camera made cameras more affordable for general consumers.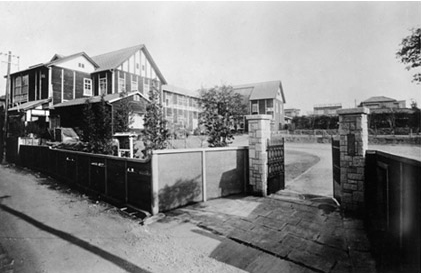 Konishi Professional School of Photography (present-day Tokyo Polytechnic University) is established
To administer the will left by Rokuemon, a photography school was founded in 1923 to train technical and artistic skills to photographers. This school, known today as Tokyo Polytechnic University, continues to produce many high caliber photographers.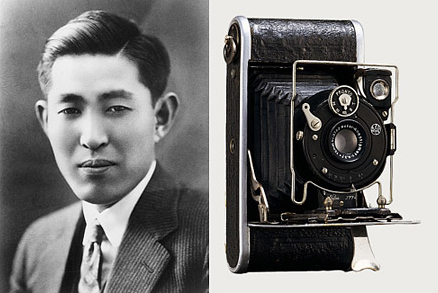 Kazuo Tashima establishes Nichi-Doku Shashinki Shoten (Japan-Germany Camera Company, later known as Minolta Co., Ltd.) to produce cameras in Japan, and launches its first camera product, Nifcalette, the following year
On November 11, 1928, the company that would be known as Minolta in later years opened its first factory in present-day Nishinomiya City, Hyogo Prefecture. The founder, Kazuo Tashima, who worked for an ad agency in Tokyo after graduating from university, returned to his hometown after Tokyo was hit by the Great Kanto Earthquake. During a visit to Europe, he discovered the great possibilities of optical equipment, which made him decide to start a company upon his return to Japan. In those days, there was no subcontracting system, and each small component was produced in-house under the guidance of engineers invited from Germany.
The internally developed and produced X-ray film, Sakura X-ray Film is released
Reorganization is carried out to establish a joint-stock company, Konishiroku Honten (later renamed Konica Corporation)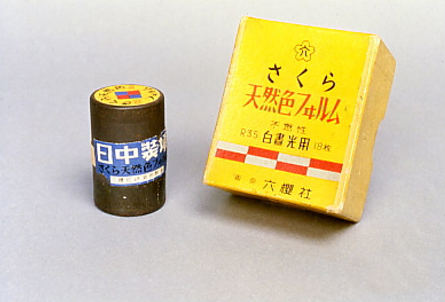 The first Japanese-made color film, Sakura Natural Color Film, is announced, and launched the following year
This was a much-awaited Japanese-made color film, and the result of eleven years of persistent efforts for technical improvement that had been underway since the introduction of Sakura Film, the first internally developed film of Konica (named Konishiroku Honten at the time) in 1929.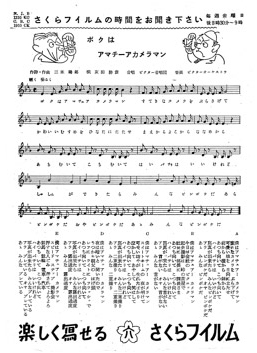 Japan's first commercial song "I Am an Amateur Cameraman" is aired on New Japan Broadcasting System (NJB) and Chubu Nippon Broadcasting (CBC) on September 7
Commercial radio broadcasting began in Japan on September 1, 1951. Konica (named Konishiroku Photo Industry Co., Ltd. at the time) bought a 30-minute slot to sponsor one of the first commercial radio programs, and asked Toriro Miki, a popular songwriter and composer, to write a theme song for the program. In response to this request, Miki thought it a good idea to air a commercial song, which would have been impossible in the past when broadcasting services had been offered only by NHK, a public, non-commercial broadcasting service. Thus Japan's first commercial song was launched, which, quite uniquely, contained no mention of the company, nor product names.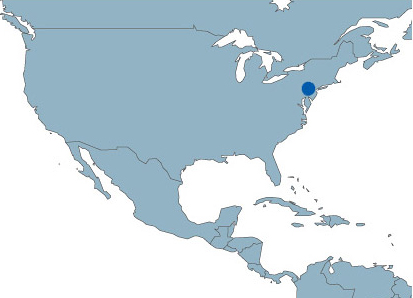 The first American subsidiary is established in Philadelphia, USA
In 1952, Konica Camera Company, an American distributor of Konica (named Konishiroku Photo Industry Co., Ltd. at the time) was opened in Philadelphia, USA to facilitate distribution of products. This was followed by the establishment in the same city of an American subsidiary, Koniphoto Corporation in September 1956 to reinforce import and after-sales services.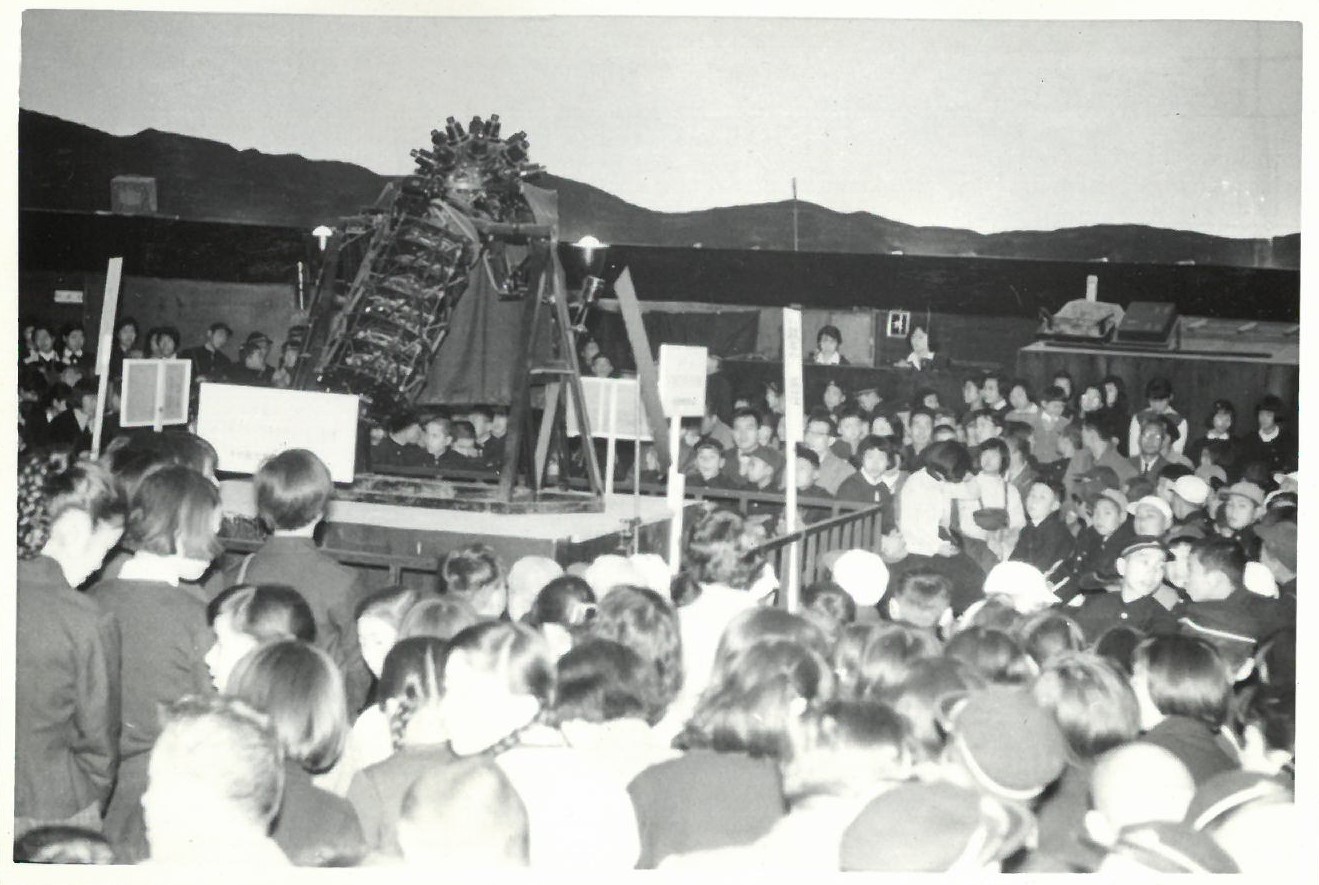 The company's first planetarium unit is completed and opened to the public at a science exposition in Hanshin Park.
As the founder, Kazuo Tashima had a great interest in stars, Minolta (named Chiyoda Kogaku Seiko at the time) continued efforts to develop a planetarium in cooperation with Masasuke Nobuoka, an amateur inventor.
Their efforts yielded results in 1958 with the completion of the first planetarium unit, which was opened to the public at a science exposition held in Hanshin Park (an amusement park in Hyogo Prefecture) and was very popular.