Media Globe Σ
The newest digital planetarium series with evolved operation and increased user-friendliness. Media Globe Σ (Sigma) presents 7 different models including the world's first single lens 8K resolution system, Media Globe Σ 4.8KSE. With models that range from 3 to 35m, Media Globe Σ provides multiple solutions for any kind of planetarium.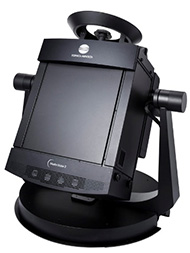 Media Globe Σ 4.8KSE
Main Features
Evolved Digital Planetarium
Latest data and more detailed mapping added to 3D space simulator allowing the operator to fly through the ring particles of Saturn or to the limit of the known universe.
New Earth Science Data
Media Globe Σ features the addition of Earth's environmental and climate data. By displaying these satellite observations, audiences will gain a greater understanding of Earth's changing environment.
More Detailed Surface Images
Earth, Moon and Mars feature highly detailed surface maps. Earth can be viewed at any location as seen from 30km above the ground. The Moon's detailed surface imagery is provided by the lunar orbiter Kaguya (SELENE), a spacecraft operated by the Japan Aerospace Exploration Agency (JAXA).
Live Capture (optional)
Display external video sources anywhere and any size on the dome screen.
Talking Cast (IVP) (optional)
A 3D character, "Interactive Virtual Presenter," on the dome with real-time movements to engage and entertain audiences.
Dome Throw
Presenters can "throw" images and movies directly onto the dome by merely facing the dome area and "swiping" the tablet image or movie.