Optical Elements
Lenses for optical disks
The high-precision qua li ty we have achieved through our comprehensive production system, coupled with highly accurate mold-machining and molding technologies and our advanced quality evaluation system, enables Optics Company to meet customer needs with high-quality products and short delivery times.
Our lenses for optical disks have won high praise and the confidence of customers who make optical pickups for BD, DVD, and CD players, which require extremely high reliability. We employ high-precision production to provide plastic-molded objective lenses, with a large numerical aperture (NA) of 0.85, for BD players. We also supply replacement plastic-molded objective lenses for DVD/CD players, created using our own diffractive optics technology. Due to their stable quality and mass-producibility, Optics Company's lenses for optical disks have been adopted for use in a large number of products.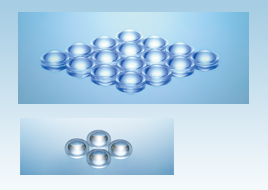 Lenses for laser printers
We offer laser printer lenses for a wide range of specifications, from A4 to A3, and can work with customers starting at the product development stage. We also provide collimator lenses.
Major products
fθ lenses
Cylindrical lenses
Collimator lenses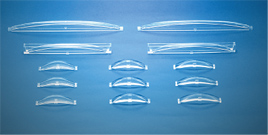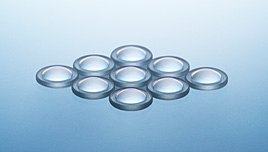 Contact
Planning & Sales Department, High-Integrated Devices Business Promotion Division, Optical Component Business Unit
2970 Ishikawa-machi,Hachiouji-shi Tokyo 192-8505, Japan