Konica Minolta's CSR Policy
Message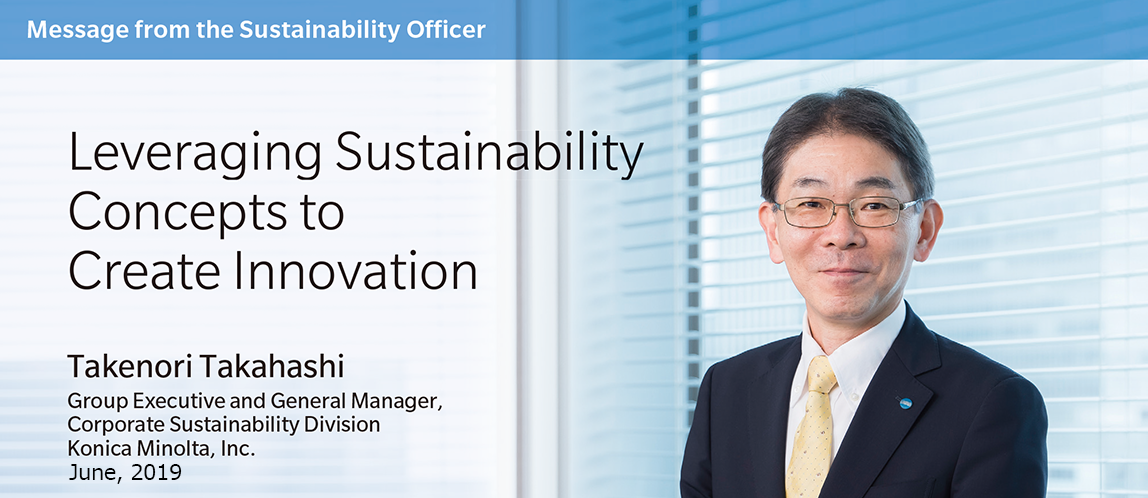 Growing Business While Contributing to the Creation of a Sustainable Society
We aspire to be a digital company that provides solutions with insight into implicit challenges. This means that we will become a company that contributes to the realization of a sustainable society that continues to advance through innovation, together with our customers. We continue to create new value for the environment and human society and take up the challenge of innovation that drives business growth.
Pursuing a sustainable society also leads to enhanced sustainability for companies. Our sustainability strategy is based on this kind of awareness. If society breaks down due to environmental destruction, it will affect the economy, as well. I am convinced that resolving environmental and social issues will create growth opportunities for Konica Minolta.
Our Sustainability Strategy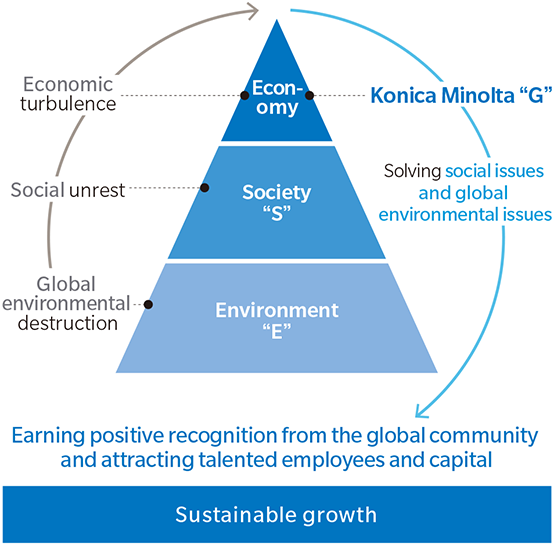 Integrating Management Strategy with Environmental and Social Management
The environment and society are closely linked in many ways. An integrated approach, rather than thinking of them as separate entities, is crucial. Based on this approach, in April 2018 we consolidated the departments responsible for our environmental and social performance, forming the Corporate Sustainability Division, which also includes the strategic planning function. This is intended to strengthen integrated management in tandem with business management.
In fiscal 2019, we will devise a sustainability strategy linked to our next management plan. We look ahead to our vision for the environment and society in 2030 and beyond, and then backcast from there to determine what we should do now and where to set the significant milestones.
Evolving as a Digital Company That Provides Solutions with Insight into Implicit Challenges
The Corporate Sustainability Division works closely together and collaborates with business divisions to align our sustainability strategy with our business.
We believe that social innovation is one of our material issues, and we have created Care Support Solutions, Workplace Hub and gas monitoring solutions, which utilize Konica Minolta's core technologies and innovation to help resolve social issues. We must resolve environmental and social issues with an eye on the future based on business strategies in order to continue contributing to a sustainable society and grow sustainably as a company. To this end, the related divisions will collaborate with divisions working on technology strategies, management planning and sustainability promotion to discuss issues and policies, and establish medium- and long-term management plans from 2020.
Comprehensively Addressing the World's Environmental Issues and Sharing Joy with Our Stakeholders
The efforts of one company alone are not enough to create a sustainable society. We believe that opening up the core technology and expertise that Konica Minolta has built up and allowing customers, business partners and local communities to use it will be meaningful in our efforts to help resolve environmental, energy and other global social issues.
Konica Minolta has established its Eco Vision 2050, a long-term environmental vision looking ahead to 2050, and set a "Carbon Minus" target. This is a commitment to achieve a CO2 reduction effect that exceeds CO2 emissions produced by our business activities by 2050, in cooperation with stakeholders.
Creating Value by Integrating Business and Sustainability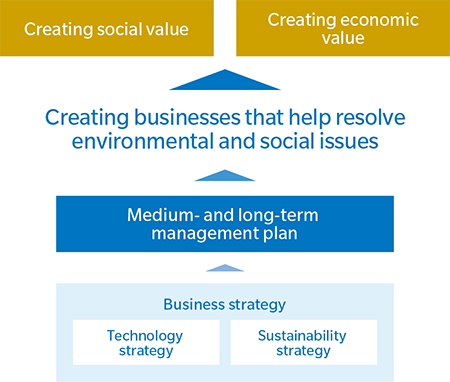 To achieve our "Carbon Minus" target, we have pursued activities̶together with stakeholders, including customers, business partners̶designed to raise both environmental value and corporate value, based on our Medium-Term Environmental Plan. At present, we are promoting our Environmental Digital Platform, which aims to digitize the environmental expertise we have offered on an individual basis thus far, to make even more substantial contributions to the environment. By having more stakeholders participate in this platform and accumulating more technology and expertise for mutual use, we think we can help achieve significant reductions in society's overall environmental impact.
Konica Minolta has joined the Task Force on Climaterelated Financial Disclosures (TCFD) and RE100, international recommendations and initiatives related to climate change and energy. We have to be careful to secure our procurement of energy and raw materials in consideration of impact on climate change, and we believe that it is important to disclose this information to investors and other stakeholders. For example, we think that a society that uses all renewable energy will arrive by 2050, or even as early as 2030. Operating a business that is aligned to this kind of society is a prerequisite for sustainable growth. Moreover, if Konica Minolta can contribute to the resolution of these social issues by utilizing its technologies in fields such as materials, imaging, and edge IoT, it will create business opportunities. The medium- and long-term business plan that we are currently considering clarifies the risks and financial impact of climate change as well as countermeasures, and we will disclose these in an integrated report.
I am confident that incorporating a sustainability perspective in management and business will create a positive cycle for the company overall. Konica Minolta creates innovation as a digital company that provides solutions with insight into implicit challenges and helps to create a sustainable society.