Konica Minolta's CSR Policy
Basic Concept
Konica Minolta aims to establish itself as an innovative, constantly evolving company that is vital to society by putting into practice its management philosophy, "The Creation of New Value." This is why the Group strives to contribute to the resolution of societal challenges by creating value that improves the quality of our world through its business endeavors. Konica Minolta's CSR activities are guided by this management philosophy and are based on its Charter of Corporate Behavior. The Konica Minolta Group Guidance for the Charter of Corporate Behavior, which is shared globally, illustrates desirable behavior in each of the categories included in the Charter of Corporate Behavior as a basis for understanding and putting the Charter into practice. The Group Guidance articulates Konica Minolta's commitment to acting in compliance with international social norms, such as the United Nations Global Compact, in which the company participates, and the Universal Declaration of Human Rights.
CSR Management System
At Konica Minolta, the executive officer responsible for CSR, who is appointed by the Board of Directors, carries the duties and authorities concerning the entire Group's CSR. Directly reporting to the officer is the CSR promotion division, which sees to the implementation of CSR management for the entire Group. The division reports the progress of CSR activities to the executive officer responsible for CSR, while also reviewing measures and making proposals. Regarding matters of great importance, the Executive Officers meet in a timely fashion to deliberate, keeping CSR at the forefront of management decisions.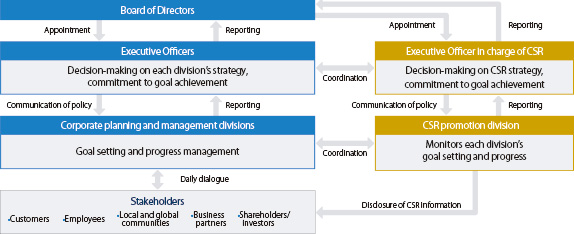 Supporting the UN Global Compact
In December 2008, Konica Minolta signed the United Nations Global Compact. The Global Compact identifies ten universal principles on human rights, labor, the environment, and anti-corruption, and requires companies around the world to support and abide by these principles.
The signing of this agreement reaffirms Konica Minolta's commitment to pursuing its efforts in corporate social responsibility. Guided by these ten principles, as well as its management philosophy and the Charter of Corporate Behavior, Konica Minolta aims to further advance its Group-wide efforts to help achieve the sustainable development of societies, not only by complying with relevant laws and regulations, but also promoting its CSR procurement and global environmental activities.
Support to the Nippon Keidanren Charter of Corporate Behavior
Konica Minolta, Inc., is a member of Nippon Keidanren (the Japan Business Federation) and respects its Charter of Corporate Behavior and Implementation Guidance for Charter of Corporate Behavior (Version 6).
Reevaluating Materiality
Companies must address a great range of social issues, including human rights issues, labor issues, and environmental challenges such as climate change and resource depletion. In light of the changing social landscape and business environment, materiality was reevaluated to identify issues that Konica Minolta should address on a priority basis, with the aim of ensuring that its initiatives function with greater coordination between social issues and business objectives.
To identify materiality, first a comprehensive list of issues was made with reference to international guidelines. Those issues were given a quantitative rating for two aspects, "stakeholder interest" (materiality to stakeholders) and "impact on the Group's business" (materiality to the company's business) to verify their materiality. Outside experts were asked for their opinions in order to incorporate objectivity into the decisions on the materiality of each issue, which were then validated by the newly established CSR Executive Meeting, whose main members are executive officers. Six material issues were identified in this process.
In the future, targets and action plans will be established in accordance with these material issues, and action taken. This approach will help to ensure that Konica Minolta contributes to the resolution of social challenges, thereby enhancing its competitiveness as a company.
Overview of the CSR Executive Meeting
Purposes of the CSR Executive Meeting
(1) To hold fundamental discussions on CSR issues, make policies, and decide on future course.
(2) To review the "Planning" phase of PDCA, which until now was done separately by each organization, in a cross-cutting manner from the overall perspective of CSR, thereby increasing the sophistication of each strategy and improving measures.
Members
Mandatory members: Executive officers in charge of areas concerned with the environment and social impact
Process for identifying materiality

Identification of materiality
Konica Minolta's CSR Activity System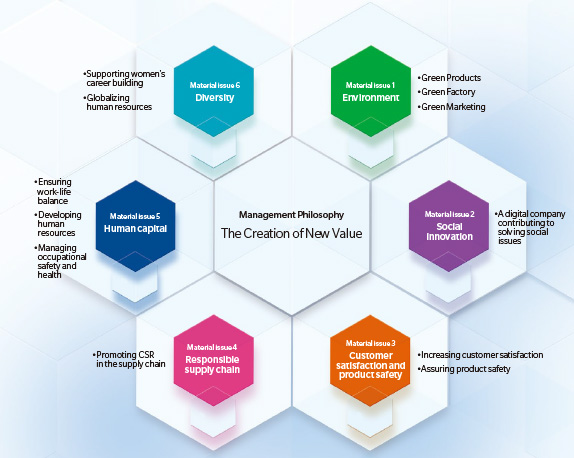 Konica Minolta's CSR activities have received high marks from international rating organizations and other entities, as well as numerous awards.