Sustainability Strategy
Five New Material Issues to Be Solved Through Digital Transformation (DX)
The future is difficult to predict in a complex world characterized by population growth, developed countries with declining birthrates and aging populations, rapid digital transformation, greater use of biotechnology, multipolarity in international relations, and a worsening climate crisis. Given the uncertain future the world faces, Konica Minolta has decided to identify the social and environmental issues it must help address. While reaffirming its corporate DNA, the company clarified issues to be addressed by 2030, and then backcasted from that year to determine the targets it must tackle immediately.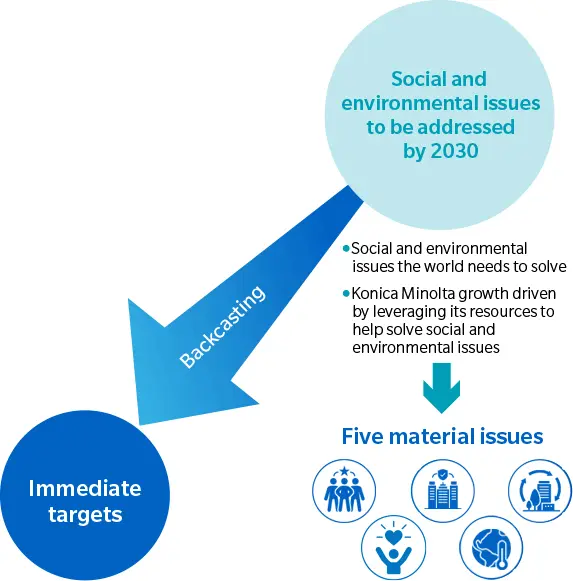 After gaining insight into social and environmental issues expected to be critical by 2030 by examining the UN Sustainable Development Goals (SDGs) and macro trends, Konica Minolta conducted a materiality analysis from the perspectives of social issues that must be solved and Konica Minolta's business growth. This led to the identification of five new material issues for Konica Minolta to tackle starting in 2020: (1) improving fulfillment in work and corporate dynamism; (2) supporting healthy, high-quality living; (3) ensuring social safety and security; (4) addressing climate change; and (5) using limited resources effectively. For each of these issues, vision were also established, thereby clarifying Konica Minolta's medium and long-term directions for value creation.
These five material issues are linked to Konica Minolta's business growth strategy and are now the cornerstones for action in each business area. In alignment with the value creation process of each business unit, Konica Minolta will implement initiatives for both business growth and sustainability to create value for customers and the broader society.
Vision for 2030 and SDGs Related to Each Material Issue
Material issue
Vision for 2030
Related SDGs

| | |
| --- | --- |
| | Improving fulfillment in work and corporate dynamism |

Increase labor productivity for corporate clients, society, and Konica Minolta. Make time for creativity, and promote workplaces where all individuals can thrive.

| | |
| --- | --- |
| | Supporting healthy, high-quality living |

Promote health and high quality of life at corporate clients, in society, and Konica Minolta. Help individuals lead fulfilling lives.

| | |
| --- | --- |
| | Ensuring social safety and security |

Enhance safety and security in the workplaces of corporate clients and in society. Minimize risks posed by Konica Minolta products and services.

| | |
| --- | --- |
| | Addressing climate change |

Reduce CO2 emissions by Konica Minolta. Enhance CO2 emissions reduction at corporate clients and suppliers, and reduce the carbon footprint of society.

| | |
| --- | --- |
| | Using limited resources effectively |

Promote the effective use of resources at Konica Minolta, while also helping corporate clients and suppliers to achieve effective use.
Click below for details on the material issue identification process.
Certification of Sustainable Products that Create Customer Value and Social Value
Konica Minolta operates a unique system to certify products and solutions that solve social and environmental issues.
Click below for details on the Sustainable Solutions Certification System.
Medium-Term Sustainability Plan 2022
As the first step toward achieving its long-term vision, Konica Minolta established the medium-term business plan "DX2022" in 2020. The DX2022 plan aims to "leap to highly profitable businesses through DX," and "evolve into a company clearly committed to solving social issues" by 2022. Under the plan, key performance indicators have been set to measure the creation of social and environmental value as well as economic value for each of the five material issues. By working to solve social and environmental issues, Konica Minolta can also foster its own growth.
Helping to Solve Social and Environmental Issues by Advancing Konica Minolta's Imaging IoT Technology and Combining It with Digital Technology
Today's increasingly urgent social and environmental issues can only be solved by innovation. By combining imaging IoT and digital technologies to "make the invisible visible," Konica Minolta will work to transform the workflows used in the workplace and contribute to society by making people's lives even more fulfilling.
Improving fulfillment in work and corporate dynamism
As work styles continue to diversify, we are providing solutions that increase productivity and make creativity-inspiring work styles possible in diverse locations — all the while supporting the human quest for purpose in life, improving fulfillment in work, and fostering corporate dynamism.
Supporting healthy, high-quality living
Konica Minolta is enhancing the diagnostic function of clinics and other neighborhood primary care settings by providing diagnostic imaging analysis technology that uses AI, and by supporting diagnosis through a network of specialists. In addition, the company is helping to make the workflow at nursing care facilities visible using image analysis and AI to reduce the burden on caregivers. By making it possible to provide more finely tuned nursing care services, Konica Minolta is also helping seniors to remain independent.
Ensuring social safety and security
Konica Minolta is providing solutions to enable non-contact and remote monitoring and inspection at factories and plants. By forecasting and predicting trouble or danger in ways that surpass the visual capabilities of frontline workers, the company aims to prevent accidents and ensure the safety and security of factories and surrounding communities.
Addressing climate change
Konica Minolta helps corporate clients in the commercial printing industry streamline their operations and reduce energy consumption. The company is providing solutions for transforming their workflow while enhancing their productivity, in addition to reducing its own CO2 emissions.
Using limited resources effectively
Konica Minolta is contributing to reduced resource consumption by helping corporate clients in the commercial printing industry to shift to on-demand printing. This will eliminate the need for printing plates used in traditional offset printing and reduce customer process inventory.
Driving Drastic CO2 Emissions Reduction with DX
To achieve carbon-minus status, Konica Minolta will not only reduce CO2 emissions over the product lifecycle, which is within its own scope of responsibility, but also accelerate its contribution to CO2 emissions reductions at customers and suppliers, which is outside of its direct scope of responsibility. Utilizing digital transformation (DX) technologies, Konica Minolta will promote collaboration with even more corporate clients and business partners, taking on the challenge of broad-scope reduction in environmental impact.
In response to the material issues of addressing climate change and using limited resources effectively, Konica Minolta will help transform the socially conventional business model of mass production and disposal by facilitating the adoption of on-demand production, work style reform, and edge computing. It will foster the transition to a fully paperless world while helping to minimize energy use in the digital society.
One example of this is the digitization of its Carbon Neutral Partner Certification System, which provides business partners with Konica Minolta environmental expertise. Until recently, the company's specialists visited the factories of business partners to perform energy-saving diagnoses. By now, by digitizing and automating its diagnostic expertise, the company has developed a system that allows business partners to perform energy-saving diagnosis and implement measures on their own. Konica Minolta anticipates that this will dramatically expand the scope of its activities and further accelerate environmental impact and cost reduction.
Another key initiative is the company's Environmental Digital Platform, launched in June 2020. This system helps to improve the efficiency of environmental management by allowing Konica Minolta and each participating company to share their knowledge and expertise in order to co-create new value. The platform has a place for participants to co-create solutions and a place to share and utilize proven solutions. Through these two digital spaces, Konica Minolta aims to help solve environmental issues on a global scale. The goal is to accelerate the resolution of environmental challenges through collaboration between companies, and to promote innovation through co-creation.