Social Innovation
Care Support Solutions
Shortage of Nursing Care Staff in an Aging Society
Along with the graying of society, more people are in need of nursing care. Meanwhile, the shrinking workforce has worsened the shortage of nursing care staff.
Given this situation, Konica Minolta determined that it could help to reduce the workload of nursing care staff by promoting workflow innovation on the frontlines. The company visited nursing care facilities to ascertain and analyze operations in detail. Nursing care operations were separated into individual workflows initiated by a nurse call. That made nursing care staff run around the facility. It was clear that this was creating a major burden.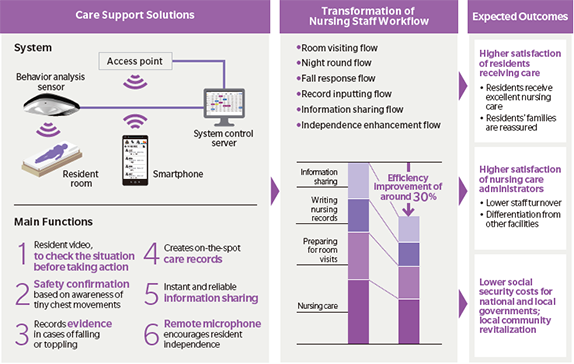 Workflow Innovation for Nursing Care Staff, Starting with Highly Accurate Action Recognition
In order to tackle the challenges of the nursing care field, Konica Minolta's business development staff gathered information directly at about 70 nursing care facilities. Stationed in the facilities for about three months, they ascertained the nursing care operations in detail. Based on this, the company developed its Care Support Solution, a monitoring system for nursing care workflow innovation.
The Sensor Box, which is the core of the system, performs 24-hour monitoring using near-infrared and microwave sensors, and operates regardless of the room's brightness or the posture of the room occupants. If a patient sits up on the bed, leaves the bed, falls down, or falls out of the bed, nursing staff are notified via a smartphone with video display. By checking the video of the patient, the staff can decide whether to rush for assistance and can predict patient behavior, which significantly reduces their workload. Since the staff can also use their smartphones to input care records or vital-sign data on the spot and share them instantly, the system substantially reduces record-keeping work and helps to prevent miscommunication. By providing one-stop total innovation that covers both the nursing care frontlines and administrative work such as record keeping, the Care Support Solution offers greater efficiency for the entire nursing care operation.