Social Innovation
Providing Nursing Care Solutions to Address the Issues of a Super-Aged Society―HitomeQ Care Support
Related SDGs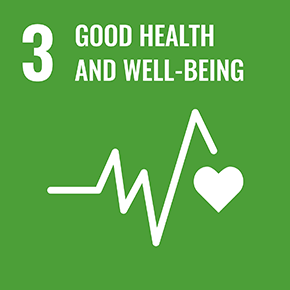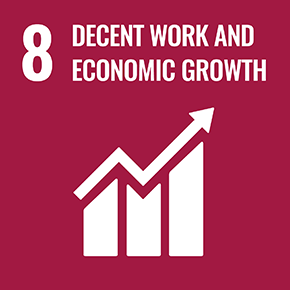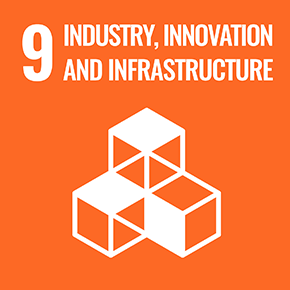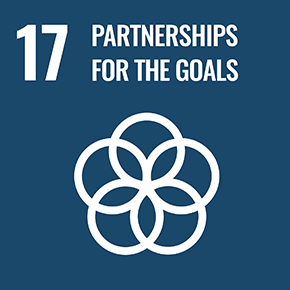 Transforming Nursing Care Staff Workflow and Helping to Eliminate Chronic Nursing Care Staff Shortages
With the number of people needing nursing care in Japan increasing in recent years, the shortage of care workers has become a social issue. To address the situation, Konica Minolta developed and offers HitomeQ Care Support, a service that transforms nursing care workflows. This service detects certain resident behaviors using near-infrared cameras installed on the ceiling along with sensors that detect movement, and then notifies nursing care staff through their smartphones. It helps the staff to determine the best response after grasping the situation and enables information sharing among staff in real time, greatly improving the efficiency of work.
One facility where this service was introduced reported an average efficiency improvement of 30% for nursing care staff. The extra time saved can now be used to enhance resident self-sufficiency, such as through rehabilitation assistance, and for education and training for nursing staff. This, in turn, enables provision of higher quality care, which has improved the satisfaction of residents and their families as well as nursing staff and facility administrators.
In 2019, Konica Minolta enhanced its system solution offerings by introducing a new comprehensive service. The new service includes an operation diagnosis function to identify issues, implementation training, a care support system to support frontline transformation using image technology, and a Care Director Service for human resource development and procedure creation consulting.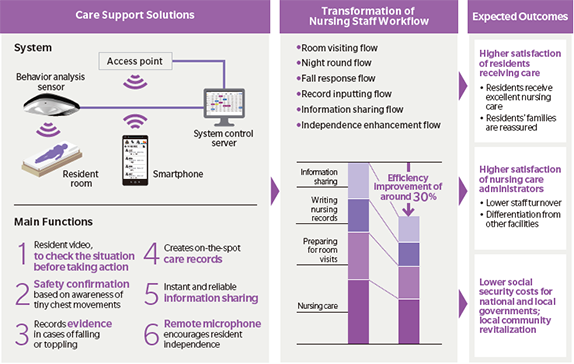 Launch of a New Service Brand: HitomeQ
Konica Minolta has been offering Care Support Solutions, a service that provides not only IT devices but also a system that uses them. Under that name, however, it has been difficult to fully convey the benefits of the service to customers. The company addressed this by rebranding the service in October 2019. The new brand is designed to convey the philosophy of Konica Minolta's quality of life business to customers and partners, and evokes a commitment to supporting daily activities that are in the best interests of stakeholders.
Since this service provides value for people, the new brand concept is based on "heart, technology and good physical condition." The brand name, "HitomeQ," embodies the idea of "working with customers to create a world where all stakeholders beam with anticipation." The "Q" in "HitomeQ" stands for "quality of life."
Moving toward Greater Use of IT in Nursing Care Settings

Developing Care Directors at Nursing Care Facilities and Achieving Workflow Innovation
Care workers often need further training to master the use of IT devices on the job. This is the key to transforming the frontlines of nursing care using IoT, and also the reason Konica Minolta developed HitomeQ Care Support. With HitomeQ, human resources in nursing care facilities are trained as "Care Directors" capable of using IT in the care setting. We also offer a Care Director Service that provides consulting for organizational transformation. As part of this service, the data accumulated by IT system is used to help plan a drastic revision of facility procedures and other measures, together with the staff. For instance, our data analysis showed that night rounds actually disturb residents' sleep. So, we tested what would happen if night rounds were stopped. The number of times residents got out of bed decreased and they got better sleep as a result. Fewer times getting out of bed also lowers the risk of falls. Moreover, the nursing staff's workload was also decreased by reducing the number of times they visit rooms at night.
Making use of data in this way should also allow the care needed by individual residents to be predicted in the future, changing the way the nursing staff works and increasing the quality of care.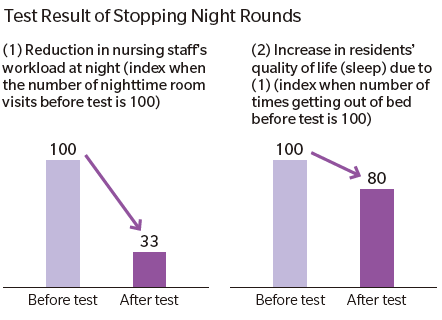 Gathering Colleagues Who Share Our Philosophy and Strategy and Recommending Use of IT in the Nursing Care Industry
The Japanese Ministry of Health, Labour and Welfare estimates that in 2025, there will be a shortage of 340,000 nursing care staff members. This shortage is a social issue that Japan cannot afford to put off addressing. At this rate, supply and demand will go out of balance, and we could end up with a society where people cannot receive adequate nursing care.
Out of awareness of this problem, Konica Minolta started a social business collaborative effort― the Care Philosophy Partners Conference (CPPC)―with care providers, IT service companies specialized in nursing care, and others. Around 100 companies have joined so far. Among them, Konica Minolta has built especially strong collaborative relationships with Welmo, Inc.,*1 BI Brid Co., Ltd.,*2 and Zenkoukai.*3 The thing that each company has in common is a shared philosophy and strategy to "achieve a world of harmonious co-existence that increases quality of life in the form of greater independence for seniors and greater job satisfaction for caregivers." While they each have a high degree of specialization, the companies do not take an individual-company approach but rather leverage their individual strengths combined, sharing the same philosophy and strategy, in an effort to solve issues faced by the nursing care industry.
Additionally, Konica Minolta carries out demonstration testing in collaboration with universities and business operators to improve frontline efficiency in nursing care. We hope to use the results to make recommendations to the Council on Investments for the Future*4 regarding improvements to staffing standards for nursing care facilities based on use of IT.
*1

Welmo, Inc.: Provides a regional care information platform to professionals. It has also developed an AI system to support the production of care plans requiring medical and nursing knowledge.

*2

BI Brid Co., Ltd.: Operates an IT help desk/support business specializing in the nursing care, welfare, and medical fields, an IT consulting business, and a business supporting product development for the nursing care field.

*3

Social Welfare Corporation Zenkoukai: Business includes operation of special nursing homes and group homes for people with dementia. Actively adopts various kinds of technology with the aim of visualizing operations and practicing scientific nursing care.

*4

Council on Investments for the Future: A council, chaired by Japan's Prime Minister, that convenes with the purpose of accelerating growth strategies and structural reform aimed at expanding investment in future economic growth fields.
Coverage Including the Home Care/Nursing Field under the Concept of "Connected Care"
We believe that behavioral record data on seniors can be utilized not only in nursing care facilities but also in home care and preventive care. In home care, for example, we think that sensible care plans can be made as much as possible without changing people's lifestyles by gathering and analyzing data on the behavioral patterns not only of seniors but also their families. Our HitomeQ Care Support is based primarily on acquisition of data in bedrooms, but in the future, we plan to provide new value by sharing, interconnecting, and analyzing data held by companies that have joined CPPC. I call this "connected care." The goal is to work with various stakeholders to create a mechanism that allows the same level of care to be received at home as in a facility. In preparation for such an era of scientific nursing care, we are developing an educational program using our HitomeQ Care Support in nursing care schools. By creating opportunities for people hoping to go into nursing care to be exposed to IT, we intend to train care workers who have a strong command of IT.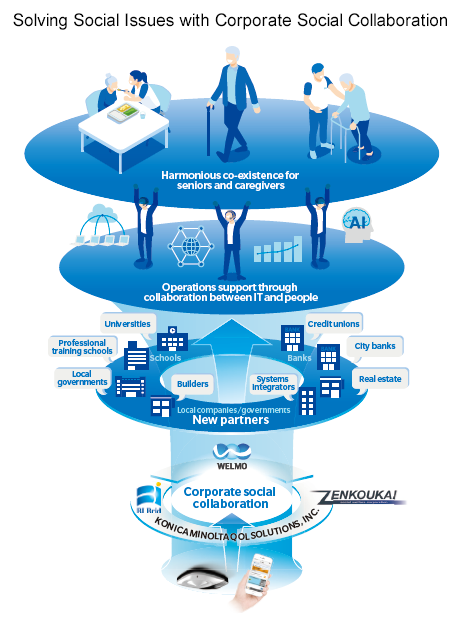 The introduction of IT in nursing care facilities is still in the early phases. It is still the common practice to write out care records on paper by hand, and being up to one's neck with such production of records is a burden. In some cases, that is the reason people leave their jobs. The truth of the matter is that care staff members in many frontline care settings do not feel the need to adopt IT and are unfamiliar with computers. The IT system provider, on the other hand, has hardly any products that match the IT skills of users, as it does not know the nursing care industry or frontline needs. This unfortunately results in many cases where IT has been introduced but then goes unused. In other words, just introducing IT is not enough. It is only when IT is used properly that it leads to improved efficiency. Thus, it cannot be achieved without suitable support for users. That is why BI Brid gives advice to system providers about making products that will be useful in nursing care settings and also gives advice and support to care staff so that they can make the most of those products. I hope that Konica Minolta will produce best practices in IT adoption in nursing care settings across the country through HitomeQ Care Support. I hope that it will become the standard for nursing care operation. The issues faced on the frontlines of nursing care are a problem that will impact the future of this country ̶ the future of each of us. I believe this is a matter that can no longer be addressed by individual companies; it must be tackled by lots of companies working together. I hope to take advantage of this corporate social collaboration with Konica Minolta to leverage IT to change the future of nursing care.