Social Innovation
Home Care and Regional Healthcare Collaboration
Regional Healthcare Systems Needed for Growing Numbers of Home Care Patients in an Aging Society
With a quarter of its population now 65 or older, Japan has reached the globally unprecedented situation of being a super-aged society. As such, it faces various issues, including more patients who cannot make hospital visits, fewer doctors in local communities, and higher healthcare costs for the whole society. As a result, there is a growing need for care products and services that enable healthcare to be provided in the home.
In order to further popularize home care and expand healthcare provided in the home, local clinics that provide diagnostic visits and general hospitals that have specialized knowledge and facilities will need to work together to care for patients over large areas. There is an urgent need to create a system to support this kind of service provision.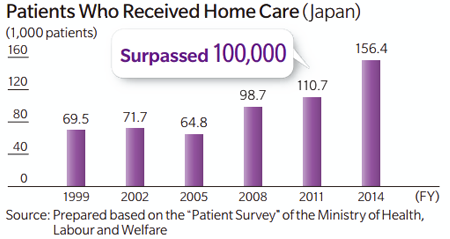 New Diagnostic Solutions to Support Home Care and Community Healthcare
Konica Minolta provides new solutions to support the future of healthcare. For example, the company has realized a digital X-ray system and an ultrasound diagnostic imaging device that are lighter, more compact and wireless. As a result, the diagnostic imaging equipment can be taken out of the hospital, and it is now possible to make highly accurate medical diagnoses with a visit to the patient's home, thereby reducing the stress on the patient.
The company is also supporting regional healthNew Diagnostic Solutions to Support Home Care and Community Heal–thcare care collaboration through its Informity ICT service, which provides broad support for building healthcare networks. The company's Collaboration Box Service, which allows the seamless sharing of diagnostic data such as medical images between medical institutions, makes greater healthcare cooperation possible. For example, specialists in the hospital can perform diagnosis based on data sent from a local clinic, and then inform the clinic of the necessary treatment and patient transport.