REGIUS MODEL 110
A single-slot CR with a slim body that offers a high degree of freedom in installation layout, and provides enhanced processing power.
Can serve as a CR for a mid-range facility with a relatively high volume of images.
Powerful a single-slot Reader (77 plates /h)
Slim body, Layout Flexibility (Two-way Installation)
Selectable Resolution 87.5 / 175 μm
Touchless cassette reading
Easy maintenance
Slim & Powerful Single-slot reader
Despite being a small single-slot CR with a footprint of 0.27 m2, it is capable of high-speed processing, up to 77 plates/hour (14"×17" size) with a cassette feeding/loading time of 47 seconds (14"×17" size), contributing to quicker and more efficient X-ray examinations.
Layout Flexibility (Two-way Installation)
"Two-way Installation" method allows you to set the position of the reader operation panel to "landscape" or "portrait" according to the layout of the hospital. Thanks to its slim body with a width of just 365 mm, it can be installed effectively to hospitals with limited space.
Touchless cassette reading, Easy maintenance
A non-contact plate feeding/reading mechanism is adopted to prevent deterioration of the plate surface due to feeding.
Also, since the reader itself is as easy to maintain as a copier, you can handle cassette jams immediately, even if they occur while reading the cassette, to minimize downtime.
Brochure Download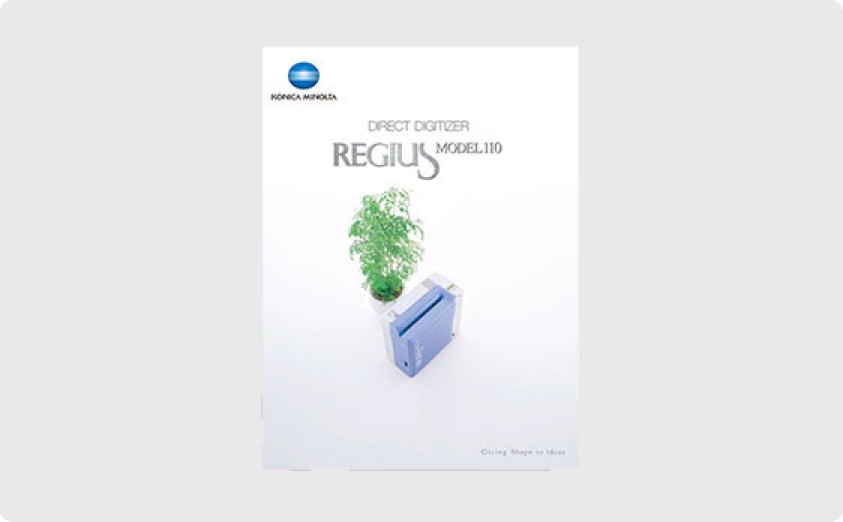 REGIUS MODEL 110
Computed Radiography Lineup
*This site is intended for healthcare workers.