REGIUS MODEL 110HQ
Despite its slim body, this single-slot CR supports fast processing and mammography image reading. It can serve as a mammography-only CR, or a general CR for a mid-range facility.
Powerful a Single-slot Reader (77 plates /h)
High resolution 43.75 μm for Mammography
Slim body, Layout Flexibility (Two-way Installation)
Touchless cassette reading
Easy maintenance
Slim & Powerful a Single-slot Reader
Despite being a small single-slot CR with a footprint of 0.27 m2, it is capable of high-speed processing, up to 77 plates/hour (14"×17" size) with a cassette feeding/loading time of 47 seconds (14"×17" size), contributing to quicker and more efficient X-ray examinations.
High resolution 43.75 μm for Mammography
In mammography, the smallest reading pixel size of 43.75 μm in its class is supported. The machine provides the high-definition mammography images of a high-end machine when dedicated mammography plates are used. It can be used as a mid-range machine that also handles mammography, or as a dedicated machine for mammography.
Touchless cassette reading, Easy maintenance
A non-contact plate feeding/reading mechanism is adopted to prevent deterioration of the plate surface due to feeding.
Also, since the reader is itself as easy to maintain as a copier, you can handle cassette jams immediately, even if they occur while reading the cassette, to minimize downtime.
Brochure Download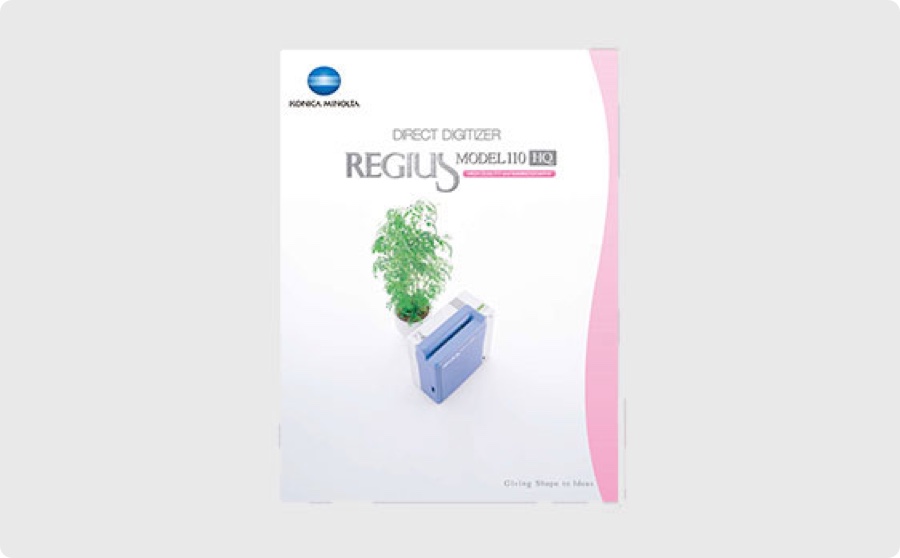 REGIUS MODEL 110HQ
Computed Radiography Lineup
*This site is intended for healthcare workers.