AeroDR TX m01
Dynamic Digital Radiography (DDR) to expand Mobile X-Ray Imaging possibilities.
Breakthrough Mobile X-ray System that can provide more information than conventinal static images.
Wireless DDR on Mobile X-Ray System
By transmitting a sequence of pulsed X-Rays and displaying a series of static images,Mobile DDR visualizes the motion of structures such as lungs and diaphragms, providing more information than conventional static images for bedside radiography in the ICU and other areas, without the need to move the patient.
Enabling DDR in mobile X-ray exam environments.*1
Fram Rate : 15fps.
Exporsure Time : 20 seconds at longest.
*1 AeroDR 3 1417HD2 or AeroDR 1717HD2 is nessessory for DDR
Cabinet equipped with detector charging function
Cabinets are placed at the front and back of the main unit to hold a total of three detectors, enabling automatic power supply to the detectors by simply loading them. In the parking position, the arm serves as a locking mechanism to prevent theft (1417/1717 size).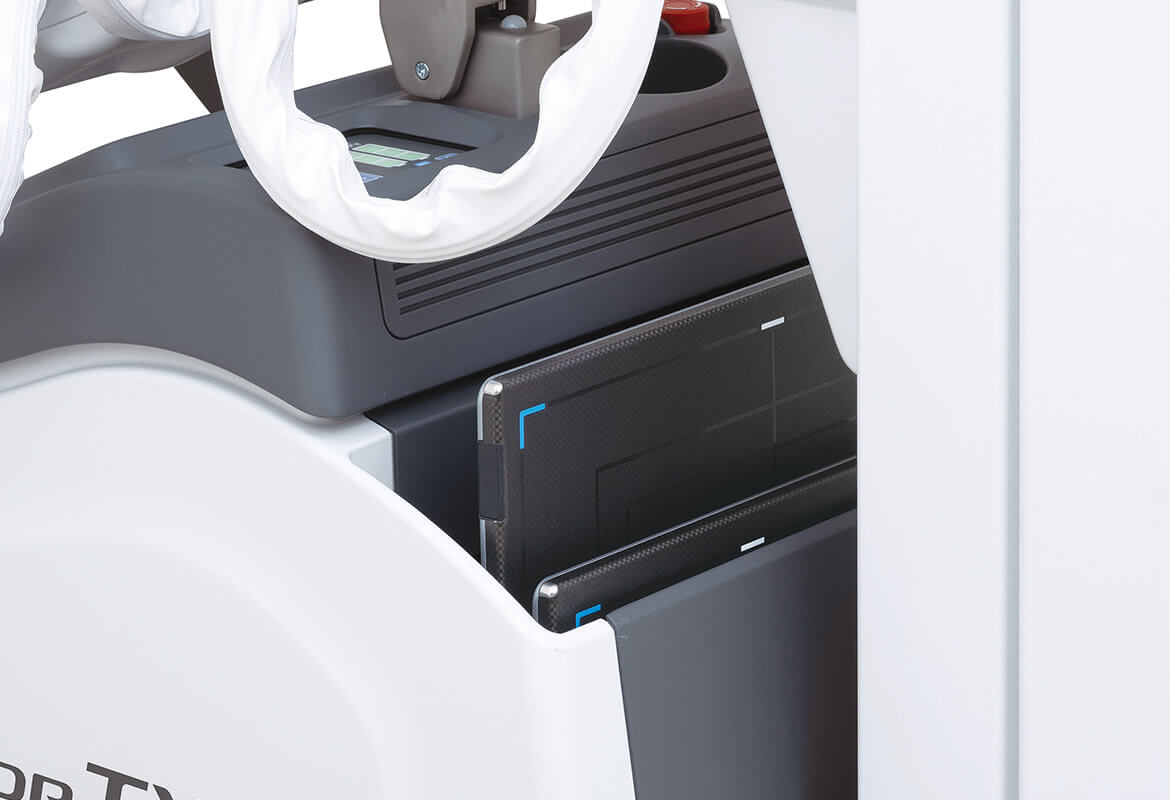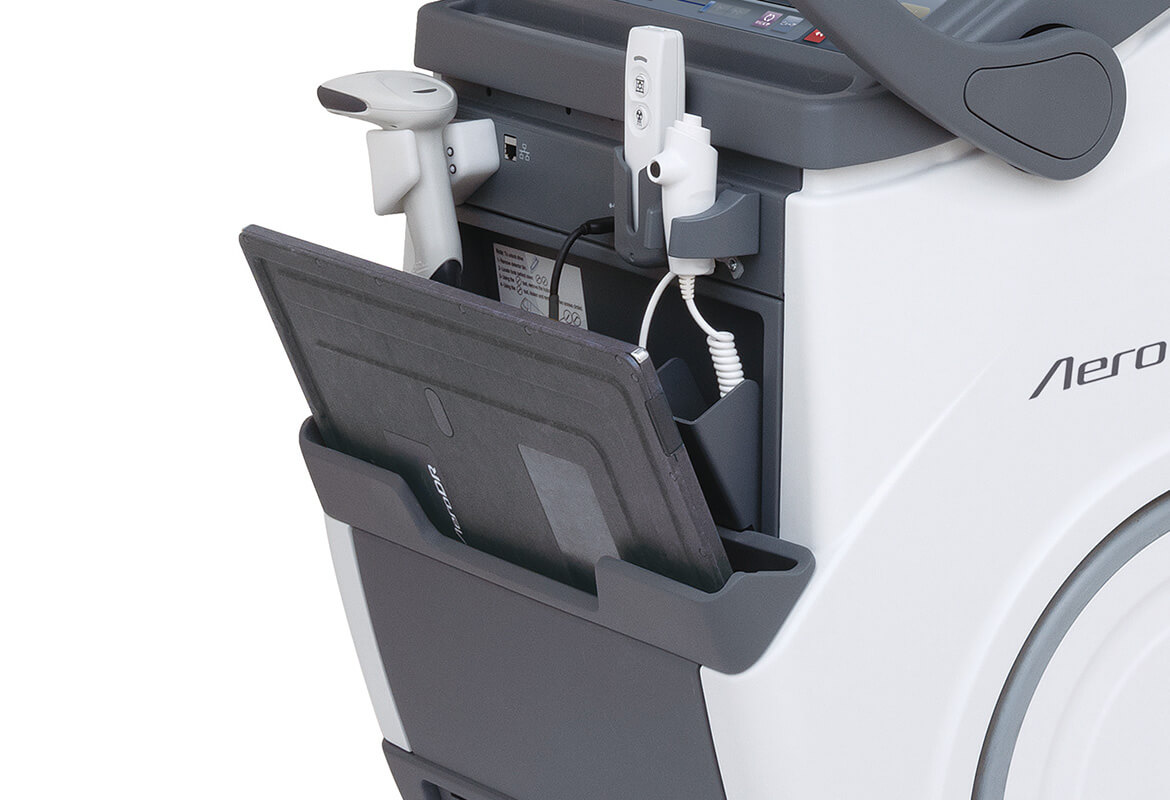 Second Screen on Head-Assembly
A touch-panel second screen located in the Head- Assembly enables the user to check and change exposure conditions to achieve efficient workflow. The distance between the X-ray tube and subject can also be automatically measured and displayed.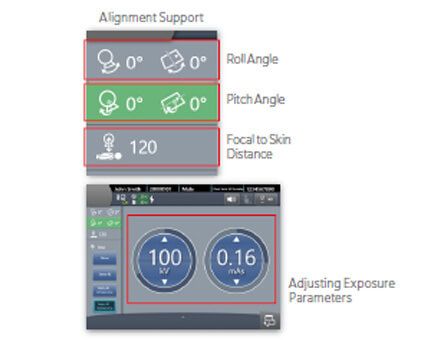 Compact design with a width of 540 mm
With its compact size, this unit can be easily moved to any location, including ICUs, wards, and operating rooms.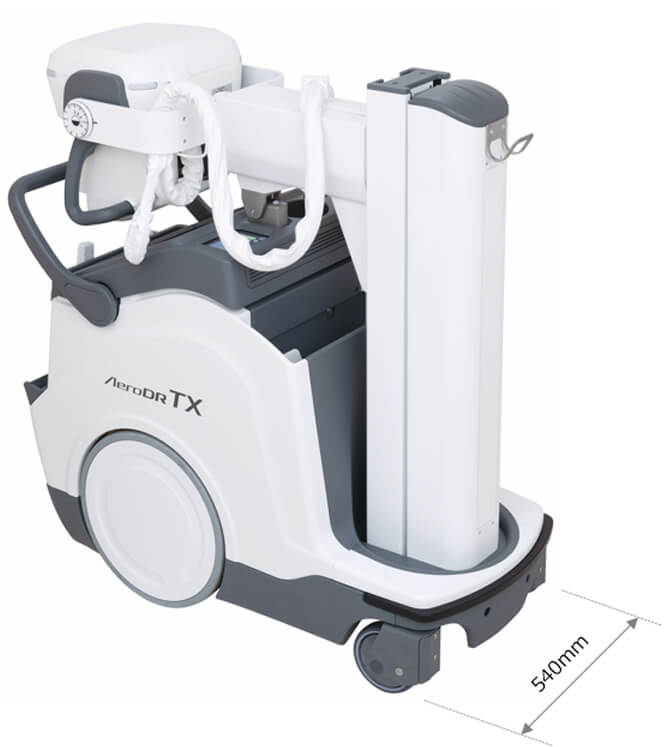 Adopts a Large 19-inch Screen
A large 19-inch touch-panel monitor makes it easy to see exposed images and to use the touch screen. It also features at-a-glance battery level display and entry system using anumeric keypad or RFID card.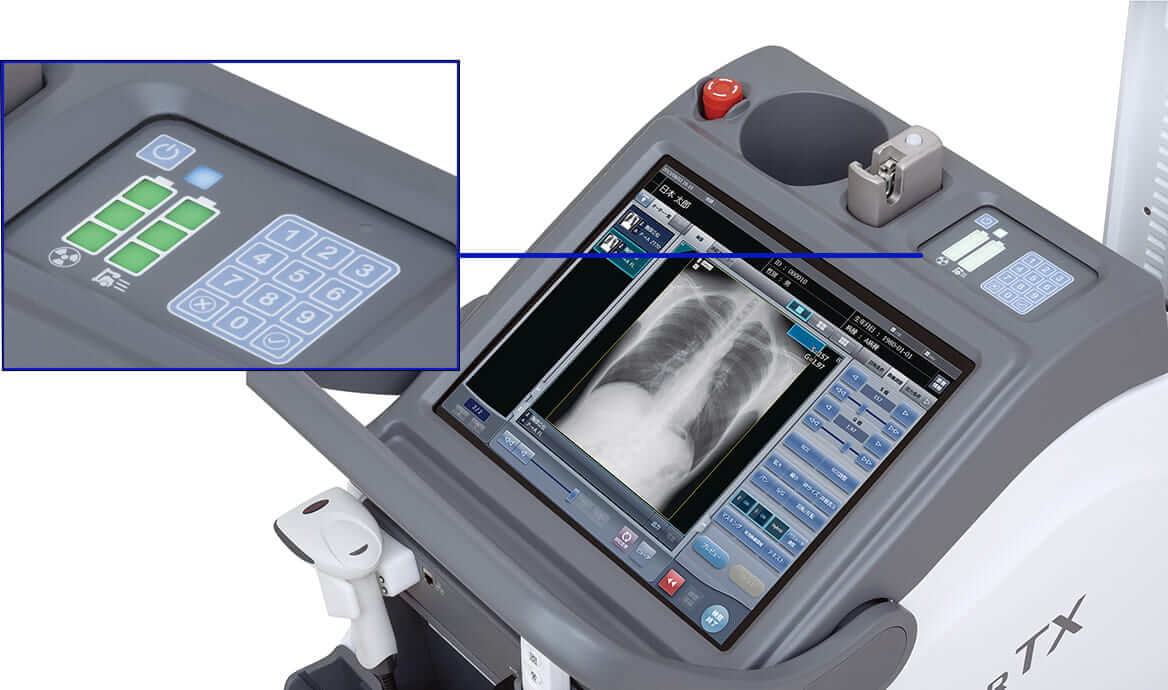 Four-step Telescopic Arm
Touching the handgrip releases the electromagnetic brake, allowing the user to move the column and arm.
The arm can be extended up to 1,220 mm and the column can be rotated up to 317° to cover a wide exposure area.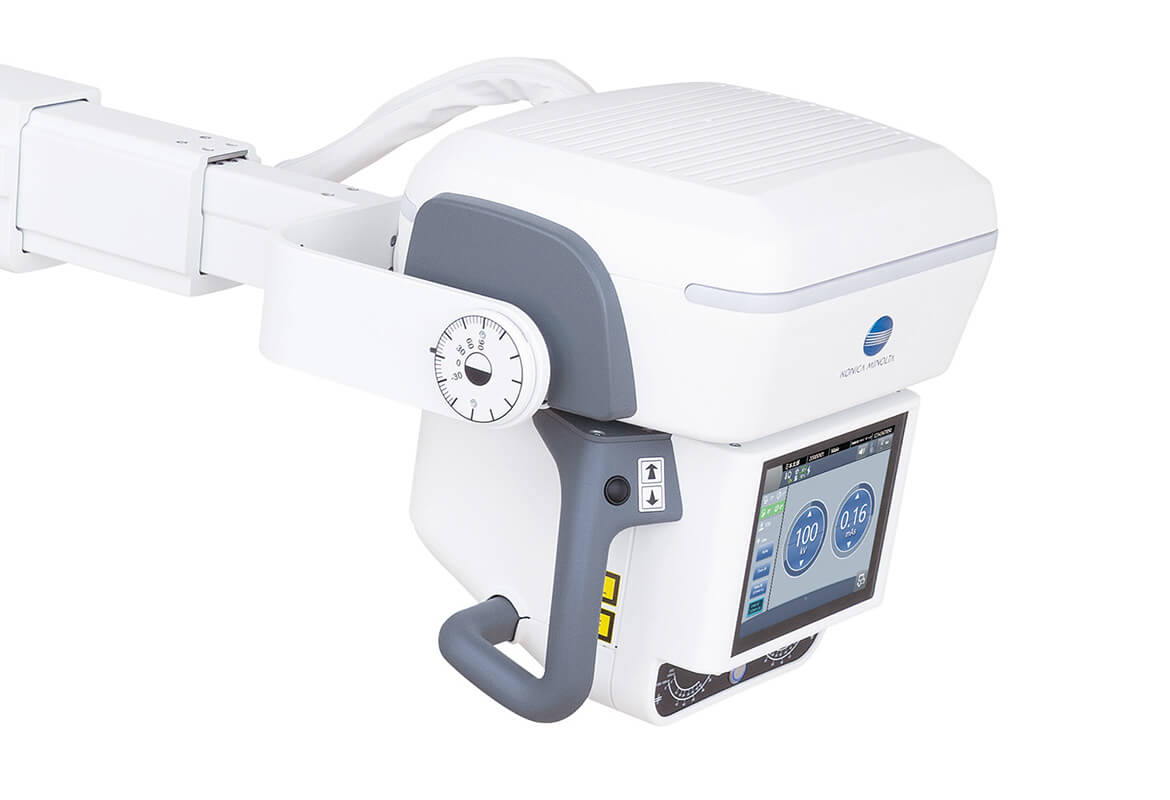 Support for fine positioning movements
The motion control switch on the top of the handgrip allows the user to move each wheel independently, supporting fine positioning movements.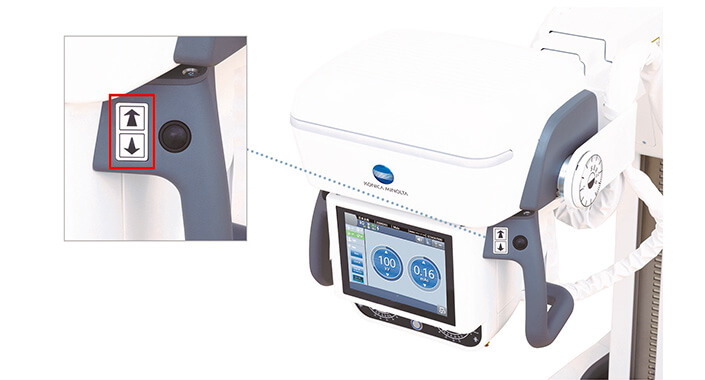 Touch-sensitive handle for movements
Simply touching the handle unlocks the device for easy movements. When not in the parking position or when backing up, the device automatically limits the speed for safer and more secure use. The height of the handle can also be changed.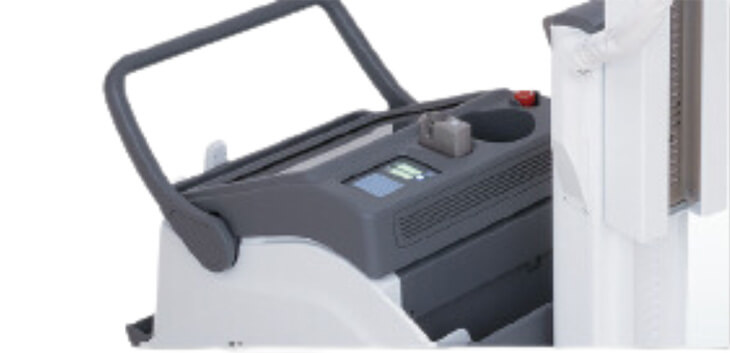 Anti-Collision Sensor
An anti-collision sensor can be installed to support safer operation. (Optional)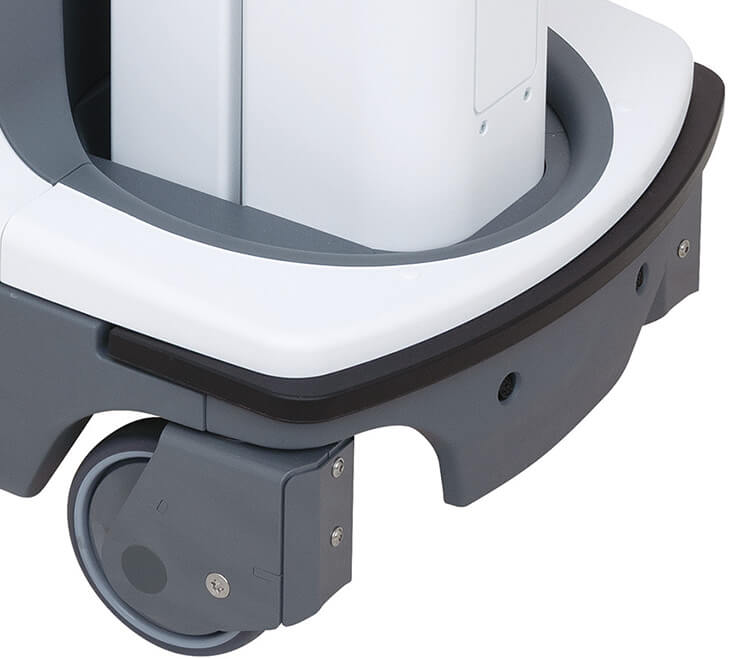 Brochure Download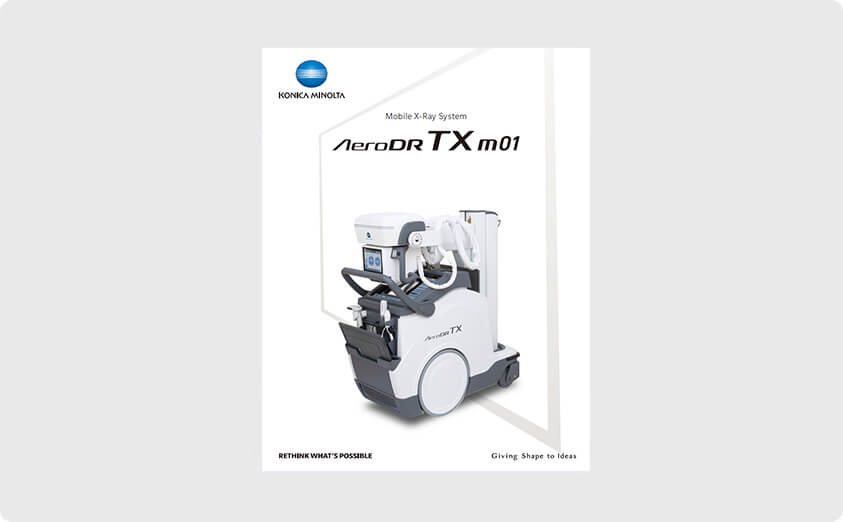 Brochure Download
*This site is intended for healthcare workers.