China 3
Evaluation Points are Quality, Operability, Speed, and Design.
Next, we visited the exposure site of the Department of Radiology and interviewed the Department of Radiology Chief Engineer Tian Junping, who was in a position to actually take pictures on a daily basis.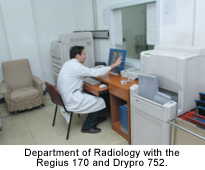 "The touch panel is very easy to use. The intuitive operation with the touch panel eliminates stress. The easy-to-remember operation method is helpful in teaching many medical treatment radiation engineers. Exposure in the analog age depended on experience and the technical capabilities of medical treatment radiation engineers, but digitization enabled novices to acquire images exceeding a certain level and delivered very high speed cassette readings, substantially improving efficiency, I think."
Along with economic liberalization, modality manufacturers from all over the world have recently gathered in China We asked about their impressions of products from Konica Minolta.
"First of all, high quality comes to mind. We consider quality as not merely high image quality and good operability but stability and reliability. The outer design is also favorable. As the design expresses unity with rounded and soft impressions, and many models are serialized, they are easily viewable with a sense of community. Also, the height of the cabinet is appropriate for Asians, unlike the too-tall Western products, and perfect for us."
"At present, the display is based on English although Chinese is partly used. If we could have it all in Chinese, I think usability would be improved. Even now, I combine two pictures of both hands, both feet, and cervical vertebrae together and use a lot of functions."
The story went on. It seems that digital medical image equipment starting with the Regius has become indispensable to people in exposure sites irrespective of borders.
Medical Facilities and Physicians Selected by Patients.Medical Treatment Quality and Patient Services to Support Them Must be Improved.
Since the end of 2002 when the Hu Jintao leadership was inaugurated, the Ministry of Health started to tackle medical system reforms in earnest, actively promoting mutual exchange between medical colleges and hospitals, constructing systems reflecting requests from patients at the medical sites, and disclosing medical treatment information. However, because of the still increasing demand for medical reforms, a significant review of medical systems and medical insurance systems continues, and now the reforms are underway. Health Minister Gao Qiang gives the highest priority to "establishment of the basic medical system" and insists that mutual trust between medical experts and patients, as well as improvements in medical treatment services and standards of medical organizations is important, and the Chinese Ministry of Health is developing a new medical reform plan.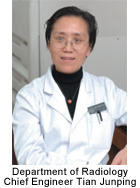 In China, where patients select the hospitals and physicians, what is needed for medical facilities, especially in urban areas of the thickly populated country, to be selected by patients is "improvements in medical treatment quality and patient services." In such a medical environment, a variety of medical imaging equipment helps support medical personnel, which is revealed by the words of Chief Professor Jin Zhengyu and Chief Engineer Tian Junping in the PUMC Hospital.
In the Chinese medical site where change is accelerating, demand for quick, reliable medical care will increase in the future. Meanwhile, we reconfirmed that our mission is to continue to offer products and services that people can use safely both at home and abroad.