Change the world of Lighting
--The light that will illuminate the next 100 years--
We present a new "light" created by refining the paper-thin, light, and flexible OLED lighting derived from the "light technology" developed in the Konica Minolta imaging segment.
We are doubling our development efforts so that OLED light can enrich the lives of customers around the world, and be the light that illuminates the next 100 years.
Business Overview
| | |
| --- | --- |
| Company name | KONICA MINOLTA, INC. |
| Sales office location | 2970 Ishiakwa-machi, Hachioji-shi Tokyo 192-8505, Japan |
| Production site | 1221 Sunada, Gokurakuji, Chuo-shi, Yamanashi Prefecture 409-3811, Japan |
| Products | Plastic substrate flexible OLED lighting panels (white and color tunable) |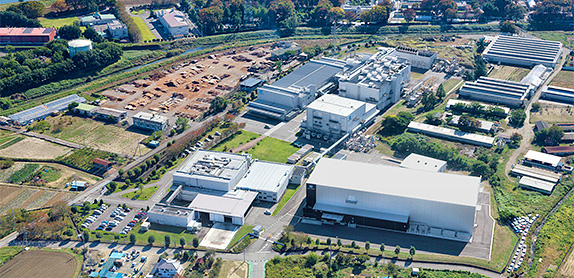 Konica Minolta Constructs Plant for World's First Mass Production of Plastic Substrate Flexible OLED Lighting Panels
History of the Konica Minolta OLED Business
Compiled based on business activities up to the year 2015
We have kicked off research and development for our most important new business area, organic electroluminescent (OLED) materials.
These can deliver high luminous efficiency and long life expectancy. We have begun development on blue phosphorescent material, which is the most challenging OLED material to develop.
In addition to OLED material, we have also started development on its peripheral technologies in order to provide even more value to our customers. These include barrier film, electrodes, deposition processes, and sealing technology.
With our past research findings and our newly adopted corporate philosophy of "creating new value" in mind, we have restructured our business strategy and set out policies to focus our efforts on developing OLED lighting technologies. We continue to push forward with development of key technologies, which are (1) technology (achieving high luminous efficiency, long life expectancy) for blue phosphorescent materials, (2) improving technology (high productivity) for multilayer laminated coating processes, and (3) research and development (creating flexibility) for ultralow moisture barrier film.
We have created a successful prototype for the world's first phosphorescent OLED device made with four-layer laminated coating.
An article was printed in the Nihon Keizai Shimbun about the world's most luminously efficient all-phosphorescent white panel which utilizes blue phosphorescent material. It delivers 64lm/W with life expectancy of 10,000 hours (the first news story suggesting the possibility of practical use for OLED lighting).
Launched collaborative research with General Electric (GE) on flexible lighting that employs the coating type roll-to-roll method.
At the 2007 SID (Society for Information Display) exhibition, the academic conference with the most global clout in the display industry, we announced the world's most luminously efficient all-phosphorescent white panel, which utilizes blue phosphorescent material. It delivers 64lm/W with life expectancy of 10,000 hours.
We have constructed the world's first flexible barrier film* production plant.
Collaborating on development with GE, we created a successful prototype of flexible OLED lighting that can be used on a practical level through the roll-to-roll method. This was displayed for the first time worldwide at the GE booth at the world's largest lighting exhibition "Light + Building 2010."
We constructed a pilot line for OLED lighting that uses the roll-to-roll method.
To open the door to a new era of light, we have launched Symfos- the next generation brand of lighting. We have released for sale sample kits of OLED lighting panels with a world-class level of luminous efficiency.* Achieved the world's first successful* commercialization of all-phosphorescent OLED lighting.
Received the Society of Photography and Imaging of Japan Prize for the development of phosphorescent OLED lighting.
Received the achievement award at the 5th Japan OLED Forum for development and practical application of OLED lighting.
Displayed at Lighting Fair, the largest comprehensive lighting exhibition in Japan, in 2013. Exhibited the world's first* flexible OLED lighting.
We have initiated mass production of flexible barrier film.
We have constructed the world's first flexible OLED lighting panel production plant using the roll-to-roll method.
Announced a white OLED lighting panel at SID 2014 that achieves 139 lm/W, the world's best luminous efficiency. Achieved luminous efficiency with all-phosphorous light on an experimental level that is on par with or better than LED.
We entered the illumination industry and commercialized products such as Tulip and Habataki that utilize flexible OLED lighting.These have been put into use at Huis Ten Bosch, Ashikaga Flower Park, etc.
Received the 2014 Science and Technology Award from the Kinki chemical Society Japan for the development of blue phosphorescent materials for use in OLED
* According to Konica Minolta research at the time
For more details, please feel free to contact Konica Minolta by clicking "Contact Us" below.