What is OLED?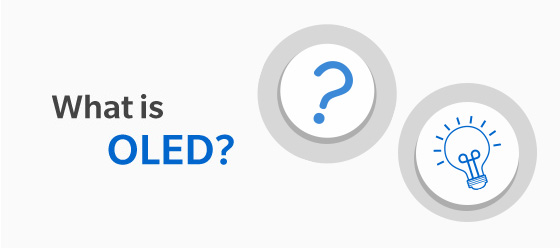 OLED=O

rganic

LED

OLED stands for organic light-emitting diode.OLED utilize a phenomenon in which certain types of organic matter emit light in response to an electric current.
Why do OLED materials give off light?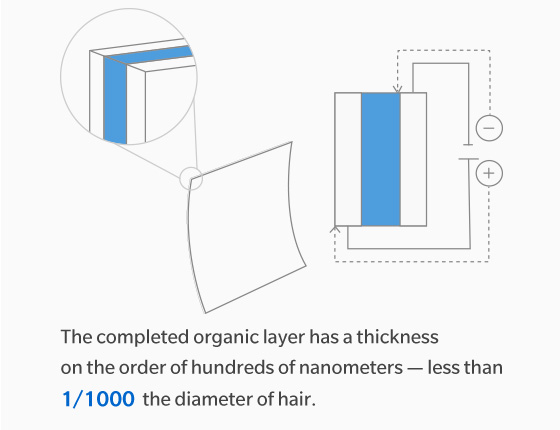 Change the
Electricity

to

Light

Current is applied across the organic material, such that one electrode is negatively charged and the other positively charged. 
The process can be described as injection of electrons at the negative electrode and electron holes at the positive electrode.
When the electrons and holes recombine in the emissive layer, the organic matter of the layer enters an excited (high-energy) state. As the layer returns to a low-energy state, it emits energy in the form of light.
The following video gives a simple depiction of this process.
Comparison with existing forms of illumination
Illumination evolve from
Point, Line

and into

Surface
Character of Konicaminolta OLED lighitng
The World's firstfilm type lighting which film and camera technology have evolved.
Main OLED Characteristic of Konicaminolta OLED lighitng is "Thin", "Flexible" and "Lightweight"
The differences between OLED displays and OLED lighting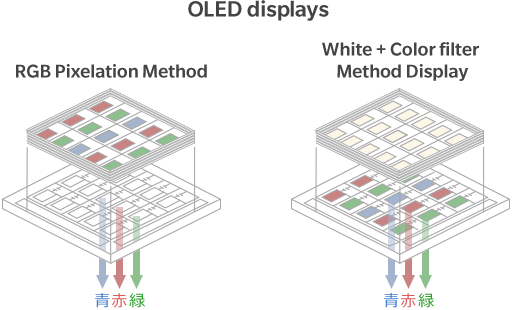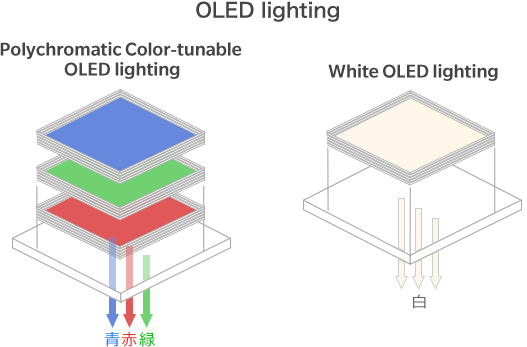 OLED displays
OLED lighting
Brightness
Displays produce light appropriate for people to look at directly.
If the light is too bright,it will tire out the viewer's eyes.
Unlike displays,light sources are not meant to be looked at; rather,they illuminate what people want to see.
Therefore,they must be brighter than displays.
Color
Displays use the three primary colors-red,green,blue.Images can be displayed in full color by combining the primary colors.
In order to show objects in their true colors,basically the light is white,like sunlight.
Working
principle
In order to form images,individual pixels are switched on or off.
Unlike displays,lighting does not use small pixels.
Konicaminolta only have OLED business in lighting field. We do not have a business in OLED display.
For more details, please feel free to contact Konica Minolta by clicking "Contact Us" below.