The glossy uniform crimson attracts the eyes of people and hits overwhelming presence even though it is super small size and super lightweight.
The balanced surface light source which is a good point only by the OLED lighting express the crimson more vividly.
You can use it in various scenes simply because of it's size, weight and thinness.
Composition of Product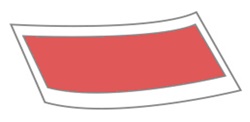 Emitting size about 15mm x 43mm
(Panel size 30mm x 50mm)

Emitting size about 15mm x 15mm
(Panel size 21.4mm x 25.9mm)
Above photo was used by this size
For more details, please feel free to contact Konica Minolta
by clicking "Contact Us" below.