Reinforcing Our Global Management Base


Priority measures

Introducing a global human resource system to cultivate and leverage global human resources
As we consider human resource optimization from a worldwide perspective to be indispensable in providing the highest value to customers around the world, we have constructed a global HR database that we are now actively using. We are also developing initiatives to foster future management personnel from a global perspective, such as periodically implementing management training programs across the group for selected personnel. In addition, we will go on to construct and deploy a common structure for HR evaluations to appoint talented people from different organizations and countries.
Structural enhancements for global Optimized Print Services (OPS)
As a new growth area for the office field in the Business Technologies Business, we are strengthening our sales structure on a global scale for the OPS concept, with the aim of providing an optimal print environment to customers. We achieved sales of ¥29.3 billion (YoY +44%) in FY March 2013.
Expansion of Global Major Accounts (GMA) by providing high-quality services worldwide
As a result of promoting marketing to GMA operating in Europe, the U.S. and other parts of the world through the window of OPS, steady growth was achieved in FY March 2013, having entered into contracts with 16 companies including Erste Group Bank AG (HQ: Austria), one of the biggest financial groups in Central and Eastern Europe, and a major European energy company.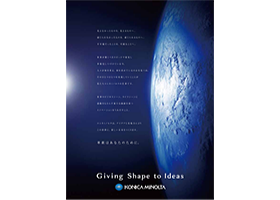 Promoting the communication message "Giving Shape to Ideas"
This communication message clearly expresses our strong determination to fulfill our customers' needs through creative technological innovation. Under this message, we will endeavor each day to resolve our customers' problems through the reliable technological strengths and problem-solving abilities we have fostered in all the businesses in which the Group companies engage, and deliver value beyond expectations.
At a Glance:
Net sales by segment▶
Business outlines and sales data for each segment are published in a summarized format.
At a Glance:
Financial Highlights▶
Highlights of financial information are published in chronological order.