Priority measures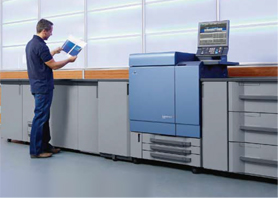 Expand the product line-up from lightweight to heavy systems
We will further promote sales in the lightweight production market, in which we have established a strong presence. In addition, we will expand our product line-up in the midweight and heavyweight production markets in order to respond to the wide-ranging needs of the commercial print domain, in which digitalization is progressing.
Strengthen our capabilities to meet customer needs by type of industry
Based on market characteristics that differ by region, we will increase our expertise with regards to the challenges of each industry and respond accurately to increasingly sophisticated and diversifying customer needs.
Achieve the top position in the color PV field
We will increase the number of our mainstay color equipment units in the PV field and seek to maximize color output in parallel with the digitalization of the commercial printing market.
Strengthen proposal capabilities and sales capabilities in the In-house printing market
We will focus on strengthening our proposal and sales capabilities in order to capture mass quantity in-house printing needs.

At a Glance:
Net sales by segment▶
Business outlines and sales data for each segment are published in a summarized format.
At a Glance:
Financial Highlights▶
Highlights of financial information are published in chronological order.