Priority measures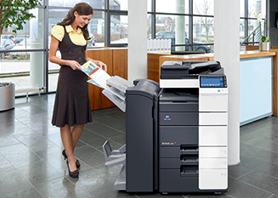 Maintain our genre-top position by launching a new series of color MFPs
Further strengthen OPS(Optimized Print Services1), increase Global Major Account2 (GMA) sales
We have created a globally unified service menu to provide Optimized Print Services (OPS) to optimize the output environment of the customer. By concluding large-scale contracts with global businesses in various fields to undertake the consolidated provision, operation and management of IT devices, we will expand the number of multifunctional machines installed globally and increase sales.
1.

Optimized Print Services (OPS): Optimized arrangement of output devices and output management service.

2.

Global Major Account (GMA): Business with major global corporate customers
Accelerate business development in emerging markets, especially in china and other asian markets
We will accelerate business development in emerging markets with continued high growth in both the number of machines in field and print volume (PV) and increase our competitive advantage.
In order to increase business scale, we will strengthen our sales structure in emerging markets, in which the market for multifunctional machines continues to expand in accordance with economic growth.
Strengthen our capability to propose business process improvements
We will increase profits by strengthening our IT service capabilities and our capability to propose solutions for small- to mid-sized companies, where the Konica Minolta Group has a solid sales base.
With respect to the business process improvements for which requirements are particularly strong, we will provide comprehensive solutions that combine IT services with existing document solutions in order to increase our presence in the document market and expand sales and profits.


A leading global market share in the A3 color MFP market
Strong global sales and service network
Superior sales proposal capabilities based on IT services and solutions


A3 MFP market, where a shift toward color models is forecast in the U.S., Europe and emerging markets

Solid share of the A3 color MFP market in the U.S., Europe and China, where growth is expected

At a Glance:
Net sales by segment▶
Business outlines and sales data for each segment are published in a summarized format.
At a Glance:
Financial Highlights▶
Highlights of financial information are published in chronological order.