Building a Recycling-Oriented Society
Turning Waste into High-Value Materials (High-Functionality Recycling)
Incorporating Resource Saving and Circular Economy Concepts in Products
High-Functionality Recycling That Increases the Value of Materials (Application of Recycled Materials)
Konica Minolta views plastic as one of the high-risk materials due to the fact that its raw material, petroleum, is a finite natural resource, and because ocean plastic pollution has become a major public concern. In order to use post-consumer recycled plastic (PCR) for MFP parts, which require a high degree of functionality, Konica Minolta is actively working on technology development to produce high-functionality recycled plastic and is expanding recycled plastic use in many products. Sales of products utilizing these high-functionality recycling technologies were approximately 440 billion yen in fiscal 2022. This represents 66% of our Digital Workplace and Professional Printing business sales.
Recycling Used PET Bottles and PC Gallon Bottles into an Outer Casing Material for MFPs
Konica Minolta has been striving to develop innovative technologies to recycle various kinds of plastic. In addition to transforming PET and PC plastic from beverage bottles and gallon jugs into exterior materials for MFPs, the company is also recycling ABS resin recovered from used game machines into inner casing materials. The company has developed technologies that ensure that the recycled plastic components have the necessary strength, flame resistance and molding usability. Now, it has taken its chemical processing technology even further. For MFP products launched in fiscal 2019, the percentage of PCR* was raised to about 70% for PC/PET plastic in exterior materials and to about 95% for ABS plastic in inner casing materials. As a result, the use of recycled materials has increased to about 25% for total resin content by weight in the MFP main body.
*

Percentage of post-consumer recycling (PCR): The percentage of material collected from the market that is used in recycled raw materials.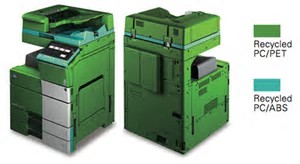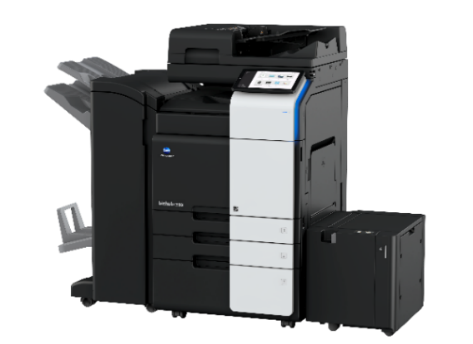 Bizhub C360i series using recycled PC/PET
Recycling Used Milk Bottles into Toner Bottles
Konica Minolta recycles milk containers made from polyethylene and turns them into toner bottles for MFPs. It developed washing technology that removes the smell of milk and minute cells that would lead to quality degradation and established a mass production system in Mexico and Malaysia. The company has succeeded in raising the percentage of PCR in the raw material used for toner containers to 40% and intends to increase it to 100% in the future.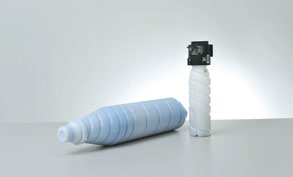 Toner bottles made from recycled material


Milk Bottle Recycling Process