Diversity
Promoting Diversity, Equity and Inclusion
Click to jump to the corresponding section of the page.
Konica Minolta's Approach
Background and Issues
To make diversity of talent a source for innovation, it is vital that we not only embrace diverse talent, but also to transmute each employee's differences into strengths and work effectively as a team.
To that end, we need to eliminate biases that interfere with employees exercising their abilities and create a psychologically safe corporate culture where everyone can speak frankly.
Vision
To continue to create solutions to social issues, we respect differences and embrace diverse values to improve employee job satisfaction. We seek to foster a corporate culture that enables employees to share their differing ideas in a wholesome way and to take on challenges while helping each other out.
Key Measures and KPIs
Foster a corporate culture that provides a high degree of psychological safety. We seek to improve our score in the Global Employee Survey, especially our corporate culture-related score.
Fiscal 2022 targets: Set targets for fiscal 2023 and beyond based on the fiscal 2022 Global Employee Survey.
Conducting Diversity Promotion Engagement Survey
Since fiscal 2016, Konica Minolta, Inc. has routinely conducted the Diversity Promotion Engagement Survey on diversity and equity to identify issues and progress made in promoting diversity and reflect them in its activities. In fiscal 2017, we added a question on "Inclusion," with a focus on our efforts to improve the psychological safety of organizations and eliminate unconscious bias.
As a result, the percentage of positive responses* to the diversity-confirming statement, "Konica Minolta supports a diverse workforce (acknowledges and respects individual differences)," improved by 31 points over the 4 years of activities from fiscal 2017 to fiscal 2021, and the percentage of positive responses to the inclusion-confirming statement, "At Konica Minolta, I can speak frankly most of the time," increased by 12 points.
Percentage of Positive Responses* in the Diversity Promotion Engagement Survey.
Statements
FY2017
FY2019
FY2020
FY2021
Diversity:
Konica Minolta supports a diverse workforce (acknowledges and respects individual differences)
36%
51%
54%
67%
Inclusion:
At Konica Minolta, I can speak frankly most of the time.
37%
43%
41%
49%
*Respondents answered "agree," "somewhat agree," "undecided," "don't much agree," and "disagree" on a 5-point scale. The percentage of positive responses is the percentage of "agree" and "somewhat agree" responses.
From fiscal 2022, the Konica Minolta Group will work together to promote Diversity, Equity and Inclusion (DEI) by verifying issues and progress in the Global Employee Survey.
Creating an Environment where Employees Embrace Differences and Take on New Challenges
Recognizing the importance of promoting inclusiveness as well as diversity, Konica Minolta, Inc. has been working in parallel to promote understanding among management and employees about the nature of DEI promotion since fiscal year 2016. We are also working to foster a corporate culture that encourages each employee to accept each other's differences and positively take on challenges. .
Workshop to Raise the Organization's Psychological Safety
Workshop for Leaders
To accelerate the development of a corporate culture in which healthy conflicts and positive challenges naturally occur, Konica Minolta, Inc. conducts workshops to enhance the psychological safety of the organization, especially of its leaders.
From fiscal 2019 through fiscal 2021, about 350 leaders have participated in this hands-on program to improve organizational dialogue through workshops and follow-up group activities.
Lecture Meetings for Management
To promote understanding of the nature of DEI from a management perspective, we periodically held lectures from 2017 to 2019 for management, inviting executives from leading companies engaged in forward-looking initiatives, with directors and heads of each division participating.
Diversity Workshop for Senior Managers and Above
A workshop was held for senior managers and above to help them more deeply recognize the importance of promoting DEI and to train and provide guidance to their personnel. The workshop was held 12 times with about 300 participants during the two years from fiscal 2017 to fiscal 2018. At the end of the workshop, the participants each announced their determination to work to promote diversity in their respective departments.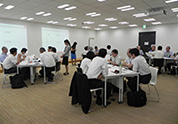 Diversity workshop for senior managers and above
Eliminating Biases that Interfere with Employees Demonstrating their Abilities
To get each employee to respect each other's differences and create flexible and new ideas, in fiscal 2021, we began to seriously work on eliminating the unconscious bias that imposes our thoughts on colleagues and constrain us.
Providing e-Learning to All Employees
We produced videos for all employees and for leaders and their staff and provided e-Learning to all employees of Konica Minolta, Inc. To ensure that the participants not only understood the bias but also acted on it, the program involved making a declaration of action after viewing a video, which was followed by a review of the action they took one month later.
The produced video was also made available to employees of Group companies in Japan, and several companies conducted training using this video.
Launch of the "Opportunity Cafe"
With the participation in the DEI Program held in Japan in June 2021, a network of volunteers was set up to study and think about DEI, and discussion meetings were held regularly. Under the theme of DEI, which includes sexual orientation, gender identity, disabilities, and gender roles and the division of labor, we have reached a better understanding of individual differences and, based on this, we have had wide-ranging discussions about what Konica Minolta has already contributed and what it can contribute in the years ahead. In fiscal2022, these network volunteers will take the lead in launching the "Opportunity Cafe," a place where they can interact with many more colleagues, deepen mutual understanding, and provide opportunities for all individuals to thrive.
Promoting Activities that Unify the Konica Minolta Group
Since fiscal 2017, we have been working to promote an understanding of DEI to employees of Group companies in Japan by regularly sharing articles containing interviews with executives and role models, and good practices for promoting DEI within the Company through our internal portal site, as well as by implementing Companywide programs.
Since 2021, those in charge of DEI promotion in Europe, the U.S., and Japan have met to plan global programs, including programs linked to International Women's Day as well as programs held in conjunction with Pride Month* with the aim of promoting activities that unite the Konica Minolta Group, including overseas Group companies. At the same time, the Group also held programs for Japan based on the themes of the global program to encourage more employees to participate in DEI promotion.
*June is recognized worldwide as "Pride Month," a time for promoting awareness of LGBTQ+ rights, and a wide range of events are held throughout the world.
June 2021 – RETHINK EMPOWERMENT
Unlock the power of diversity with Authenticity and Allyship
In conjunction with International Pride Month, a panel discussion was held by members of VIBRANT, an LGBTQ+ community operated by Group companies in Europe, allies, and external experts with 550 people from 22 countries participating in the discussion. In Japan, the program was held in conjunction with the global program and consisted of two parts: a talk by an outside lecturer who shared his experiences, and a group discussion in which participants discussed their insights, and about 100 people attended. Through this theme, we reaffirmed the importance of first creating a corporate culture in which everyone can work with peace of mind to work as they like.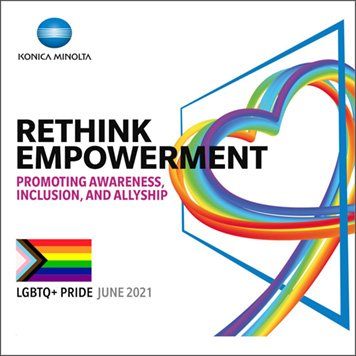 November 2021 - RETHINK OUR WORKPLACE WITH YOUR VOICE
Each one of us plays a leading role in transforming the organization! With that in mind, we held a global program to take the "first step" toward transformation based on the results of the Your Voice Global Employee Survey (hereafter, "Your Voice") conducted in July. Approximately 800 people from around the world attended the event. The occasion provided a chance for colleagues from around the world to connect and share the thoughts of senior management on the importance of Your Voice, as well as the initiatives in each country, region, and business to realize One Konica Minolta.
In Japan, under the theme of "Creating a Workplace that Utilizes Your Voice," a program was held that presented case studies of initiatives at each company, with approximately 180 people attending.
Fostering a Corporate Culture that Welcomes Diversity
Konica Minolta welcomes the differences of each employee, including their race, gender, nationality, age, disability, sexual orientation and gender identity, religion, and ethnicity. Therefore, we proactively actively engage in activities to understand each other's differences.
For example, Konica Minolta, Inc. supports each employee to act through regional "supporter" activities to promote diversity that is more in line with actual workplace conditions, as well as cross-cultural exchanges led by Muslim employees.
Creating an Environment that Embraces Diversity in Sexual Orientation and Gender Identity
Konica Minolta, Inc. is working to create an environment that embraces diversity in sexual orientation and gender identity.
In fiscal 2018, we set up a counseling service for those worried about their sexual orientation and gender identity, and provide e-Leaning for all employees, which is carried out on our internal portal site. We are also upgrading our internal facilities and equipment to make them accessible to all.