Diversity
Supporting the Efforts of Diverse Employees
Recognizing Differences and Creating an Environment that Encourages Challenges
Diversity and inclusion are an essential part of the organizational culture at Konica Minolta, Inc. and key factors in achieving its management vision.
Konica Minolta strives to build an environment where individual differences are recognized and respected, so that each individual can be true to themselves and take on challenges that test their skills. In such an environment, differences are not seen as "unusual"; rather, each person's values and thoughts are key assets for the process of constantly creating new ideas. True to this approach, Konica Minolta supports the efforts of all of its diverse employees.
Company-Wide Diversity Promotion Program
Konica Minolta, Inc. held an International Women's Day. From January to March 2019, the company built upon this through a company-wide program, "Diversity and Inclusion! 2018," where a total of 1,000 employees participated. Under the overall theme of "Respect (Understanding and Accepting Each Other's Differences)," workshops, panel discussions, and lectures were given on 18 occasions at six sites. Additionally, a special lecture was given and shared with 15 company sites in Japan via video conference. It was an opportunity for participants to consider differences around gender, age and position as well as differences in people's outlook on life and their values. It also prompted them to think about how to turn those differences into strengths.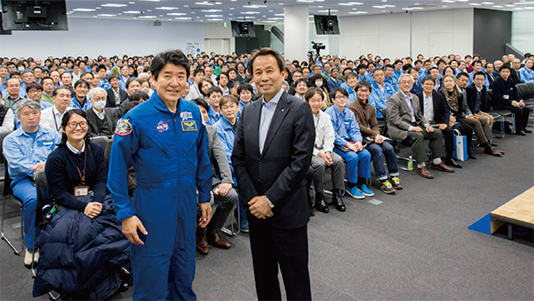 Lecture by astronaut Takao Doi (standing, left)
Workshop to Raise the Organization's Psychological Safety
Konica Minolta's diversity and inclusion strategy aims to foster an organization and culture that can continuously create value through co-creation. It is also the driver for building an organizational culture in which differences are accepted and open dialogue is welcome, in other words, promoting the organization's "psychological safety." To achieve this, Konica Minolta holds workshops for leaders to accelerate the embrace of a culture in which healthy conflict and forward-looking challenges are the norm. In fiscal 2020, about 200 managers participated. Practical activities were held to improve the organization's ability to hold dialogue through the workshop and subsequent group activities.
Diversity Advocates
Employee volunteers sign up to be diversity advocates and take the initiative to promote diversity at frontline worksites in each region. Asking themselves, "What changes can we ourselves create," these advocates think about challenges with the status quo and implement solutions. In fiscal 2018, two advocate teams were formed―in eastern and western Japan―bringing together diverse members of different ages, genders, and nationalities. Each member has their own awareness of the issue―from experience raising children, to caring for family members, to status as a non-Japanese employee. Members engaged in lively dialogues and discussions. Workshops and consultations were also held involving employees from relevant sites, sharing information useful to all employees.
In order to carry out grassroots diversity and inclusion activities in every workplace, diversity and inclusion advocates were appointed and advocate meetings were held. Along with good practices, the advocates shared information with one another on how to enhance diversity and inclusion activities in the workplace.