Diversity
Promoting Women's Workplace Participation
Click to jump to the corresponding section in this page
Konica Minolta's Approach
Background and Issues
Gender equality and women's empowerment are key issues for the global community, and they are also vital to achieving the SDGs. In Japan, however, despite the fact that both men and women are generally highly educated, the reality is that women still face barriers when it comes to leadership and participation across the board. Konica Minolta recognizes the urgent need to develop an environment that facilitates women's success in its industry.
Vision
Konica Minolta views the diversity of its human resources as a source of new and never before seen innovative ideas and solutions. In this sense, diversity is the key to achieving a balance between "supporting people to achieve their own purpose" and "realizing a sustainable society" as stated in its management vision.
We believe that promoting the advancement of women will also foster the advancement of all social minorities, and we seek to further expand the arenas in which women can actively participate in the workforce.
Key Measures and KPIs
Creating innovation by supporting human resources with diverse values
KPI
Result
Target
FY
2020
FY
2021
FY
2021
FY
2022
Percentage of management positions held by women
7.2%
9.1%
8%
10% or more
Percentage of women among new graduate recruits
23%
35%
30% or more
Maintain 30% or more
Regular employees of Konica Minolta, Inc. as of the April 1 following the end of each fiscal year
Promoting Career Development of Women
Since fiscal 2010, Konica Minolta, Inc. has been implementing a wide range of career development programs to encourage women's full participation in the workplace. Since fiscal 2016, we have positioned the support of women's advancement as a distinct management strategy that forms a part of our diversity promotion efforts, and we are further accelerating those efforts.
Active Employment of Women
Konica Minolta, Inc. is actively employing women as part of its efforts to increase the diversity of its human resources. Notably, the Company has set a target that at least 30% of new graduate recruits will be women and has continuously strengthened its recruitment efforts. In fiscal 2021, the percentage of women recruited for engineering jobs among new graduates was 32%. We will continue to actively employ women and ensure their full workplace participation at all stages of their careers.
Creating innovation by supporting human resources with diverse values

| | New graduates | Mid-career recruitment |
| --- | --- | --- |
| Percentage of women employed in FY2021* | 35% | 24% |
*Percentage of people who become prospective employees in FY2021
Promoting Career Development for Woman Employees
Konica Minolta, Inc. has worked proactively to create an organizational culture in which women can thrive, provide education and training, and augment its systems, using the percentage of management positions held by women as one of its indicators. Driven by a strong desire to foster women in leadership, the responsible individuals in each business division are directly involved in developing individual development plans and focus on reinforcing the pipeline of leaders. In addition to these initiatives, Konica Minolta identifies women with high potential and systematically nurture them so that they can exercise influence in the upper levels of management.
Strengthen Training of Manager Candidates
To reinforce the pipeline of leaders who are women, we provide training for women who are on the verge of becoming managers. The training seeks to systematically develop their skills and leadership abilities in order to facilitate their promotion to management positions.
Taking inventory of past experiences and identifying any shortcomings in experience and skill, we systematically assign duties and develop the competencies needed for career growth, including promotion to management positions and future advancement. In fiscal 2021, we also conducted training for about 40 women and their supervisors, respectively (about 80 employees in total), to address their need for additional experience and skills and to equip these women to better shape their own careers.
We introduced a "sister program" wherein more experienced women in management positions provide person-to-person consultations for women newly appointed to these roles, to help alleviate their concerns and raise their motivation immediately after promotion.
Workshops for Women Staff and Managers
A career planning workshop was held to encourage individual women employees to better appreciate their own value and strengths in action, to acquire skills and abilities for developing their own career plans, and to find a path towards ongoing personal growth. A management workshop was also held for the immediate supervisors of these women staff. The purpose was to enhance the ability of these managers to provide career support to their subordinates based on an understanding of the need for diversity in human resource development.
These two workshops were jointly planned, and by having women employees and their direct supervisors attend workshops around the same time, both groups were able to share an approach for career formation and an understanding of the issues, while enhancing their commitment. The company has been holding these workshops for women employees and their direct supervisors since fiscal 2017 until 2019. Around 350 employees and managers have participated over the last three years.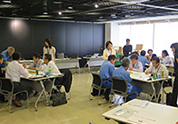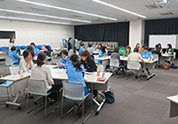 Workshop for women employees and manager candidates
Numerical Targets for Promoting Women's Career Development
In Japan, we are working hard to achieve the targets of our action plan, which is based on Japan's Act on Promotion of Women's Participation and Advancement in the Workplace. The plan aims to empower more women to reach leadership positions and broaden their spheres of activity. Konica Minolta, Inc. has completed its third action plan, which started in fiscal 2020, and formulated a new fourth action plan that will start in fiscal 2022.
Progress toward achieving the third phase of the action plan for fiscal 2020-2021

| | Target | Result |
| --- | --- | --- |
| Percentage of women in management positions (section manager and above) | 8% | 9.1% |
| Percentage of women assistant managers among early career employees* who are candidates for the next management position | 12% | 12.4% |
| Percentage of organization heads among women managers | 40% or more | 37.7% |
*Early career employees: Under 40 years of age
The percentage of women in management positions has steadily increased each year and achieved the action plan targets.
In fiscal 2018, Konica Minolta had its first woman executive officer, and as of June 2022, one outside director and three corporate vice presidents were women, bringing the percentage of women directors and executive officers to 8%.
Number and Ratio of Women Managers at Konica Minolta, Inc. (as of April of each year)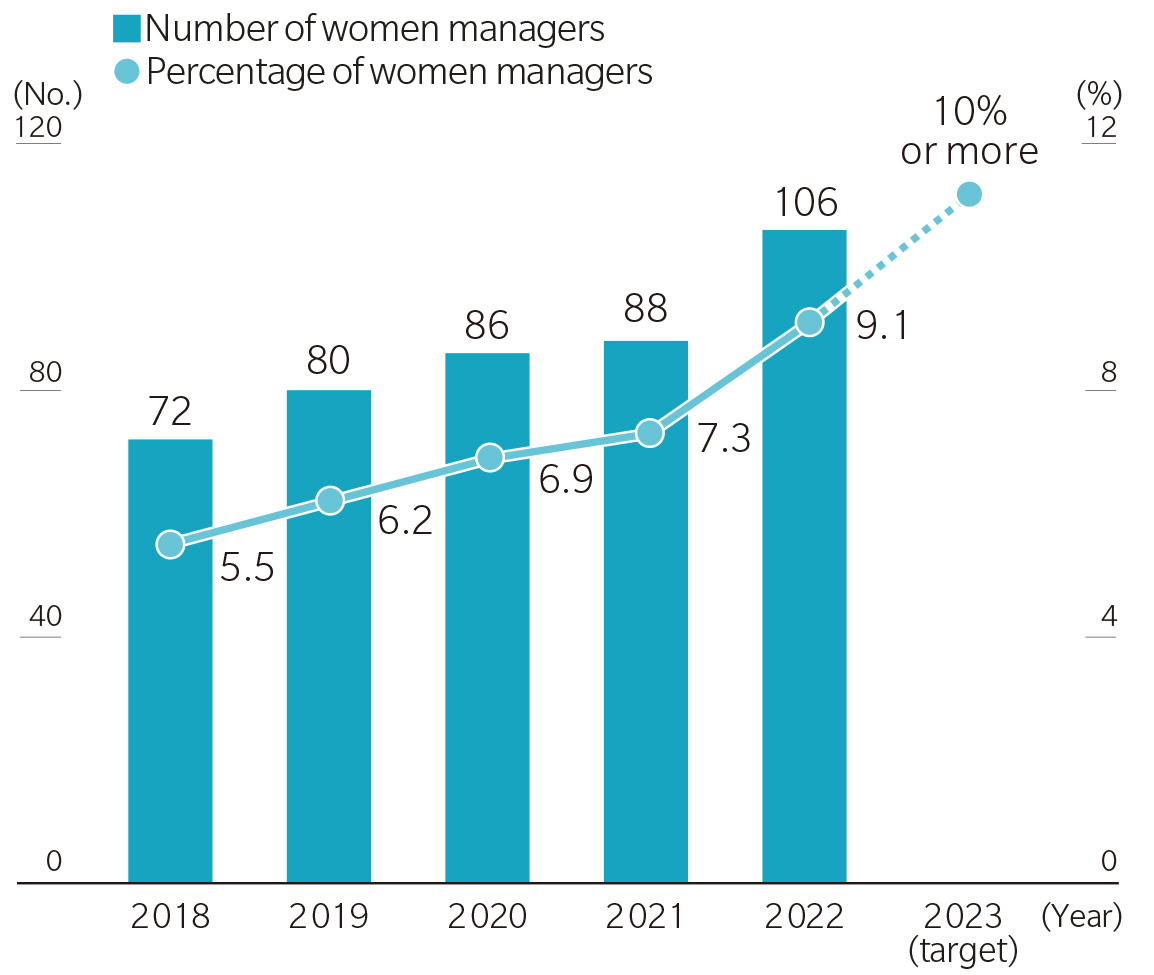 Fourth Phase of Action Plan for FY 2022-2024
(a) Plan duration
April 1, 2022 – March 31, 2024
(b) Numerical targets
Percentage of women in management positions (section manager and above): 10% or more Percentage of employees taking paid leave: 75% or more
(c) Description of initiatives

Selective training of manager candidates
Rapid advancement by enhancing training for emerging employees
Promoting the planned use of paid leave

(d) Timing of initiatives
Implemented as needed
Creating an Environment Where Women Employees Can Succeed
For women to continue to work actively, it is important not only to support their career development, but also to improve the work environment.
Over many years, Konica Minolta, Inc. has proactively developed a system that flexibly adapts to the circumstances and needs of employees, such as changes in their working hours, workload, and work content due to childbirth, childcare, and nursing care, to create a comfortable work environment. Konica Minolta also focuses on mutual support among employees and employee activities that unite the Group.
Promoting Work-Life Management
The development of Konica Minolta's work-life balance support program began in the 1990s to prevent women employees from leaving their jobs due to childbirth or childcare. We are now also promoting male employees' participation in childcare and improving support for balancing work and nursing care, as well as changing systems and creating an environment that can flexibly adapt to the differing circumstances of each employee.
As a result, the gap in the average number of years of continuous service between men and women at Konica Minolta, Inc. has been eliminated, and we have created an environment where everyone can balance work and life.
Furthermore, we provide a wide range of opportunities for women and their colleagues and supervisors to gain accurate knowledge and learn coping strategies for diseases such as premenstrual and menopausal syndromes that are particular to the life stages of women, so that women can work safely and with peace of mind.
Creating a Network for Mutual Assistance
Konica Minolta promotes networking beyond organizational boundaries. Voluntary initiatives such as company childcare communities and career workshops help promote the active participation of women.
Network for Women in STEM
At Konica Minolta, Inc., more women are being hired as engineers, and women are being assigned to workplaces in which there used to be only men. As the environment changes, there are still workplaces in which there are very few women serving as engineers. For this reason, Konica Minolta established the Network for Women in STEM so that these women don't have to keep their worries to themselves but can connect with a wide group of colleagues, including people with the same concerns, people who have overcome these concerns, and people who can approach concerns from a completely different perspective. Men and other leaders in occupations other than engineering also participate as supporting members. In addition to online workshops on themes such as balancing home life, child-rearing and career, Konica Minolta has created an environment in which members can talk to others on the team at any time using chat and other systems.
Programs linked to International Women's Day
Since March 2018, Konica Minolta has been holding programs linked to International Women's Day.
*International Women's Day, which originated from a demonstration for women's suffrage held in New York City on March 8, 1904, was established by the United Nations in 1975.
| Date Held | Theme | No. of Participants |
| --- | --- | --- |
| 2018 | Connect | 300 (held in Japan) |
| 2019 | Respect–Understand and acknowledge each other's differences | 1,000 (held in Japan) |
| 2021 | RETHINK EMPOWERMENT | 650 (held globally) |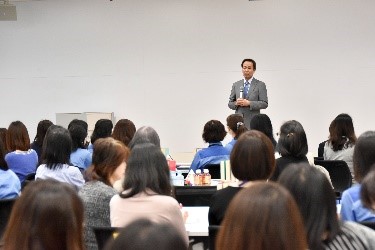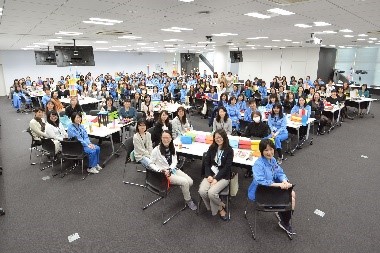 International Women's Day Program - March 2018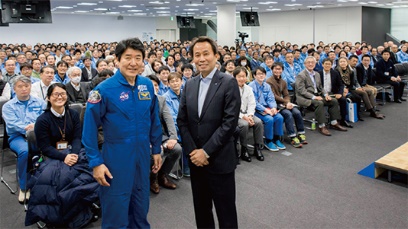 Diversity Promotion Companywide Program - March 2019
Lecture by Astronaut Takao Doi (pictured left)
BREAK THE BIAS - March 2022
Under the theme of "BREAK THE BIAS," Konica Minolta held global programs tailored to local communities in Europe, the U.S., and APAC.
In Europe, 220 people from around the world took part in discussions among participants and training by outside instructors on understanding and dealing with bias. In the U.S., we offered study courses for employees that focused on learning about bias and created a guide for managers to use to manage their organizations. In APAC, 130 people from China, Korea, and Japan participated. The panelists learned about bias and shared their experiences with panelists from other countries. Participants then discussed their own experiences and insights with each other in group discussion, and at the end, each person announced the future actions they would take.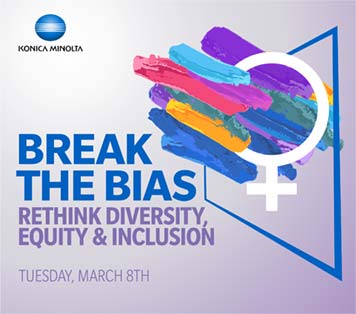 External Evaluation
Platinum Kurumin Certification (FY2017)
Konica Minolta, Inc. was recognized by Japan's Minister of Health, Labour and Welfare as an exceptional example of a company that provides support to employees raising children.


Platinum Kurumin certification mark
Eruboshi Certification (FY2016)
As a company with an outstanding environment for promoting the role of women in the workplace, Konica Minolta was awarded the highest Eruboshi certification by Japan's Minister of Health, Labour and Welfare, under the Act on Promotion of Women's Participation and Advancement in the Workplace.


The Eruboshi certification mark