Diversity
Supporting Women's Career Building
Click to jump to the corresponding section in this page
Konica Minolta's Approach
Background and Issues
Gender equality and women's empowerment are key issues for the global community, and they are also vital to achieving the SDGs. In Japan, however, despite the fact that both men and women are generally highly educated, the reality is that women still face barriers when it comes to leadership and participation across the board. Konica Minolta recognizes the urgent need to develop an environment that facilitates women's success in its industry.
Vision
Konica Minolta believes that employee diversity is a source of growth. The company takes measures to create an environment where women can perform to their full potential. In order to accelerate the success of its women employees, Konica Minolta does not limit itself to simply ensuring that they can keep working through various life events, but also aims to expand their access to any career path they want to pursue.
Key Measures and KPIs
Creating innovation by supporting human resources with diverse values
KPI
Result
Target
Target
Target year
Fiscal
2020
Fiscal
2021
Percentage of management positions held by women at Konica Minolta, Inc.
7.2%
8%
8% or more
Fiscal
2022
Percentage of women among new graduate hires
23%
30% or more
Maintain 30% or more
Fiscal
2022
Supporting Career Development of Women
Facilitating the Career Development of Women Employees
For many years Konica Minolta has proactively provided equal employment opportunities for men and women, while working to build systems that can respond flexibly to the circumstances and needs of employees. These include adjusted work hours, volume, and content for employees expecting a child, or those looking after a child or family member. The company has striven to create workplace environments that make it easier for employees to remain employed while fulfilling family responsibilities. As the next step, Konica Minolta is undertaking measures to help empower women employees and allow even more women not only to remain employed but to enjoy success and career satisfaction.
Konica Minolta has worked proactively to create an organizational culture in which women can thrive, provide education and training, and augment its systems, using the percentage of management positions held by women as one of its indicators. Driven by a strong desire to foster women in leadership, the responsible individuals in each business division are directly involved in developing individual development plans and focus on reinforcing the pipeline of leaders. In addition to these initiatives, Konica Minolta will identify women with high potential and systematically nurture them so that they can exercise influence in the upper levels of management, going forward.
Workshops for Women Staff and Managers
A career planning workshop was held to encourage individual women employees to better appreciate their own value and strengths in action, to acquire skills and abilities for developing their own career plans, and to find a path towards ongoing personal growth. A management workshop was also held for the immediate supervisors of these women staff. The purpose was to enhance the ability of these managers to provide career support to their subordinates based on an understanding of the need for diversity in human resource development.
These two workshops were jointly planned, and by having women employees and their direct supervisors attend workshops around the same time, both groups were able to share an approach for career formation and an understanding of the issues, while enhancing their commitment. The company has been holding these workshops for women employees and their direct supervisors since fiscal 2017. Around 350 employees and managers have participated over the last three years.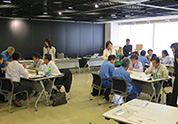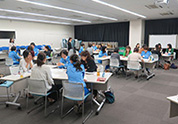 Workshop for women employees and manager candidates
Numerical Targets for Women's Career Promotion
Konica Minolta, Inc. is working hard to achieve the targets of its action plan, which is based on Japan's Act on Promotion of Women's Participation and Advancement in the Workplace. The plan aims to empower more women to reach leadership positions and broaden their spheres of activity.
Target:To raise the percentage of management positions held by women to 8% in fiscal 2021.
Action Plan:
(a) Plan duration
April 1, 2020 – March 31, 2022
(b) Numerical targets
8% of management positions held by women
12% of the young assistant managers who are candidates for the next management position are women
40% or more of women managers are organizational heads
(c) Description of initiatives
Selective training of manager candidates in Performance Grade 3
Rapid advancement by enhancing training for young employees
(d) Timing of initiatives
Implemented as needed
In fiscal 2020, Konica Minolta began a new two-year action plan, which will be its third. The percentage of management positions held by women, which is the indicator for this plan, is steadily rising every year, and the company will step up its efforts to achieve the target by the end of fiscal 2021. In fiscal 2018, Konica Minolta, Inc. appointed its first woman executive officer.
Number and Percentage of Women Managers at Konica Minolta, Inc.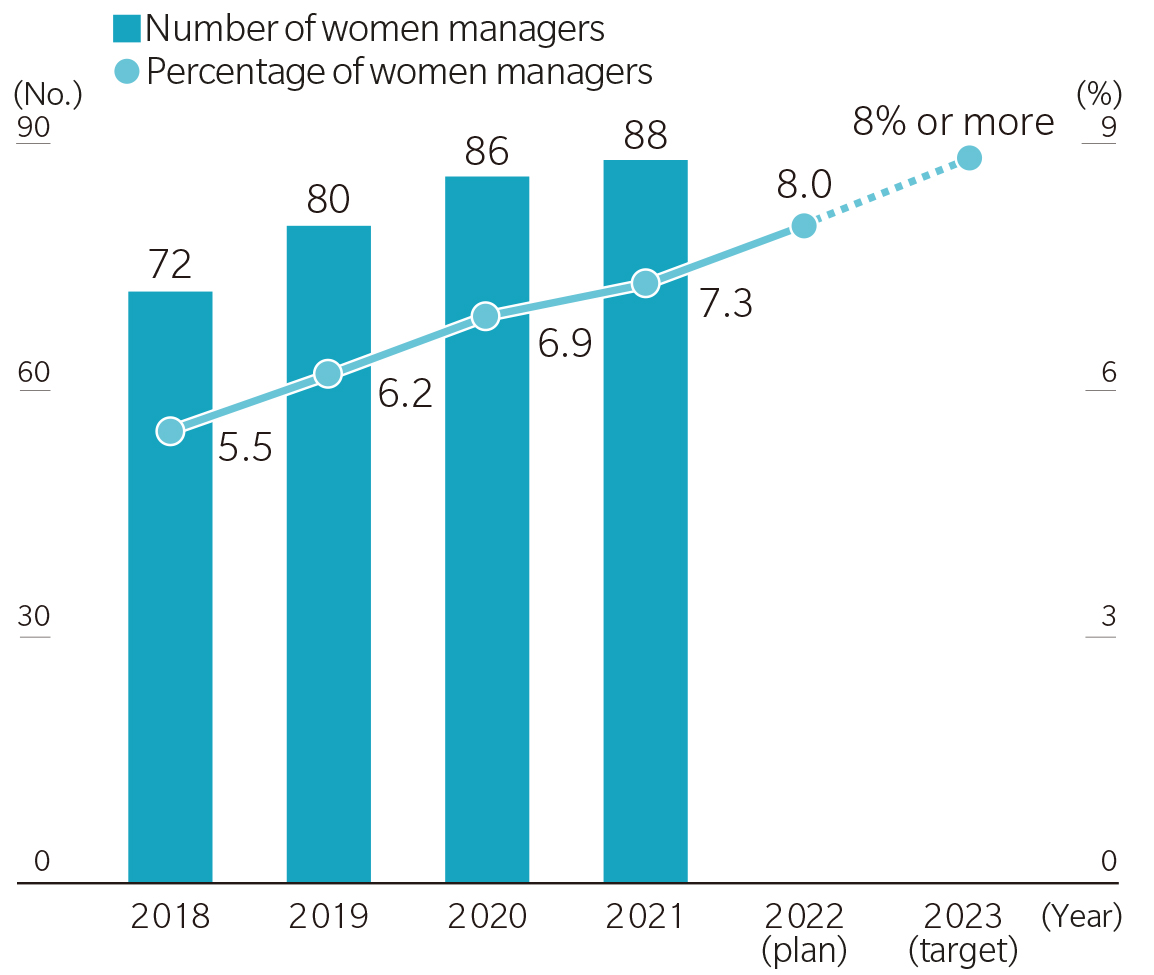 Initiatives to Support the Success of Women Employees
Konica Minolta, Inc. has put a number of career development programs for women in place since fiscal 2010 in order to further encourage women employees to fulfill their potential. In fiscal 2014, it implemented a program for women selected from those at the section chief level for having potential as managers and assisted them in their career development plans while also providing them with leadership training. The company also holds meetings to explain its promotion policy for women employees to the supervisors of the women chosen for this program, and it is implementing a six-month support program with mentors other than the supervisors in charge of guidance and training.
Since fiscal 2016, the company has been accelerating its initiatives by making the advancement of women part of diversity promotion, and clearly stating this in its management strategy.
Initiatives in Fiscal 2017-2020
In fiscal 2016, Konica Minolta, Inc. established a Women's Committee under the leadership of the company president, who has the ultimate responsibility for creating a foundation for full-scale promotion of women employees' advancement. As part of the committee's activities, workshops and a company-wide survey were conducted to gather feedback from all women employees and to identify the issues and conditions they face. The Corporate Diversity & Inclusion Office, headed by the president, took over the Women's Committee's activities in fiscal 2017 and has been carrying out various activities based on the three-year medium term business plan.
International Women's Day Program
In March 2018, Konica Minolta, Inc. held its first program to mark International Women's Day,* and more than 300 Konica Minolta women participated. Under a theme of "Connections," the program's aim was for women to develop comradery with diverse colleagues in the company through networking, to learn about their differences, and to find opportunities for new development and progress. The day began with a speech from Shoei Yamana, President and CEO of Konica Minolta, Inc., which was shared with four company sites in Japan via video conferencing. After that, a lecture was given by a special guest along with a workshop. The workshop allowed participants to experience the benefits of diversity that can be achieved by utilizing the strengths of each individual as part of a team. The participants were all able to share the same experience, while engaging in a joint initiative with a joint sense of accomplishment.

* International Women's Day (March 8) was created by the United Nations in 1975, marking the date of a mass demonstration for a woman's right to vote that took place in New York on March 8, 1904.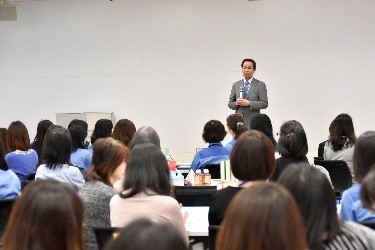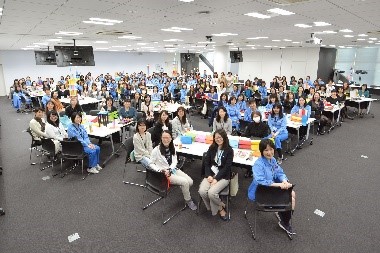 International Women's Day Program
Global Panel Discussion for International Women's Day
On March 8, 2021, Konica Minolta held its first global online panel discussion to encourage its highly diverse and unique employees to make the most of their talents and maximize the company's potential as an organization. On this day, four women global leaders in Asia, Europe and the US, as well as Konica Minolta's president, participated as panelists. The event was attended by over 650 Konica Minolta Group employees from around the world. The group discussed how a diverse workforce can exercise individuality and skills within the organization and how to bring together the strengths of individuals into the power of a team. Konica Minolta has supported International Women's Day in countries all over the world in the past few years, but in fiscal 2020 the event really brought everyone together.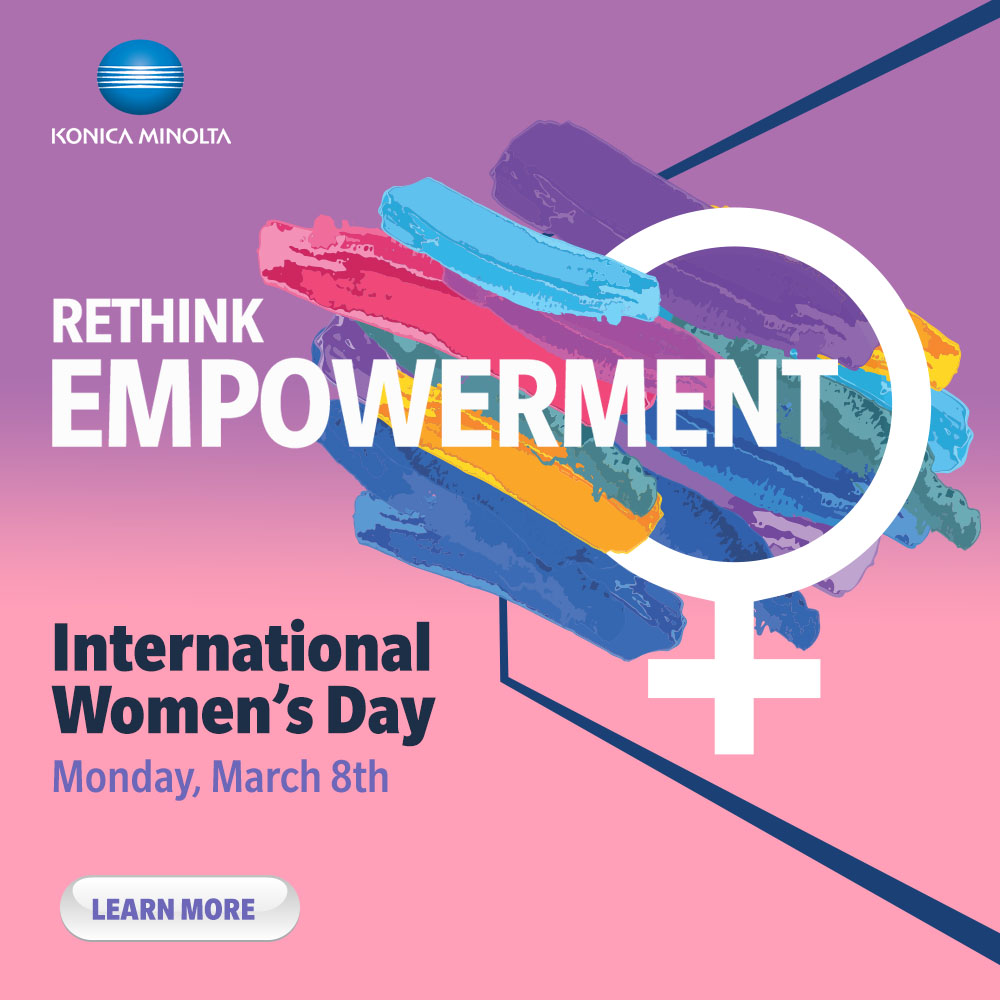 Originally designed logo for global panel discussion at International Women's Day 2021
Lecture for Senior Management
In order to promote a deep understanding of diversity and inclusion among executive management, the company began regularly inviting outside experts to deliver lectures in fiscal 2017. In fiscal 2018, an executive of a major firm known for its advanced initiatives was invited to give a lecture, which was attended by officers and division general managers.
Diversity Workshop for Senior Managers
Workshops were held for those in senior manager positions and above, allowing them to deepen their understanding of the importance of diversity and preparing them to further develop employees in their own organizations. Around 300 senior managers participated in a total of 12 sessions from fiscal 2017 through fiscal 2018. At the end of each workshop, the participants pledged to promote diversity in their own departments.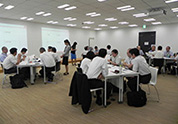 Diversity Workshop for
Senior Managers
Activities of Network for Women in STEM
The Medium-term Management Plan DX2022 advocates combining products and DX into a model for providing continuous value (DX as a Service). The performance of each individual employee is essential to achieve this. In particular, further activity by engineers is expected to establish the technology that will support DX. At Konica Minolta, more women are being hired as engineers, and women are being assigned to workplaces in which there used to be only men. As the environment changes, there are still workplaces in which there are very few women serving as engineers. For this reason, Konica Minolta established the Network for Women in STEM so that these women don't have to keep their worries to themselves but can connect with a wide group of colleagues, including people with the same concerns, people who have overcome these concerns, and people who can approach concerns from a completely different perspective. Men and other leaders in occupations other than engineering also participate as supporting members. In addition to online workshops on themes such as balancing home life, child-rearing and career, Konica Minolta has created an environment in which members can talk to others on the team at any time using chat and other systems.
External Evaluation
Platinum Kurumin Certification (FY2017)
Konica Minolta, Inc. was recognized by Japan's Minister of Health, Labour and Welfare as an exceptional example of a company that provides support to employees raising children.


Platinum Kurumin certification mark
Eruboshi Certification (FY2016)
As a company with an outstanding environment for promoting the role of women in the workplace, Konica Minolta was awarded the highest Eruboshi certification by Japan's Minister of Health, Labour and Welfare, under the Act on Promotion of Women's Participation and Advancement in the Workplace.


The Eruboshi certification mark