Human Capital
Initiatives to Increase the Health of Employees
Click to jump to the corresponding section in this page
Konica Minolta's Approach
Background and Issues
Konica Minolta recognizes that ensuring employees' mental and physical health and linking this effort to improved productivity and performance are critical management issues, given the growing social issues of a higher risk of lifestyle diseases and people having to leave work due to mental health issues.
Vision
Konica Minolta recognizes that employee health is the foundation of everything else it does. This is why the company works so hard to realize the full potential of human resources, while building workplaces where all employees can maintain good physical and mental health and continue to work with vitality—thereby raising employee capacity and laying the groundwork for sustainable growth. Konica Minolta accomplishes this by fostering a "health-first" culture and practicing sound safety and health management.
Key Measures and KPIs
Safe and comfortable workplace (company) in which employees can work with motivation
In addition to improving both physical and mental health for individual employees, Konica Minolta's efforts to quantify and improve the organization's health score starting in fiscal 2020 will drive the company's sustainable growth.
Organization's Health Score
Results
Targets
Fiscal
2020
Fiscal
2020
Fiscal
2021
Fiscal
2022
Rate of reduction of Level 4 workplaces (%) *1
38
15
30
50
Percentage moving to higher level of organizational health (%) *2
-
-
5
10
*1.

The rate of reduction from fiscal 2019 levels in the number of Level 4 workplaces, which have the highest level of stress (workplaces deemed to have the highest level of stress based on the results of a four-level stress check)

*2.

The rate of year-on-year change in the number of workplaces whose results in the organizational health survey improved from less than 3.5 to 3.5 or higher (upper level)
Employee Health Score
Results
Targets
Fiscal
2020
Fiscal
2020
Fiscal
2021
Fiscal
2022
Number of employees who are at high risk physically (employees with the highest health risks)
24%
increase
4%
decrease
8%
decrease
12%
decrease
Number of leave-of-absence days taken due to mental health problems
13%
increase
3%
decrease
7%
decrease
13%
decrease
Note:

Rate of change from fiscal 2019 results
Promoting Sound Management through the Fostering of a Culture Committed to "Health-First"
Striving to create workplaces where employees can work with enthusiasm
Konica Minolta has issued a statement on health, the Konica Minolta Group Health Declaration, which sets out the principles for promoting health management. Based on this declaration, it plans and implements policies under a single management structure (collaborative health) so that the best use can be made of company resources and its Health Insurance Association. The company is enthusiastically implementing health-promotion measures while practicing swift decision-making, including by management personnel, on important issues, with the Corporate Human Resources General Manager acting as managing director of the Health Insurance Association and the person responsible for health management in the Human Resources Department acting as the executive director.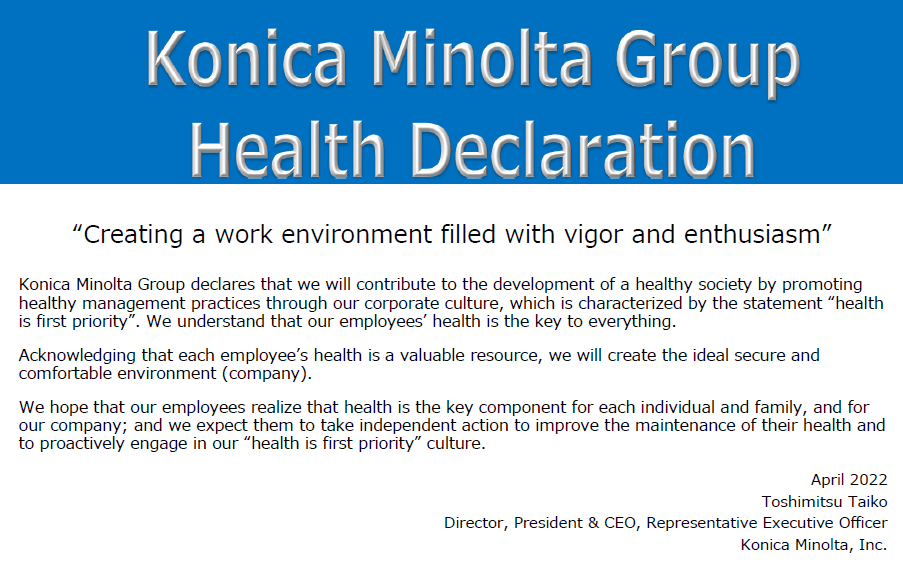 Organizational (Collaborative Health) Structure for Promoting Health Management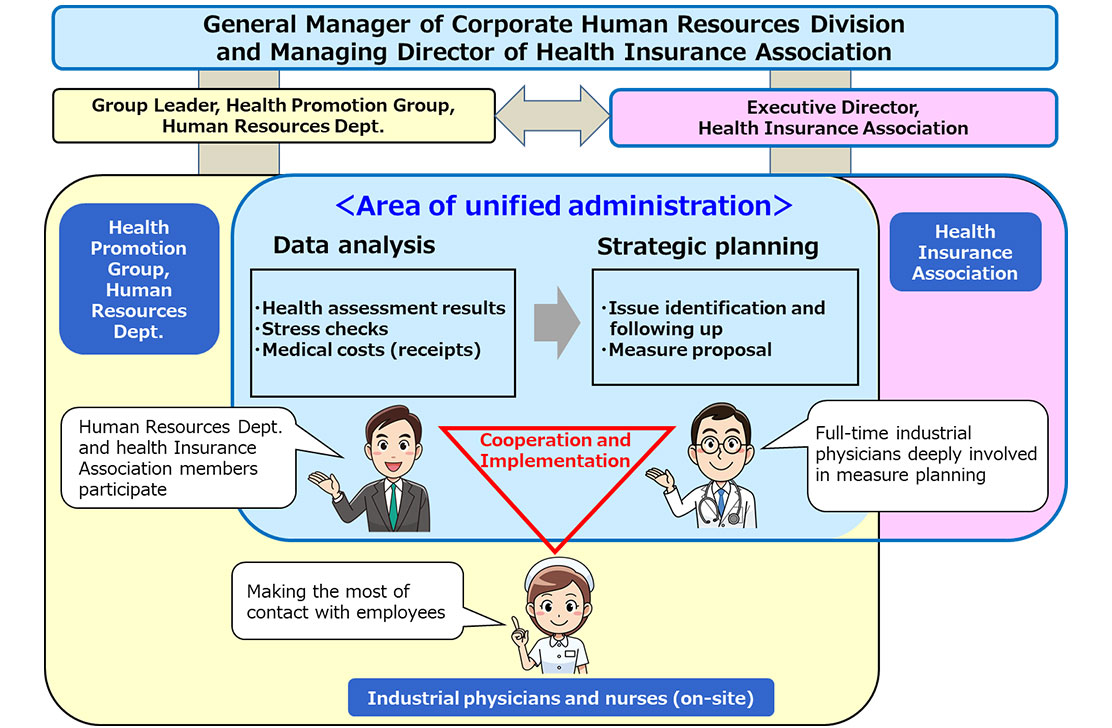 In order to achieve the principles of the Health Declaration, Konica Minolta linked it to the company's medium-term management plan and established the Health Challenge 2019, a new medium-term plan that started in fiscal 2017 and which carries on from the three-year medium-term health plan, Health KM2016, which ran from fiscal 2014 to fiscal 2017. The new plan's priority is lifestyle modification (fostering a "health movement") by minimizing the number of persons with health risks and visualizing their health status.
From fiscal 2020, in its new medium-term plan, the company decided to become the "Happiness Company 2022," and expanded the scope of its initiatives from risk management to improving productivity and dynamism and from individuals to the organization in the belief that this will lead to the company's sustainable growth.
Comparison of the positioning of the previous medium-term plan (fiscal 2017 to fiscal 2019) and the new medium-term plan (fiscal 2020 to fiscal 2022)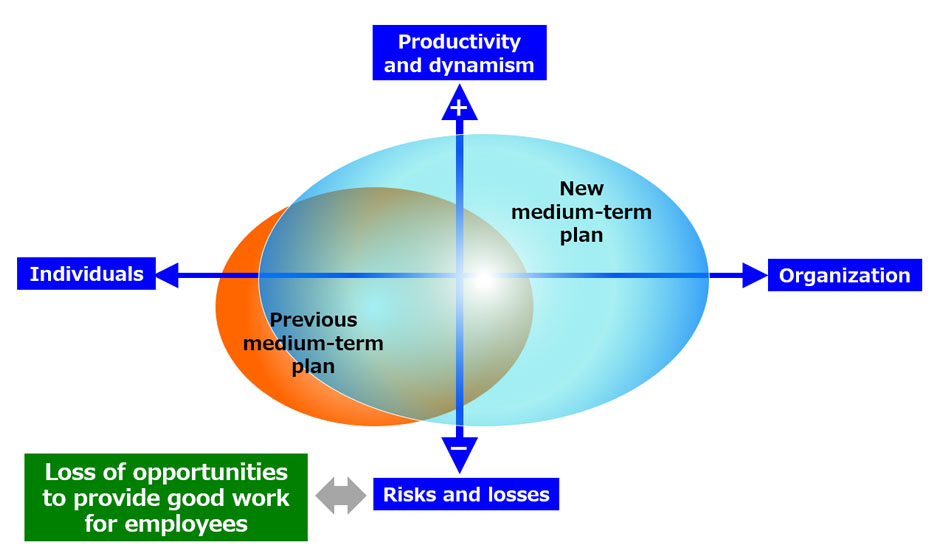 Framework for new Medium-Term Plan for Health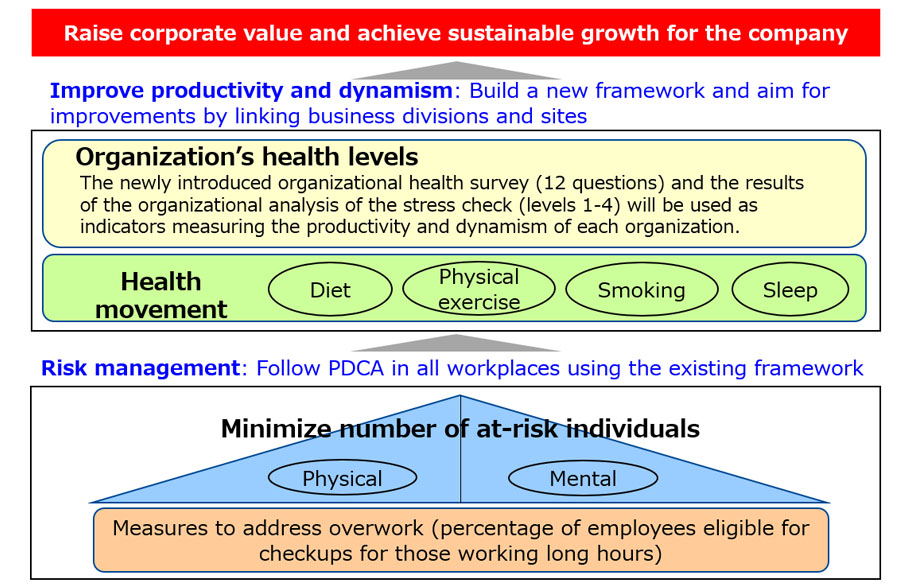 In fiscal 2020, based on the new approach of health investment management accounting, Konica Minolta created a strategy map that systematically organizes how the measures implemented to enhance health (health investment) have affected improvements to employees' health and productivity, and how they led to resolutions to management issues. Konica Minolta is addressing health management while linking it to corporate strategies.
Minimizing the Number of Persons with Health Risks
Konica Minolta is committed to improving the health of its employees in order to strengthen its talent pool, which is vital to achieving its management strategy. The Group companies in Japan and the Health Insurance Association work together to plan and implement various measures. They categorize those with health risks according to physical and mental health risks and set numerical targets with the aim of reducing the number of people in each category through employee-centered measures.
For physical health management, Konica Minolta is focusing on preventing the development of serious illness for all Group employees in Japan. In particular, as Konica Minolta bolstered efforts by occupational health staff to respond employees with the highest health risks (health guidance and checkup recommendations), the number of such employees increased over the previous fiscal year in fiscal 2020 due to worsening lifestyle habits during the COVID-19 pandemic, but it was still down 76% compared to fiscal 2013. Accordingly, hospitalization costs by employee decreased by 4% for Konica Minolta compared to the same period, suggesting that the company's measures to prevent the development of serious illness have borne fruit. In fiscal 2021, the company will further strengthen its efforts, for instance by having occupational health staff provide health guidance throughout the year, in order to further reduce the number of employees who suffer from disease.
Employees with the Highest Health Risks
(Indexed with FY2013 as 100)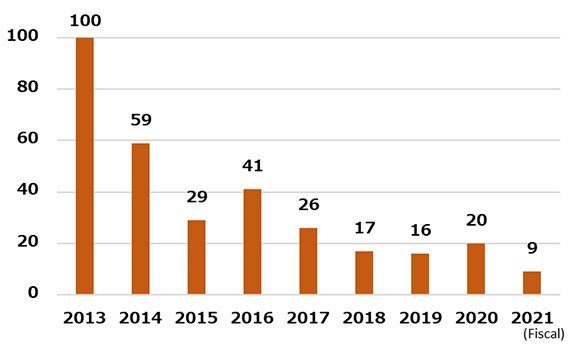 Status of Response to Employees with the Highest Health Risks

|   | Fiscal 2019 | Fiscal 2020 |
| --- | --- | --- |
| Rate of response by occupational health staff | 100% | 100% |
| Rate of checkups at medical facilities | 100% | 92% |
Trends in Hospitalization Expenses per Employee
(Indexed with FY2013 as 100)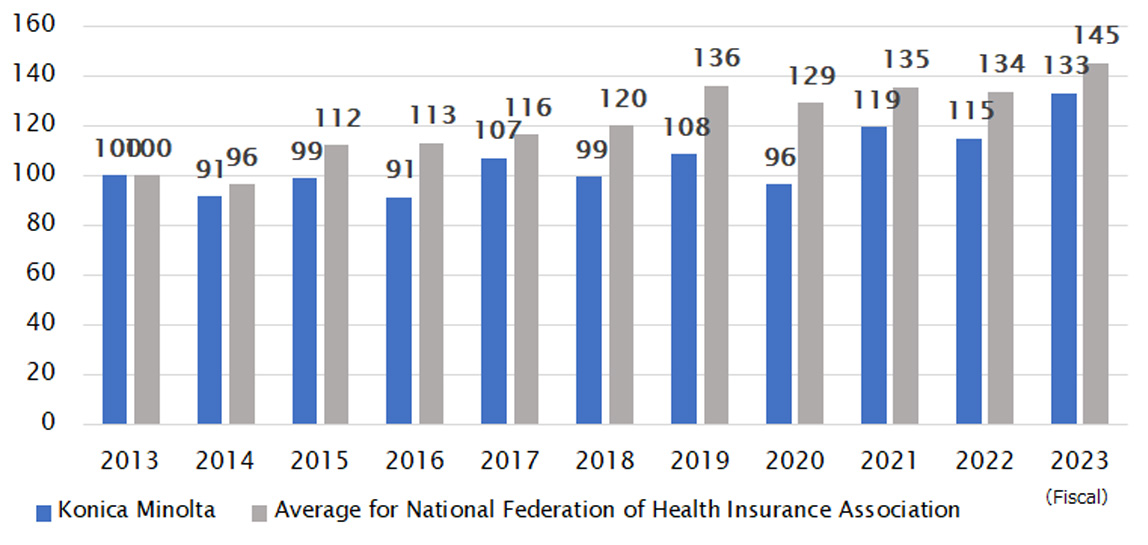 In fiscal 2020, the spread of COVID-19 made it difficult to provide health checkups, but efforts to change the timing and take thorough measures to prevent infection, the regular health checkup attendance rate was maintained at 100%. At the same time, the secondary checkup participation rate after health checkups were given stood at 60.1%, down 19% since the previous year, due to employees skipping their health checkups during the pandemic. In fiscal 2021, occupational health staff have redoubled their efforts to encourage health checkups in coordination with workplace managers as necessary, and are working to improve the hospital checkup rate.
The status of health-related indicators (percentage of employees maintaining appropriate weight, percentage of employees at risk for high blood pressure or hyperglycemia) and the rate of cancer screening aimed at early detection and early treatment of cancer are given below.
Status of Health-Related Indicators for Past Two Years
Health-related indicators
Fiscal
2019
Fiscal
2020
Percentage of employees maintaining appropriate weight (BMI of less than 18-25)
70.7%
67.2%
Percentage of employees at risk for high blood pressure
0.3%
0.4%
Percentage of employees with hyperglycemia risk
0.2%
0.1%
Percentage with poor diabetes management
0.6%
0.4%
Note: Percentage of all employees of Konica Minolta, Inc.
Cancer Screening Uptake Rate in the Past Two Years

| Area examined | Fiscal 2019 | Fiscal 2020 |
| --- | --- | --- |
| Lungs | 99.1% | 99.3% |
| Stomach | 95.8% | 87.9% |
| Large intestine | 94.1% | 94.4% |
| Prostate | 97.6% | 99.0% |
| Breasts | 66.0% | 60.5% |
| Uterine cervix | 40.9% | 36.4% |
Note: Figures are for all employees of the Konica Minolta Group in Japan
Konica Minolta works with the Health Insurance Association to conduct specified health checkups, and health recommendations are provided based on the results, for the prevention of lifestyle-related diseases. Conventionally, specific health guidance was given by public health nurses commissioned by the Health Insurance Association. From fiscal 2018, however, some of this work is being commissioned to external specialist providers. Konica Minolta's public health nurses focused on health guidance for employees with a higher health risk. Employees subject to specific health guidance due to being at the pre-lifestyle-related disease stage were given finely tuned assistance drawing on the expertise of the specialist providers. As a result, in fiscal 2020 (data compiled as of August 2021), the initial interview rate and interview completion rate both improved substantially compared to fiscal 2016.
The Initial Interview Rate and Interview Completion Rate in Specific Health Guidance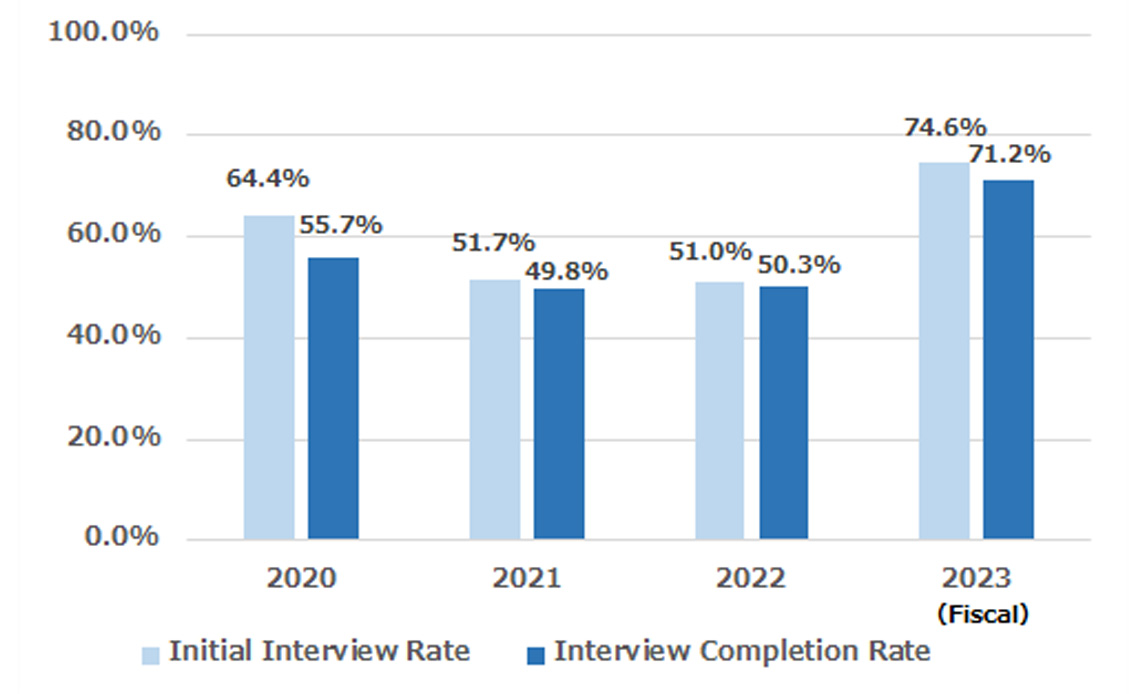 As part of mental health management, stress checks are conducted twice a year for all employees of the Konica Minolta Group in Japan, and more than 90% of employees participate every time (in fiscal 2020, 92% received stress checks). While allowing employees to utilize their results for self-care, Konica Minolta also classifies workplaces into four levels of stress based on the results of the stress checks and shares this status with organizational heads. Improvement measures are then devised and implemented for workplaces at Level 4, the highest level of stress. As a result, the number of Level 4 workplaces was only eight in fiscal 2020, down 38% from 13 workplaces in the previous year, and the percentage of high-stress employees stood at 8.5%, down 0.8% from the previous year. In conjunction with this, all Group managers participated regularly in an e-learning program to promote early detection and early response for those suffering from mental health issues through a reinforcement of managers' employee oversight function. The participation rate was maintained around 95%, and 90% of the participants responded in a questionnaire that e-learning was beneficial. Konica Minolta plants to expand from a defensive approach to mental health education, focused on reinforcing managers' oversight, to an offensive approach aimed at improving the workplace culture. Moreover, beginning in fiscal 2020, an organization health survey, whose scores have a strong correlation with productivity, was carried out, and the results of analyzing this survey were utilized in workplace improvement activities.
Konica Minolta has also established a reinstatement preparation program for employees returning to work from leaves of absence taken due to mental health problems. People in the program are provided with careful support to facilitate a smooth return to work, including at least three interviews with an industrial physician, workplace head, and the HR department during the rehabilitation period, which lasts up to three months.
As a result of these measures, in 2020 (as of April 1), the total number of leave-of-absence days taken due to mental health problems by Konica Minolta Group employees in Japan was down by 24% compared to 2014, although it had slightly worsened from the previous year. In addition, the percentage of employees on leave increased in 2020, but decreased (improved) by 0.16% from 2014 in 2021. In 2021, the company is working to reduce total number of leave-of-absence days taken due to mental health problems through self-care education (e-Learning) and detailed operation of the return-to-work preparation work system, based on a work environment of increased remote work due to the pandemic.
In the global employee survey (GES) that the Konica Minolta Group carries out regularly, in fiscal 2021 the average score globally in response to "The work I do is meaningful to me" was 7.3 out of 10 points, while the average score in response to "I have the opportunity to do challenging things at work" was 7.1 points. This shows that a majority of employees engage in their daily work with a strong sense of engagement.
Days of Leave and Percentage of People Taking Leaves of Absence Due to Mental health Problems (as of April 1 of each year)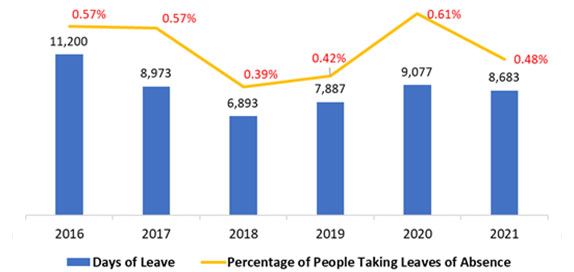 Measures to Address Overwork
Since fiscal 2007, in order to prevent health problems due to overwork, Konica Minolta has been sending guidance on reducing overtime via email to employees and their supervisors when the employees' overtime work has exceeded 30 hours or more hours.
When employees have logged more than 80 hours of overtime in a month, they are required to have a medical checkup administered by an industrial physician during the following month to ensure their health. Their supervisor is required to submit a work improvement plan in a thoroughgoing effort to prevent employees from working long hours two months in a row.
Furthermore, as of fiscal 2016 the health checkup standards have been revised. Now, employees who have logged 60 or more hours of monthly overtime three months in a row and employees who have logged 45 or more hours of overtime in the previous month can opt to have a medical checkup by an industrial physician. In this way, Konica Minolta is improving the prevention of health problems caused by overwork. As a result of these countermeasures, the number of employees (total annual number) who logged 80 or more hours of monthly overtime in fiscal 2020 was 243, a slight increase from the previous year, but a 56% decrease from the 557 in fiscal 2015. In fiscal 2021, the company aims to further reduce the number of employees working long hours by upgrading the attendance management system to accommodate remote work and strengthening its operation.
Number of Employees Who Logged 80 or More, Hours of Monthly Overtime

Employees' work conditions, such as the average number of years of continuous employment, total actual working hours and percentage of employees taking paid vacations, are shown below.
Employees' Work Conditions
Fiscal
2019
Fiscal
2020
Average number of years of continuous employment
21.1 years
20.9 years
Total actual working hours (monthly average) *1
157 hours
161 hours
Overtime working hours (monthly average)*1
13 hours
20 hours
Percentage of paid leave taken
75.0%
51.7%
Voluntary employee turnover rate
3.1%
2.7%
*1. In the case of discretionary workers, excess hours for actual working hours rather than deemed working hours were calculated.
Note: Figures are for employees of Konica Minolta, Inc.
Promoting Health through Visualization of the Level of Employees' Health
Konica Minolta has established indicators that show the level of employees' health visualizing the daily lifestyle increases in health awareness. The Group companies in Japan also implemented assistance programs aimed at promoting health in an effort to raise the level of employees' health.
Group-wide in Japan, it holds walking events in which teams compete against each other in order to instill exercise and walking habits among employees; holds exercise workshops with outside instructors; offers healthy menu choices in cafeterias; holds seminars led by nationally registered dieticians with the aim of improving eating habits and raising awareness; among various other activities.
Events recommending walking, which are held throughout the year with the aim of making walking a firm habit, had a participation rate of 55.8% in fiscal 2020, more than half of employees. The implementation of a wide range of health promoting events has led to a yearly increase in the "percentage of employees already working to improve lifestyle habits (or who want to begin working on this in the future)." In addition to improvements in health literacy, there have been many improvements in lifestyle habits such as exercise, sleep, diet and smoking, which are the basics of health.
Percentage of Employees Who Want to Improve Their Lifestyles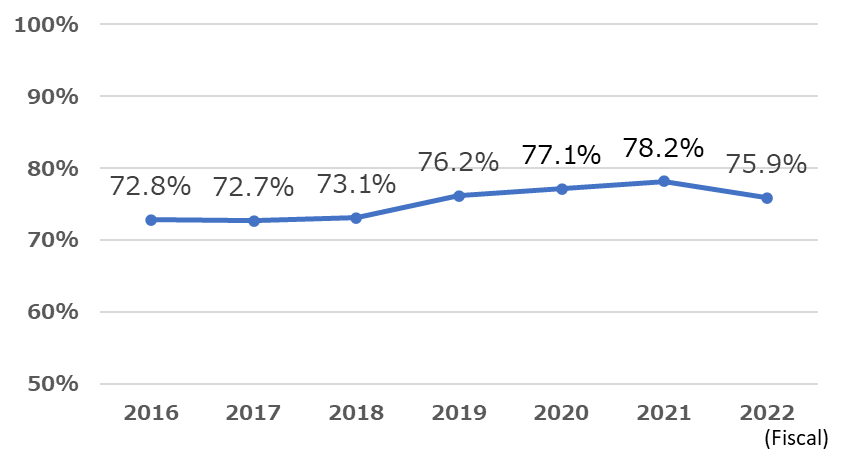 Note: Figures are for employees of Konica Minolta, Inc.
Lifestyle Habits of Employees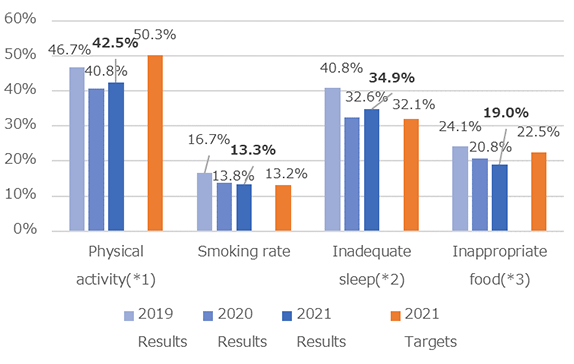 Note: Figures are for employees of Konica Minolta, Inc.
*1. Percentage of employees who have a habit of "exercising for 30 minutes or more two or more times per week" or "walking for one hour or more every day" (the higher the better)
*2. Percentage of employees who feel they are not getting enough sleep
*3. The percentage of employees for which three or more of the following apply (the lower the better): "I do not consider nutritional balance," "I eat fast," "I eat dinner two hours before I go to sleep," "I snack," and "I skip breakfast."

An exercise workshop
On a website designed to encourage employees to stay healthy, Konica Minolta shows employees a comparison of the average incidence of cardiovascular disease, stroke, and ischemic heart disease within 10 years for their specific age group based on their latest medical examination results. In this way, the company encourages employees to improve their lifestyle habits. This system can also be accessed and utilized by employee spouses who are health insurance dependents.


Example presentation of future disease risk on the website
Moreover, as a measure against passive smoking, Konica Minolta has cut back on indoor smoking areas gradually, moved indoor smoking areas outside and holds no-smoking days on the premises. In addition, the company recommends that smokers participate in smoking cessation support programs. In light of the strengthening of legislation related to smoking, Konica Minolta prohibited all smoking on its premises and during designated work hours across all group companies in Japan, in April 2020, in order to strengthen measures against second-hand smoke and further reduce the smoking rate.
These measures have been successful, and the smoking rate has been decreasing year by year.

No-smoking day notices
Reduction in the Number of Smoking Areas and the Smoking Rate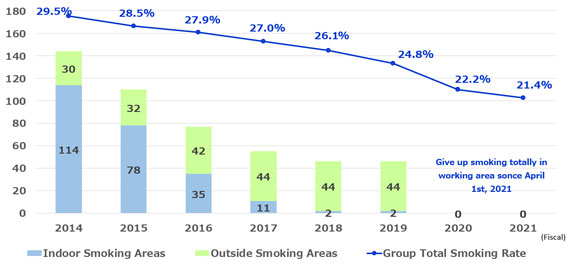 Note: Results for Konica Minolta Group companies in Japan
An analysis of survey results to determine the main causes behind presenteeism* showed that measures addressing back problems, individual guidance from experts for people with sleep problems and mental health measures had reduced loss due to presenteeism per employee (monthly average) slightly increase from last year, but 67,015 yen in fiscal 2020 is 2.0% decrease from 2016. In fiscal 2021, the company is focusing on neck/shoulder pain and lower back pain, which have high prevalence rates related to presenteeism and have worsened from the previous year, and is actively developing improvement programs using ICT.
Loss due to Presenteeism per Employee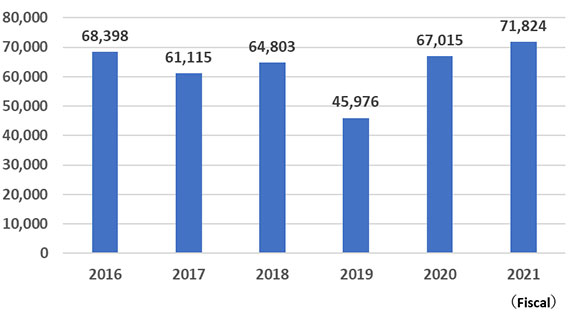 *Presenteeism refers to productivity loss resulting from health problems.
Supporting Women's Health
With a view toward promoting women's advancement in the workplace and enhancing support for their health, Konica Minolta strives to increase the rate of cancer screenings, with the aim of early detection of and prompt response to cancers that affect women. It took steps to make it easier to get screened, including bringing screening trucks onto company premises and increasing the number of cooperating medical institutions, in addition to subsidizing screening costs through the Health Insurance Association. As a result, the screening rates for breast cancer and cervical cancer in the Konica Minolta Group in Japan in fiscal 2020 as much higher than in 2013, although it declined from the previous year due to the impact of the pandemic.
In fiscal 2021, the company will work to recover the screening rate by widely publicizing the implementation of infection prevention measures within screening facilities so that employees can take checkups with peace of mind.
Screening Rates for Breast Cancer and Cervical Cancer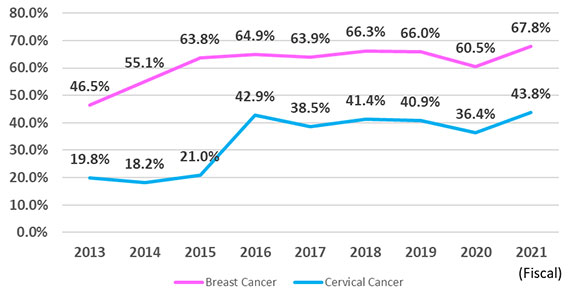 *Percentage of all employees of Konica Minolta Group companies in Japan receiving screening
As part of its awareness-raising efforts aimed at further increasing the screening rate, Konica Minolta invited the actress Kuniko Asagi to give a talk in September 2019 about the importance of getting screened for the purpose of early detection, in light of her own experience with breast cancer. The talk was attended by close to 500 employees.
In November 2019, Dr. Tomoko Shibayama of the Breast Oncology Center, the Cancer Institute of JFCR was invited to give a talk on the current status of cancer in Japan, types of breast cancer and changes in treatment, mechanisms behind hereditary cancer and methods for preventing cancer. More than 200 employees attended the talk.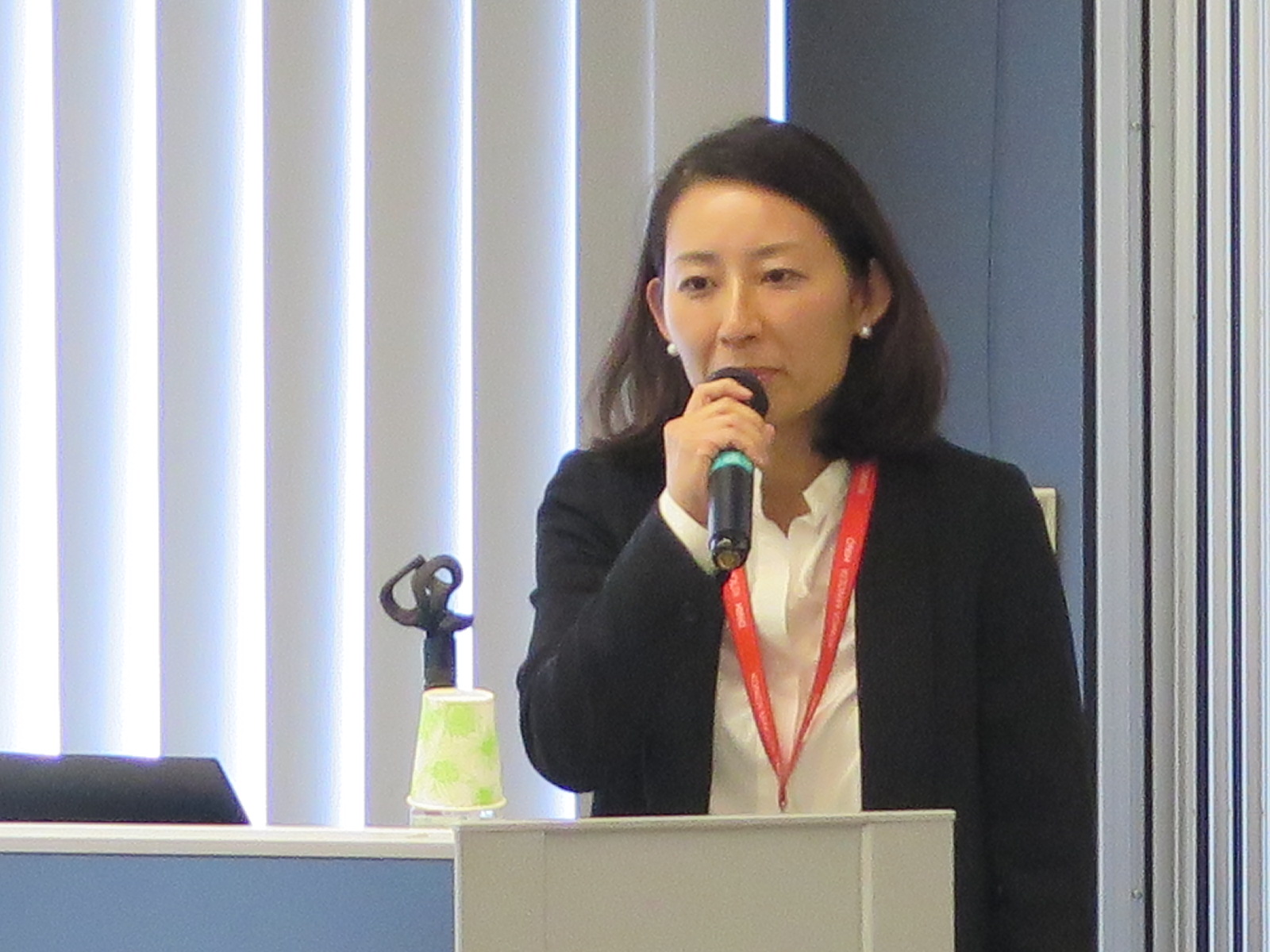 Dr. Shibayama speaking with enthusiasm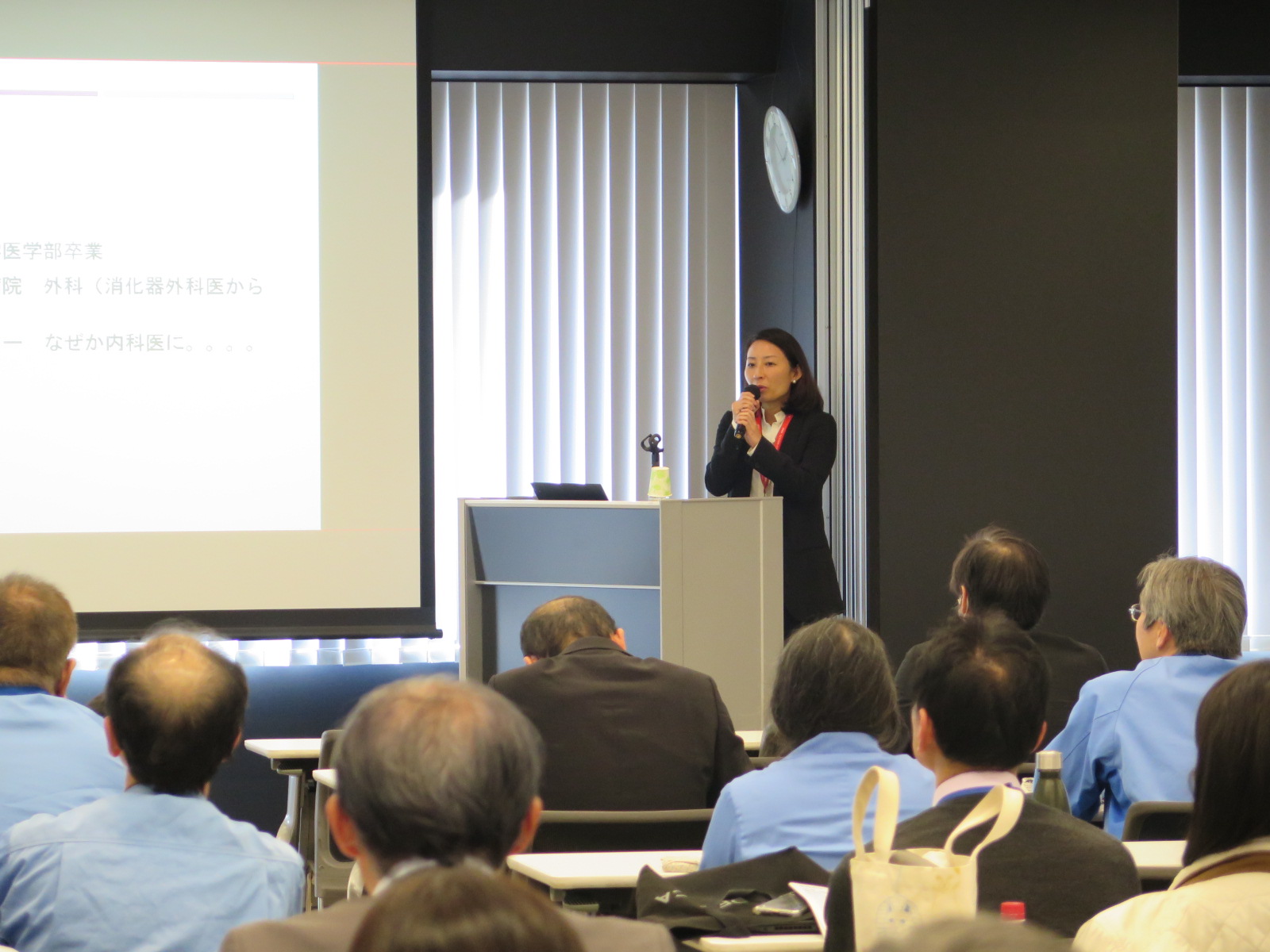 Dr. Shibayama's presentation
Konica Minolta also holds Energetic Health Seminars for Women taught by outside experts to help maintain and raise performance by learning methods to deal with women's health issues such as menopausal disorder and premenstrual syndrome, not just cancers particular to women.
Measures to Prevent the Spread of the Novel Coronavirus
As part of its efforts to improve the health of its employees, Konica Minolta has always endeavored to prevent infectious diseases. In Japan, the company provides information on influenza outbreaks, encourages employees to get flu vaccinations, and provides information on malaria, hepatitis, HIV, and other infectious diseases to employees posted outside Japan and their accompanying families as well as for employees traveling abroad on business trips. In addition, Konica Minolta strives to prevent infectious disease by quickly identifying cases of tuberculosis through chest X-rays in its health checkups for employees and taking the necessary steps in response.
As such, when the novel coronavirus began to spread, Konica Minolta's first priority was the health and safety of employees and their families, and the entire Group was devoted to countermeasures to prevent infections and the outbreak's spread.
In February-March 2020, the initial stage of the outbreak's growth in Japan, Konica Minolta asked employees to check their temperatures and general physical health before coming in to work, to wash their hands carefully and use an alcohol-based disinfectant on their hands, and to wear a mask and avoid crowded spaces. In workplaces, the Group took measures such as staggering the work times at which employees arrive and utilizing remote work and ventilating rooms, banning meetings of 30 people or more (recommending meetings via ICT instead), staggering times during which the cafeteria is used (three time slots of 30 minutes each) and instructing employees to leave seats open between people when dining.
When the government declared the first state of emergency in April, the focus was on preventing infection by designating work from home in principle and reducing contact with other people as much as possible. Konica Minolta asked employees to stay home as much as possible and to refrain from traveling to their hometowns during the long national holidays.
At the same time, an increase in remote work done at home raised concerns about a lack of exercise and mental health issues, so the company sent all employees e-mails with content such as "Fitness Video for Easy Home Exercises," "Ways to Address Mental Health Issues Resulting from Remote Work at Home and Consultation Services," "E-Learning on Self-Care (15-minute video)" and encouraged their use as necessary to support their mental and physical health.
The regular health checkups held every year were postponed until autumn, and were then held after extensive measures were taken to prevent infection at the site.
After the state of emergency was lifted, employees in each division that needed to come in to the office were determined, and the number of employees coming in every day was set on the condition that employees maintain social distancing in the office. The company took various steps to ensure social distancing, such as removing some of the unassigned seats and making both conference rooms and regular rooms available as work spaces.
The number of COVID-19 cases has increased dramatically due to the impact of variants since the start of fiscal 2021. Konica Minolta has set its own criteria for assessing the status of infections (two levels) based on indicators laid out by the government's COVID-19 taskforce. Konica Minolta has built a system that enables decisions to be made and notifications sent out on stricter restrictions on employee behavior, while working together with related divisions and taking current conditions into account.
Konica Minolta Included in Health and Productivity Stock Selection
Japan's Ministry of Economy, Trade and Industry and the Tokyo Stock Exchange jointly work on the Health & Productivity Stock Selection. Konica Minolta, Inc. has been selected seven times—in 2015, 2016, 2018, 2019, 2020, 2021 and 2022.
Konica Minolta publicized its inclusion in the Health & Productivity Stock Selection, together with other external recognitions such as winning the Grand Prize in the Smart Work Awards, via various media channels. As a result, even though a shortage of new graduate applicants is the biggest problem facing about 35% of major companies, Konica Minolta, Inc. had almost the same number of applicants for fiscal 2021 positions as in fiscal 2020, when the Group had a near record-high number, mainly in the engineering field.
In addition, managers in Konica Minolta's Health Promotion Division took the Company's inclusion in the Health & Productivity Stock Selection as an opportunity to listen to the issues of many client companies and begin giving advice based on the measures that the Company is implementing and the results of an examination of their effectiveness. Helping companies resolve issues at their request in a support role as they address health management is expanding interaction with client companies.
As a result of the various measures implemented cooperatively by Group companies in Japan, twelve Group companies were chosen for the 2022 Certified Health & Productivity Management Outstanding Organizations by Japan's Ministry of Economy, Trade and Industry. Six companies were selected for the "White 500 Companies" in the large corporation division; one in the large corporation division; two were selected for "Bright 500 Companies" of small- and medium-sized organization division; and three companies were recognized in the small- and medium-sized organization division.