Human Capital
Promoting Reform of Corporate Culture and Communication
Click to jump to the corresponding section in this page
Konica Minolta's Approach
Background and Issues
The Konica Minolta Group reframes these major environmental changes as opportunities and is carrying out reforms. It is our talent who will implement these reforms, and we recognize that raising employee engagement to high levels and creating an organizational climate in which they can perform well is an important aspect in realizing our reforms.
Vision
When all Group employees share the Konica Minolta vision and tackle their jobs with enthusiasm, they are contributing to customers, which then leads to sustainable growth for Konica Minolta. To pursue these kinds of reforms in the organization, the Group listens to the views of all of its employees and carries out improvements based on an understanding of its strengths and issues. The Group believes that this will lead to a corporate culture in which individuals can thrive.
Key Measures and KPIs
Konica Minolta conducts a Global Employee Survey (GES) to assess its organizational culture via employee engagement scores — which measure whether individuals are thriving and whether the environment encourages them to thrive — and then takes action to improve each organization to enhance the competitiveness of the entire Group.
Result
Target
FY
2020
FY
2021
FY
2021
FY
2022
Employees engagement score
GES designing
GES implementation
Problem identification and goal setting
GES implementation
Problem identification and goal setting
GES implementation
10% increase in engagement score (Compared to FY 2021)
Promoting Corporate Culture Reform
Philosophy
We would like to introduce the Konica Minolta Philosophy, which was newly organized in September 2020. Since we established Our Philosophy in 2003, the creation of new value has remained a steadfast management philosophy at Konica Minolta, and this will not change in the future. Our 6 Values are the essence of our innermost beliefs, our inherited DNA, and define how we go about our business and act towards all our partners. They articulate what we stand for and direct our decision making.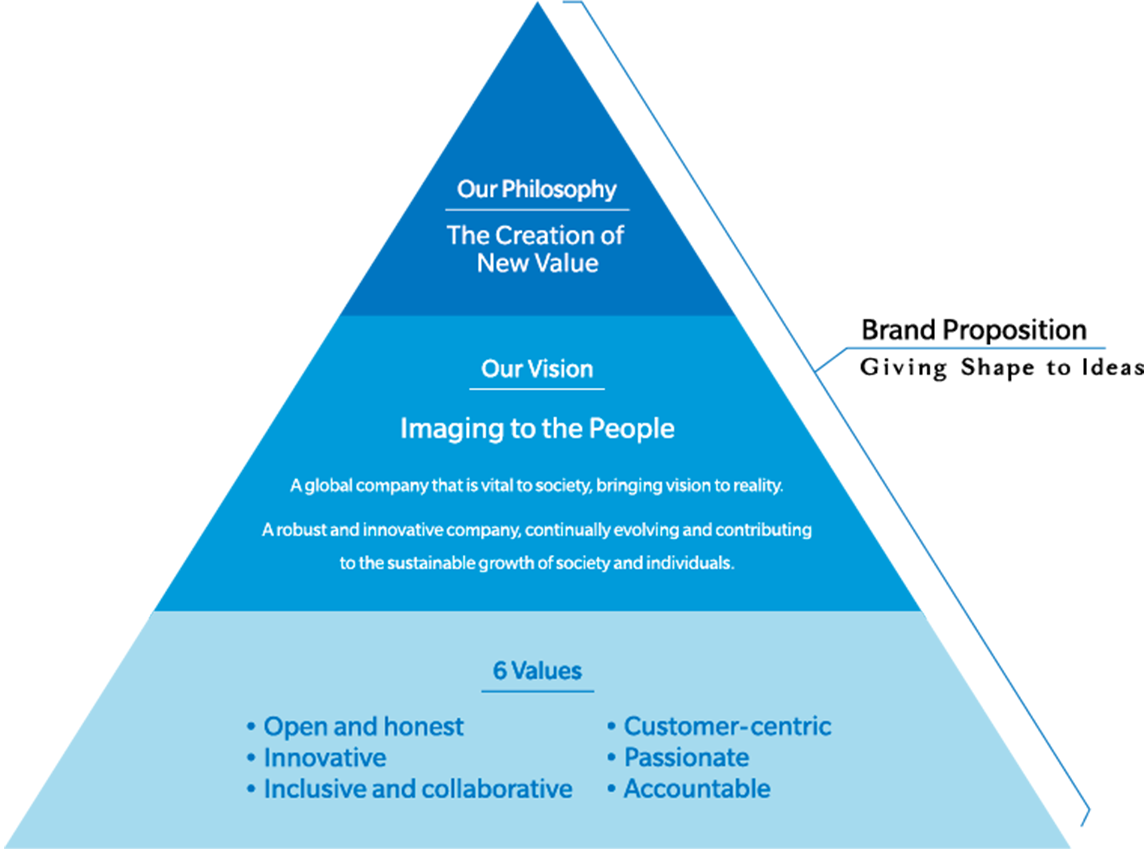 Practicing the Six Values of the Konica Minolta Philosophy
The Six Values of the Konica Minolta Philosophy are meant to be practiced by employees as a cornerstone of their daily activities. The Group believes this can lead to a continual supply of new value for society and customers, as indicated in the Philosophy.
RETHINK Communications
RETHINK was chosen as the behavioral slogan to encourage each individual employee to take action to live up to the new Konica Minolta Philosophy, which adds "Imaging to the People" to the management vision. As each Konica Minolta Group employee "rethinks," they help to power One Konica Minolta and accelerate the achievement of the long-term vision and medium-term management plan. Konica Minolta also proposes the RETHINK concept to customers, seeking to grow together with them and contribute to society.
Konica Minolta Awards
Through its global award system (Business Contribution Awards, Transform Awards), Konica Minolta singles out cases worthy of commendation and seeks to share the same values Group-wide. This creates a culture of recognition and fosters a willingness to take up challenges. In particular, the Transform Awards recognize employee approaches and activities that involve taking on the challenge of creating new value and proposing new solutions for society and customers. They also encourage a global groundswell in which the entire company acquires the same expertise and utilizes it in the workplace.
Konica Minolta, Inc. reflects these principles in its human resources system so that employees always consider the Six Values in their actions.
The Group is transforming its corporate culture to foster employee practice of the Six Values.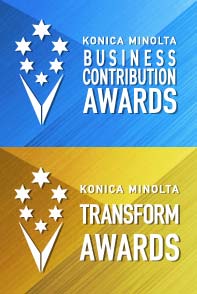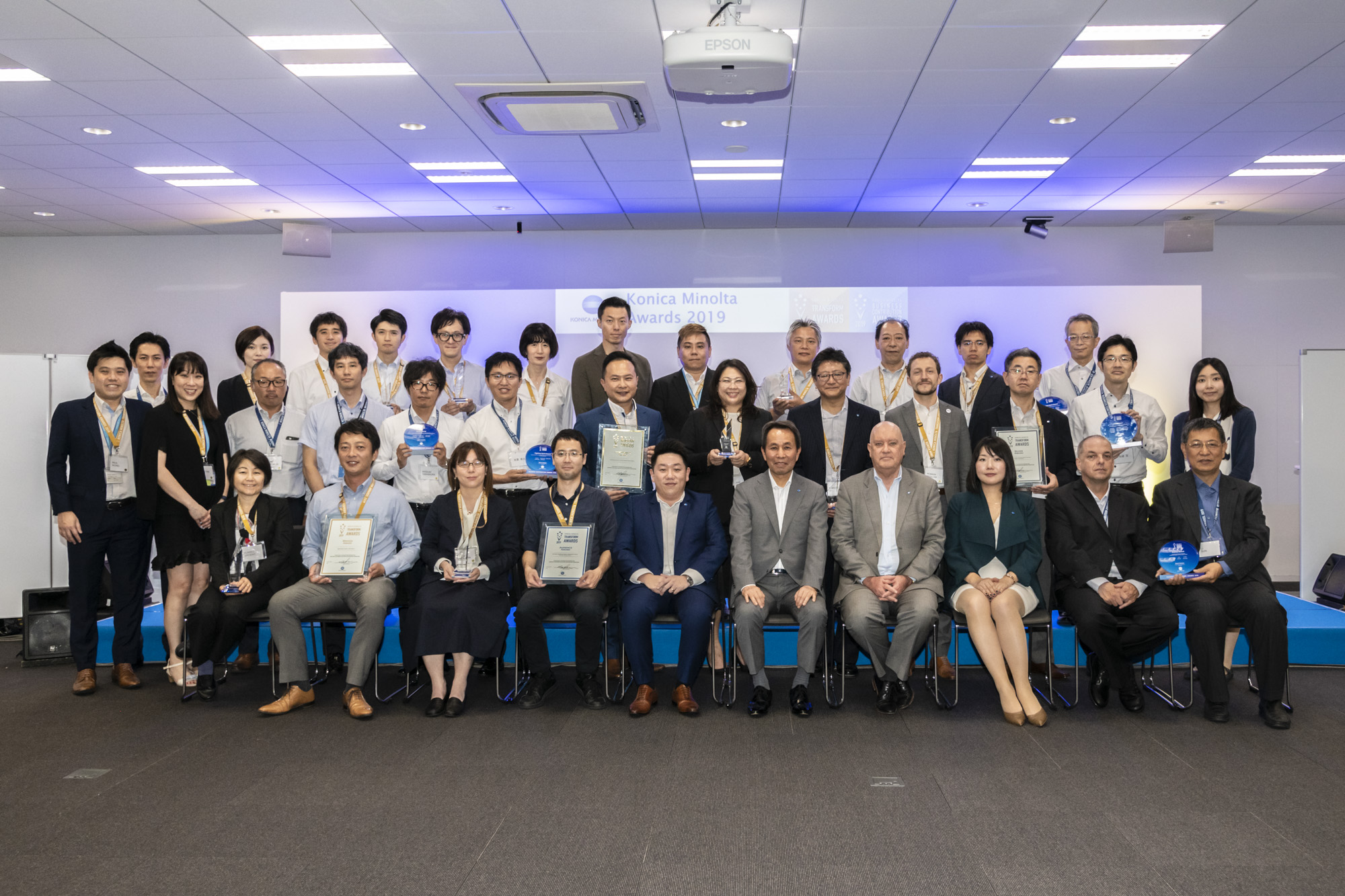 Transform Awards presentation
Organizational Culture Transformation
Since the corporate merger, Konica Minolta has sought to create opportunities for people who want to design their own work and are motivated to improve themselves.
For example, Konica Minolta recommends a discretionary workstyle, uses open job posting, and supports employees in their independent activities to create innovation.
Through these means, Konica Minolta, Inc. has seen a 15% increase over the last three years in the percentage of employees who report that Konica Minolta has a culture that respects individuality. Thanks to these measures and activities, the Company has seen a steady increase in the number of employees who support other employees taking action with their own ideas or getting actively involved in such activities, rather than trying to enforce conformity.
Promoting "Connecting with People" Within the Company
Group Communication Activated Through Multiple Channels
Promoting Networking
Konica Minolta, Inc. has set up collaboration spaces at each of its business sites to make it easy for diverse groups of employees to gather, share ideas, and create innovation across organizational boundaries.
The Company helps to cover the cost of gatherings planned by employees and submitted to HR, with the aim of encouraging employees who want to break through organizational barriers and expand internal networking. The young mid-level employee community and cross-division engineering network that use this system are creating new ties within the Company.
Over the past few years, COVID-19 has made it difficult to meet in-person, but we have reaffirmed the value of meeting in-person and have promoted a hybrid workstyle that combines in-person meetings and remote work.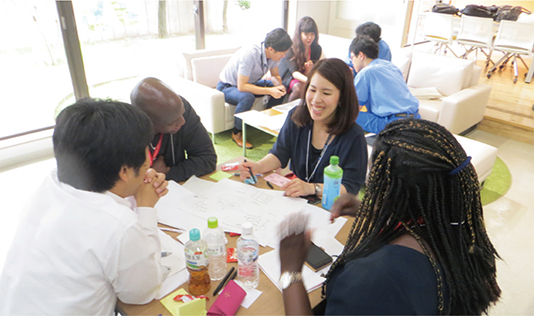 Human resource exchange event organized by employees
Utilizing the Intranet
Konica Minolta has established Konica Minolta Online (Japanese) and Online Global (English), each of which plays a central role in intra-Group communication. These sites are designed to promote the sharing of Group-wide policies, as well as information regarding individual Group companies. They also serve as a tool to facilitate the direct exchange of information and communication between top management and employees.
The content of these sites includes a message board for the President and CEO of Konica Minolta, Inc., which enables the president to send messages directly to all the employees of all of the Group companies.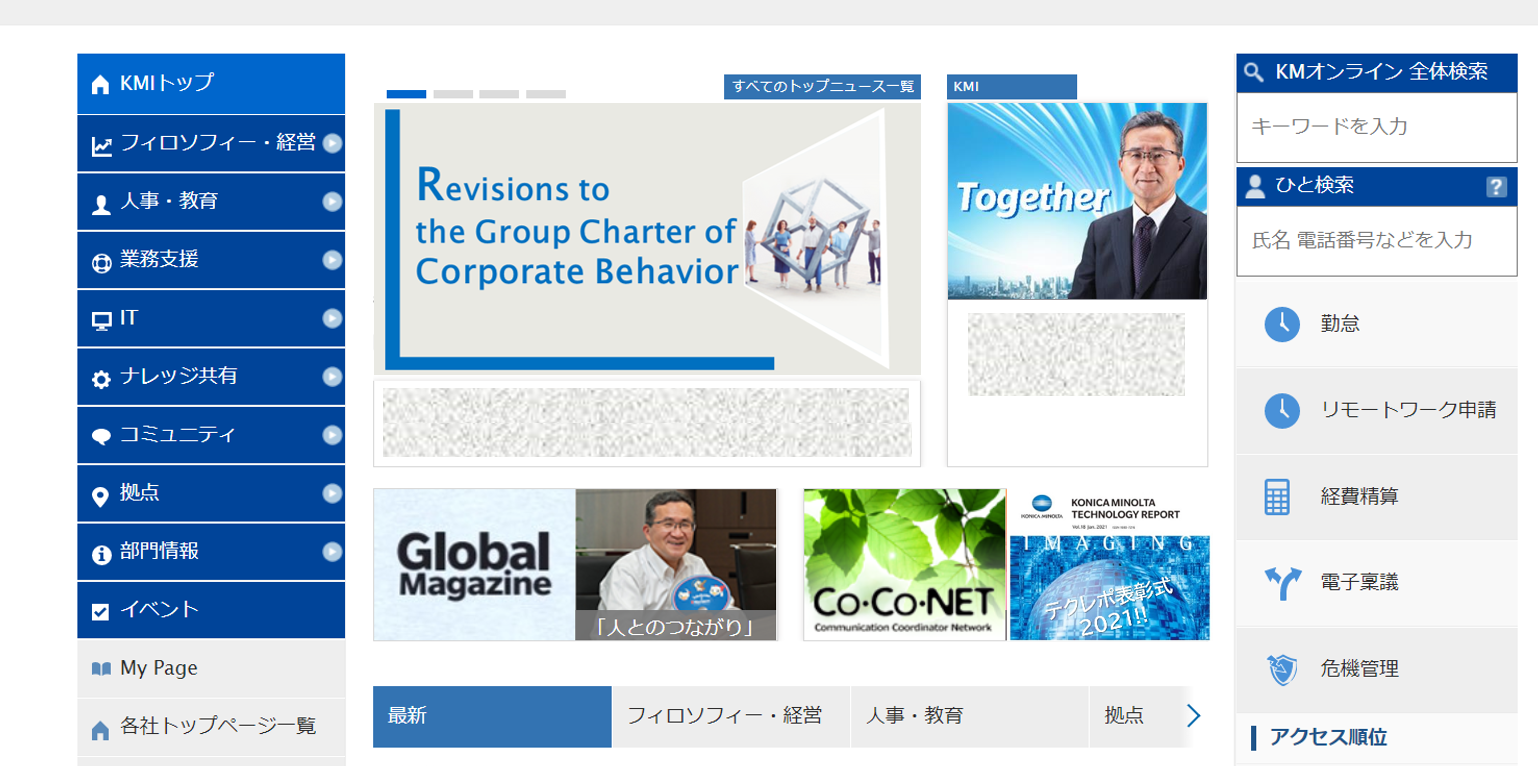 Konica Minolta Online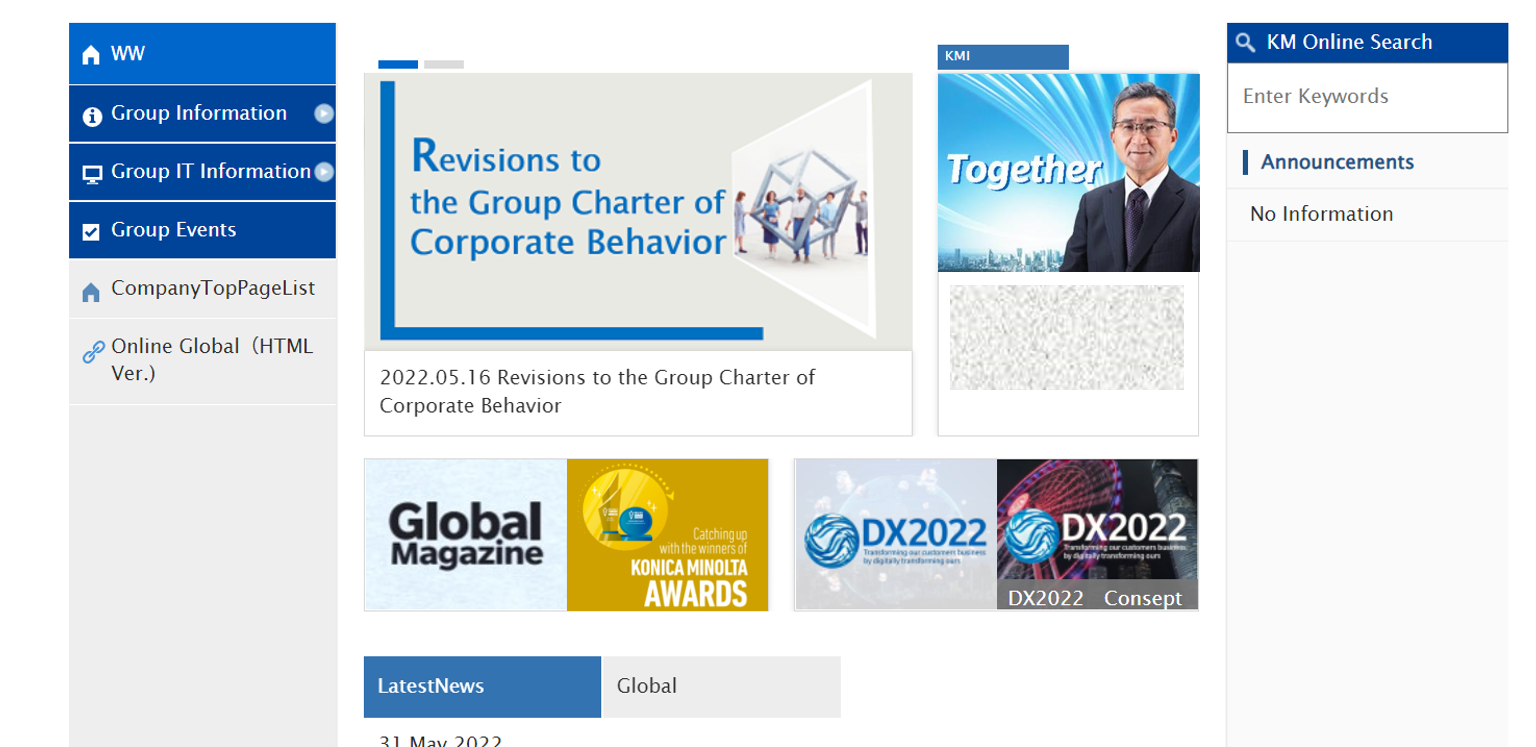 Online Global
Utilizing the Group-wide Publication
The Konica Minolta Group publishes a quarterly journal entitled Global Magazine (in Japanese, English and Chinese) and distributes it to its employees around the world. This publication presents information relevant to the entire Group from a worldwide perspective, extending beyond the borders of companies, organizations, and regions. In recent years, a web-based version of the magazine has been published on the website of Konica Minolta Online/Online Global, and videos are also used. The Group is strengthening interactive communication by offering tools such as a comment function and conducting reader surveys.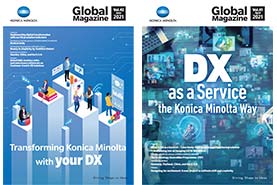 Communication Coordinator System
Communication coordinators appointed at each Group company and division in Japan and key/global coordinators for each overseas Group company around the world serve to communicate information relevant to their departments to the Group, and Group-wide information to their departments. By essentially acting as spokespersons for their workplace and company, these coordinators support the cultivation of a sense of Group unity, the assimilation of multiple vectors, and the demonstration of synergy by promoting communication.
Creating an Environment Where Individuals Thrive and Employee Retention Is High
Konica Minolta conducts the Global Employee Survey (GES) on its employees' attitudes toward work and the workplace worldwide with the aim of maintaining a work environment where they experience fulfillment in their work and a desire to take on challenges (engagement).
To improve the competitiveness of the Group, we measure the current state of our organizational culture with the engagement score and take action to improve each organization.
* On a scale of 1 to 10, we rate whether individuals are thriving and whether the work environment encourages them to thrive.
In fiscal 2021, about 90% of Group employees participated in this survey. With more than 160,000 comments received, each organization continues to carefully investigate the issues identified and to plan and implement improvement measures.
The Group's engagement score for fiscal 2021 was 6.4, up 0.3 points from fiscal 2017.
| Question | 2017 | 2021 |
| --- | --- | --- |
| Engagement score: Measures whether individuals are thriving and whether the environment encourages them to thrive | 6.1 | 6.4 |
| Response rate | 88.8% | 90.8% |
*

"Engagement"-related questions are rated on a scale of 1 to 10.

*

Some of the content of the questionnaire in 2021 differed from that in 2017
Konica Minolta, Inc. hires about 100 new college graduates each year, and 63 employees joined the Company in April 2022.
Meanwhile, the percentage of employees leaving for personal reasons was 5.6% in fiscal 2021, and the percentage of new college graduates who joined in fiscal 2018 leaving within three years was 15%.