Addressing Climate Change
Achieving Decarbonization in Sales Activities
Reducing CO2 Emissions Associated with Sales Activities
Introducing Eco-friendly Vehicles to Its Sales Fleet and Promoting Eco-driving
Konica Minolta promotes the management and reduction of CO2 emissions from the business vehicles operated by its sales companies around the world. The Group is promoting measures such as reducing the amount of travel through more efficient sales and service activities, introducing eco-friendly vehicles with low emissions of CO2, and eco-driving to reduce energy consumption.
Eco-driving Initiatives at a Sales Company in Japan
Konica Minolta Japan, Inc. has installed a vehicle operation management system in company-owned vehicles. This system constantly gathers and stores data about the way company-owned cars are being used, including dangerous driving habits such as sudden acceleration and deceleration, as well as driving time, fuel consumption, and so on. Based on the data, drivers of company vehicles are given safe driving guidance. It is also used in eco-driving initiatives to lower fuel costs and reduce the environmental impact of company vehicle use. In addition, the Company is actively introducing vehicles with start stop systems to promote eco-driving.
Showroom in France Achieves Environmental Label
At a printing center, countless pages must be printed to meet the customers' needs for printed materials. At the same time, the environmental impact of this energy and resource consumption must also be minimized.
Sales company Konica Minolta Business Solutions France S.A.S., has earned the environmental label Imprim'Vert for its showroom, Digital Imaging Square. This certifies that organizations using the showroom for printing will be complying with the major standards for environmental management.
Obtaining Carbon Offsets for Trade Shows in Germany
Konica Minolta Business Solutions Europe GmbH aims to offset all of the CO₂ generated when participating in exhibitions and trade fairs for the purpose of sales promotion, and to achieve carbon neutral sales activities.
Contributing to the Reduction of Environmental Impact through Print on Demand (POD) Service
Contributing to cost reductions and energy savings by undertaking customers' printing work
The POD service offered by Kinko's Japan Co., Ltd. handles printing in a short time according to customers' requests. For example, by using this service during their busy seasons, customers no longer need to always have enough of their own printers ready to handle the print volume of peak times. This allows customers to keep down costs for installing and maintaining equipment, and it also translates into resource and energy savings for society as a whole.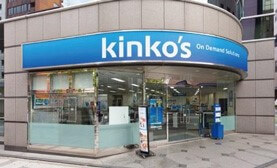 Carbon Offsetting Service
Carbon Offsetting for Office and Production Printing
Enabling carbon neutrality is a carbon-offsetting service that uses emissions credits to offset CO2 emissions at every stage of the product lifecycle, from procurement to use. Konica Minolta Business Solutions Europe introduced the service for office and production printers in July 2015 and offers it across the whole of Europe.
So far it has been introduced in 11 countries, including Germany, France, and the Netherlands, to offset CO2 emissions throughout the product lifecycle. In addition to these activities, the company uses carbon offsetting for CO2 emissions from commuting and business trips as well as events such as international exhibitions. It has offset a total of over 57 thousand tons of CO2 emissions thus far as a result. Konica Minolta will increase the number of countries eligible in order to contribute more to the creation of a sustainable planet and society.