Addressing Climate Change
Promoting Decarbonization with Products and Solutions
Reducing Energy Consumption by Helping Customers Transform Their Processes
Textile Printer Reducing Electricity Usage through On-demand Production
The inkjet textile printer does not require the plate making and colored size mixing that is needed with conventional screen-printing. It also contributes to the reduction of energy usage, resources usage, and waste, since it enables on-demand production that uses only the amount of ink and material needed. It reduces environmental impact significantly, with a 57% reduction in electricity usage compared to conventional screen-printing. In addition, it helps save energy for operations such as air conditioning and lighting by increasing customers' production efficiency.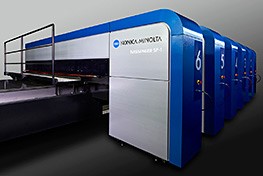 Nassenger SP-1 inkjet textile printer
UV Inkjet Digital Printing Machine That Reduces Power Consumption by Realizing Automatic Duplex Printing without Drying Time
The UV inkjet digital printer, AccurioJet KM-1e, offers high productivity equivalent to that of the previous AccurioJet KM-1. Utilizing the key characteristics of Konica Minolta's unique UV inkjet ink, it can be used for special printing media that were difficult to accommodate with a conventional B2 digital printer and water-based inkjet ink. The AccurioJet KM-1 enables automatic duplex, high-quality printing. Unlike general offset printing, a printing plate is not required. Precise inkjet output control eliminates the need for color matching between devices, which is necessary when using multiple digital printers. This results in a significant reduction in printing preparation time. This was recognized as a three-star environmentally friendly product in the green printing certification system, which objectively screens products based on the standards of the Japan Federation of Printing Industries.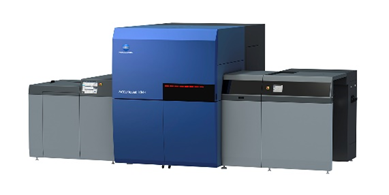 UV inkjet digital printer, AccurioJet KM-1e

Contributing to Energy Conservation in the Label Printing Process
Konica Minolta's label printers offer a printing process that employs electrophotographic technology, providing the same high-definition and stable print quality as offset printing.
In traditional offset printing, each color of UV ink often requires a dedicated plate and a high-power consumption UV lamp to cure the UV ink, which has become standard practice. Konica Minolta employs electrophotographic technology to print color images in a single pass, making it unnecessary to cure and color match each color of UV ink.
At the same time, since no plates are required, it helps reduce the energy used in manufacturing and contributes to effective resource use.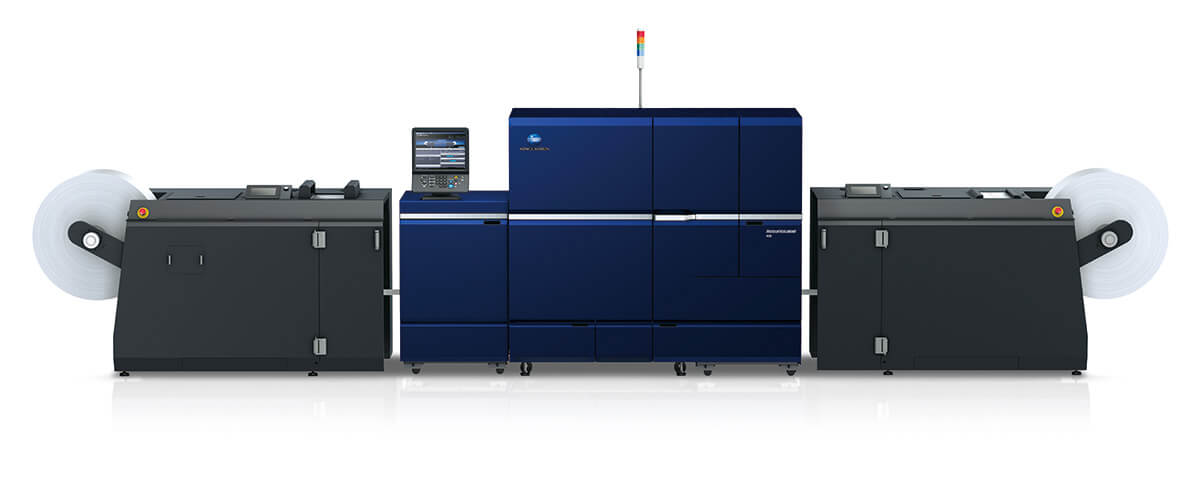 Label Printer
AccurioLabel 400
Using Imaging Technology to Prevent Leaks of GHGs
Gas monitoring solutions apply lens design technology and imaging processing technology, which are Konica Minolta's core technologies, to provide a system that enables anyone to intuitively understand and visualize where and how much hydrocarbon gas, which contributes to global warming, is leaking.
This encourages constant monitoring for unusual events in a way that does not require manual effort. It also allows for rapid, appropriate maintenance that does not depend on the maintenance staff's skill level. Both of these will contribute to the customer's safety and peace of mind. In addition, this solution helps to curb the impact that the leak of gases with a high global warming effect has on climate change.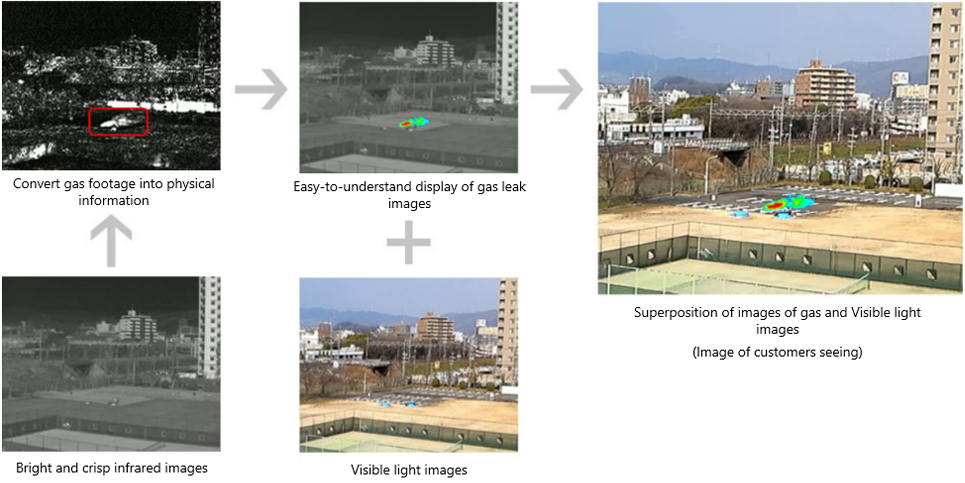 Energy Conservation in MFPs and Digital Printers
Reduction of Power Consumption During Product Use
Konica Minolta is working on the development of low-temperature fixing toner and efficient fixing systems to help save power. The bizhub C360i series released in 2019 offers standard power consumption (TEC value) for one week that is approximately 20% to 26% less than the previous model. By reducing the TEC value, CO2 emissions are also greatly reduced.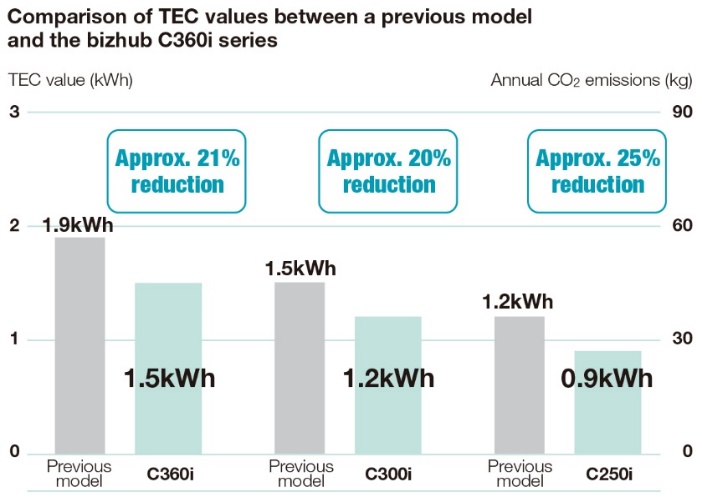 Simitri V Toner Fixable at a Low Temperature
In MFPs, heat is needed to fix toner to paper, and the power used for that purpose accounts for more than 60% of total power consumption. Konica Minolta has been conducting research and development into toners that can be fixed at lower temperatures, and has developed Simitri V Toner, a proprietary polymerized toner. The company successfully reduced the fixing temperature by about 15 degrees Celsius compared to a previous MFP model (C368). This, combined with a new fixing device, is helping to reduce MFP power consumption. Moreover, Simitri V Toner requires approximately 25% less water to manufacture compared to a previous polymerized toner.
Pad Pressure Fixing System Reduces Power Consumption for Printing
In order to start printing from an MFP, the fixing rollers have to be heated to a certain temperature. Konica Minolta has adopted a pad pressure fixing system for its latest i-Series MFPs in order to efficiently utilize Simitri V Toner, the company's new low-temperature fixing toner. With this new fixing system, the belt and rollers have been reduced in diameter and insulated, thereby substantially cutting the power needed for heating the fixing device during MFP operation.
LED Light Source Reduces Power Consumption During Scanning
Konica Minolta uses LED, which has greater power-saving performance than fluorescent lamps, as the light source for scanners in its MFPs. This has also improved scanning speeds, since LED lights increase the brightness of manuscript exposure.
"Power Save" Feature Reduces Power Consumption When Product Not in Use
Konica Minolta equips its MFPs with a "power save" feature that puts the machine into an energy-saving state, such as automatically turning off the control panel display when the machine has not been used for a certain amount of time. This does not hinder everyday work, since the machine automatically returns to normal mode during power save when it receives a fax or a print signal from a PC.

Proximity Sensor That Can Save Electricity Without Lowering Operational Efficiency
Konica Minolta equips its MFPs with a proximity sensor that automatically returns the machine to normal mode from sleep mode just by bringing a finger close to the control panel. This allows energy savings without lowering operational efficiency, as no time needs to be spent pressing buttons to bring the machine out of sleep mode.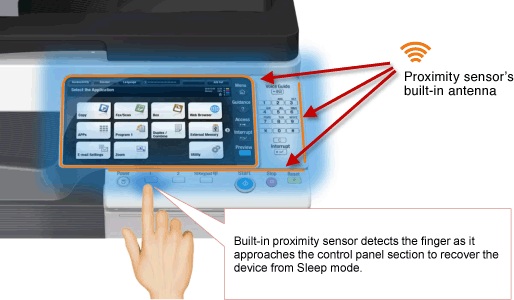 Energy-saving Designs That Power Only the Areas Needed
Konica Minolta minimizes power consumption through energy-saving designs that enable power supply only to areas needed for each function—for example, not starting up the printer control panel when printing from sleep mode or not turning on the toner fixing heater when using the scanner or fax..
"Print Preview" to Reduce Misprints
Misprints can be prevented, as it is possible to preview the finished document on the machine's LCD screen before printing. This saves paper and also reduces wasteful power consumption.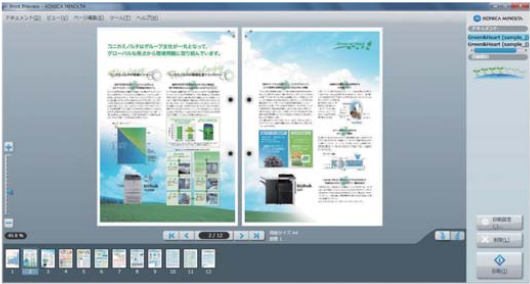 Preview screen
Weekly Timer with a Learning Function
A weekly timer that automatically switches between normal mode and power-saving mode at pre-set times enables efficient electricity savings according to office use, such as at lunchtime, at night, and days off. The machines are also equipped with a learning function that automatically makes corrections when there is a difference between timer settings and actual usage, based on usage data for a four-week period. This enables operational management with greater energy-savings effects.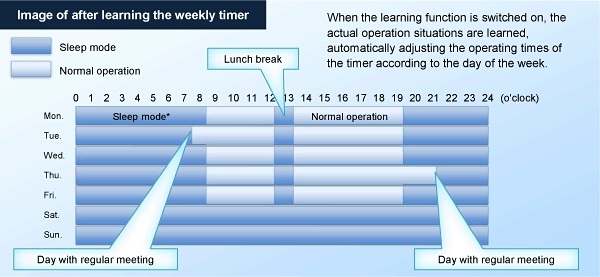 Eco Dashboard Increases Users' Environmental Awareness
Graphs showing environmental contribution are displayed to increase users' environmental awareness. Reductions for different indicators, such as power consumption and use of toner and paper are displayed on the control panel and can be checked by department and user.

* The above feature is not available on all models.
Planetarium Projector Contributes to Energy Conservation
Planetarium Projector Reduces Energy Consumption by Using LED Light Sources
Konica Minolta's Cosmo LeapΣ is an optical planetarium projector for medium-sized domes. The new projector provides bright stars shining with an energy-efficient and compact design almost equivalent to the InfiniumΣ, an optical planetarium developed to showcase the beauty of bright stars shining in the night sky.
By using ultra bright LEDs with optical technology, the stellar images projected on the screen are about 2.5-fold brighter than with the conventional model, but power consumption has been reduced by almost half.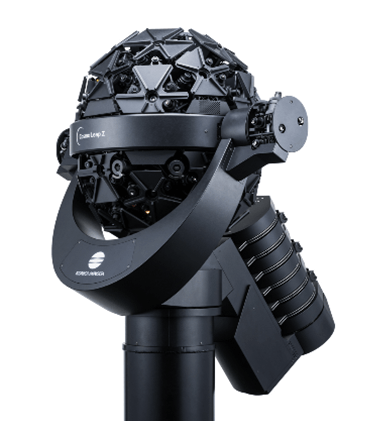 Cosmo Leap Σ