In line with the three basic policies listed below, Konica Minolta is promoting the rapid, timely incubation of new technologies as well as the creation of new business domains that will lead to genre-top positions to complement the Company's existing business domains based in its current core technologies.
Accelerate innovation to drive continued growth
Build in differentiating technology to create customer value
Nurture a distinct Konica Minolta style, aiming for first-class technical personnel and organizational development capabilities
The Group is always on the lookout for new ideas around the world, making use of open innovation and overseas sites, strategically acquiring future-oriented technologies, and perfecting core technologies to continually produce business.
Under the Medium Term Business Plan TRANSFORM 2016 we have laid out the key theme of creating an advanced and efficient incubation process unique to Konica Minolta. From a perspective of providing value to customers, we are working to accelerate the discovery-driven hypothesis/testing cycle, realize concurrent development of technology and business, and strengthen the brand value of our technology by demonstrating our contribution to society, our advanced technology, and the passion of our engineers.

R&D expenses in fiscal 2013 totaled ¥71.1 billion. Despite a slight year-on-year decrease of ¥0.3 billion, or 0.5%, fiscal 2013 marked the fourth consecutive year that the Company invested over ¥70 billion in R&D. The ratio of R&D expenses to net sales came to 7.5%. This investment was centered on our core, the Business Technologies Business, which accounted for over 50% of R&D costs. In other areas, we increased R&D investment in growth areas, such as OLED lighting and functional film in the Industrial Business, as well as the Healthcare Business, including in diagnostic ultrasound systems. Compared to the previous fiscal year, R&D investment in OLED lighting and functional film rose 5%, and that in the Healthcare Business jumped 40%.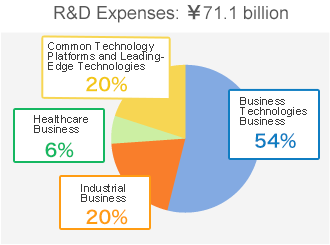 Links to Corporate Website