TRANSFORM 2016 describes where we want to be in 2018, five years from now. The plan lays out initiatives over the next three years and targets for 2016, the final year of the plan, as stepping stones toward achieving our goals for 2018. Specifically, our management targets for fiscal 2016 (on an IFRS basis) are sales of ¥1.1 trillion or more, operating income of ¥90 billion, and an operating income ratio of 8% or more. We are also aiming to increase capital efficiency by slimming down the balance sheet and reinforcing shareholder returns, and we seek to increase ROE to 10% or more.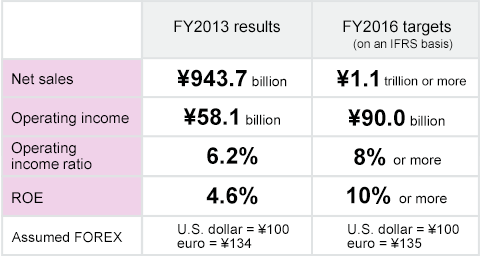 *

Assumed foreign exchange rates for the duration of the plan (fiscal 2014–fiscal 2016) are: U.S. dollar = ¥100, euro = ¥135.

*

The Company will begin applying International Financial Reporting Standards (IFRS) with the Securities Report for fiscal 2014 (the year ending March 31, 2015).

We will evolve the format of each business, shifting our focus from providing products to a service and solution business that helps customers overcome challenges. We will establish new genre-top growth fields to expand the scale of our businesses as we shift focus in order to grow profit.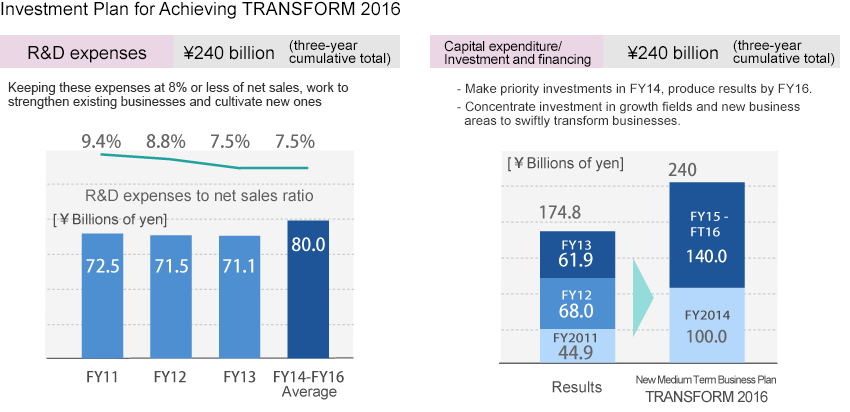 To reinforce and enhance shareholder returns, Konica Minolta aims to steadily increase dividends and works to actively repurchase treasury stock.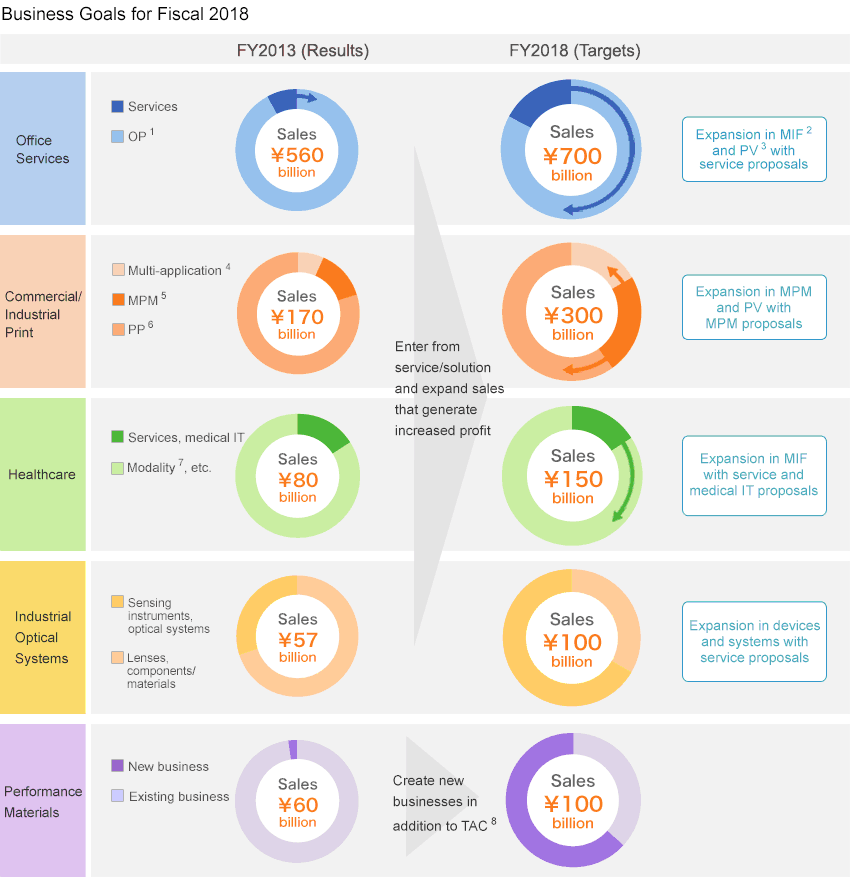 1.

OP: Office product

2.

MIF (Machines In the Field): The total number of working units installed in the MFP and production print machine markets

3.

PV (Print Volume): The number of sheets output by printers

4.

Multi-application: Applications of print technology to media other than paper, such as textiles and labels

5.

MPM (Marketing Print Management): Service that offers print solutions optimized for customers'marketing divisions

6.

PP: Production print

7.

Modality: The various diagnostic equipment used in the practice of medicine. At Konica Minolta, this refers to CR/DR and diagnostic ultrasound systems

8.

TAC Film: General term for protective film for polarizers, composed primarily of cellulose acetate