Business Technologies Business (Office Field)

Net sales to external customers in the Business Technologies Business climbed 26% year on year to ¥729.8 billion and operating income reached ¥63.8 billion, double that of the previous fiscal year. The increase in net sales was attributable to the effect of the steadily weak yen on foreign exchange rates, sales growth of mainstay color units, improved product mix and acquisitions. The considerable jump in segment profit was due to an increase in gross profit resulting from sales expansion, the effect of foreign exchange rates, and the full year impact of measures to reduce production costs. These cost reductions included decreasing fixed costs by promoting production reform and unit procurement in the production division, conducting centralized purchasing of raw materials and digital components, and implementing value engineering.1

Sales volume of A3 multi-functional peripherals (MFPs) grew 4% year on year, within which color MFPs grew 10%. Strong sales of color MFPs continued, with significantly increased sales volumes compared with the previous fiscal year in all regions, including Japan, the United States and Europe. At the same time, the increasing share of high-end models, such as 40 ppm3 and faster medium- and high-speed devices, which grew 15%, contributed to profit growth. Monochrome equipment was buoyed by new products, and, despite the shrinking market, secured sales for the year on par with those of the previous year.
In OPS, we strengthened our global business structure, further expanded the service menu, and reinforced business-generating and proposal-making capabilities. As a result, the number of OPS customers grew steadily, sales jumped 55% year on year to ¥45.4 billion, and we successfully expanded the operating base of this business.
In global major accounts (GMA4), we strengthened our abilities to win accounts in the Asia-Pacific region, adding to our strength in Europe, resulting in a 41% year-on-year increase in sales.
Furthermore, we established a hybrid-type sales model for small- and medium-sized companies in Europe and the United States that combines IT business solution services with MFPs and reinforced our proposal capabilities for improving customers' work processes. By doing so, we cultivated new customers, expanded the scale of projects with individual customers and realized higher added value.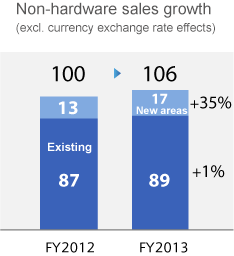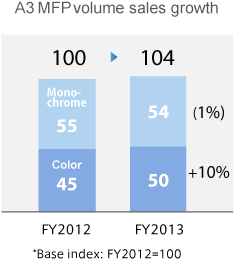 1.

VE (Value Engineering) : A systematic approach to increasing value by understanding the relationship between value, the functions that provide it, and the cost of those functions

2.

OPS (Optimized Print Services) : Services that optimize customers'print environment (output and document management environment) to reduce costs and increase efficiency

3.

ppm (Pages Per Minute) : The number of pages a device can output in one minute

4.

GMA (Global Major Account) : Large, global-scale corporate customers (and our businesses targeting them)