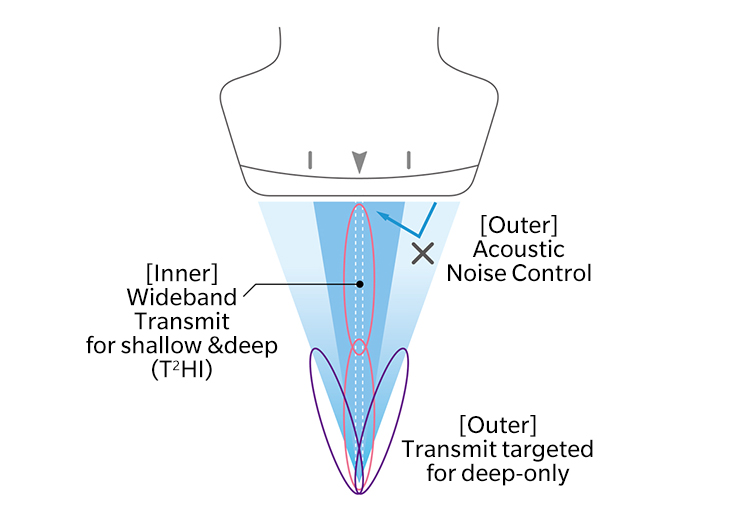 Dual Sonic
Dual Sonic is a new transmission technology that divides the transmission aperture into inner and outer sections, and performs simultaneous separate waveform transmissions
High contrast resolution is achieved by suppressing contamination of acoustic noise
Improves S/N (signal-to-noise) ratio and expands penetration by efficient use of transmission power
Dual Sonic, new technology for high image quality
The basic concept of Dual Sonic is to create a functional separation of the transmission aperture. Using conventional methods, the same waveform would be transmitted over the entire aperture but using Dual Sonic, the transmission aperture is divided into inner and outer sections, and it performs simultaneous separate waveform transmissions.
In the inner part of aperture, where harmonic generation is required in both shallow and deep areas, wideband transmissions, such as T2HI transmission, are performed. On the other hand, as the main purpose in the outer aperture is to generate harmonics in the depth, a low frequency transmission is performed with small sound wave amplitude.
Konica Minolta has achieved harmonic generation control in the range direction by broadband transmission and also realized harmonic generation control in the azimuth direction using Dual Sonic. As a result, acoustic noise contamination is suppressed, contrast resolution is improved, S/N (signal-to-noise) ratio and penetration are improved by efficient harmonic generation without transmission power waste. The fusion of Konica Minolta's unique wideband transmission and Dual Sonic enables high resolution, high contrast, and high image quality to reach in deeper areas.
High contrast resolution is achieved by suppressing contamination of acoustic noise
Achieves high contrast resolution by solving the problem that the image of low-echo areas degradation due to contamination of acoustic noise reflected and scattered by the tissue outside of the reception focal area and realizes harmonic generation control in the azimuth direction by Dual Sonic.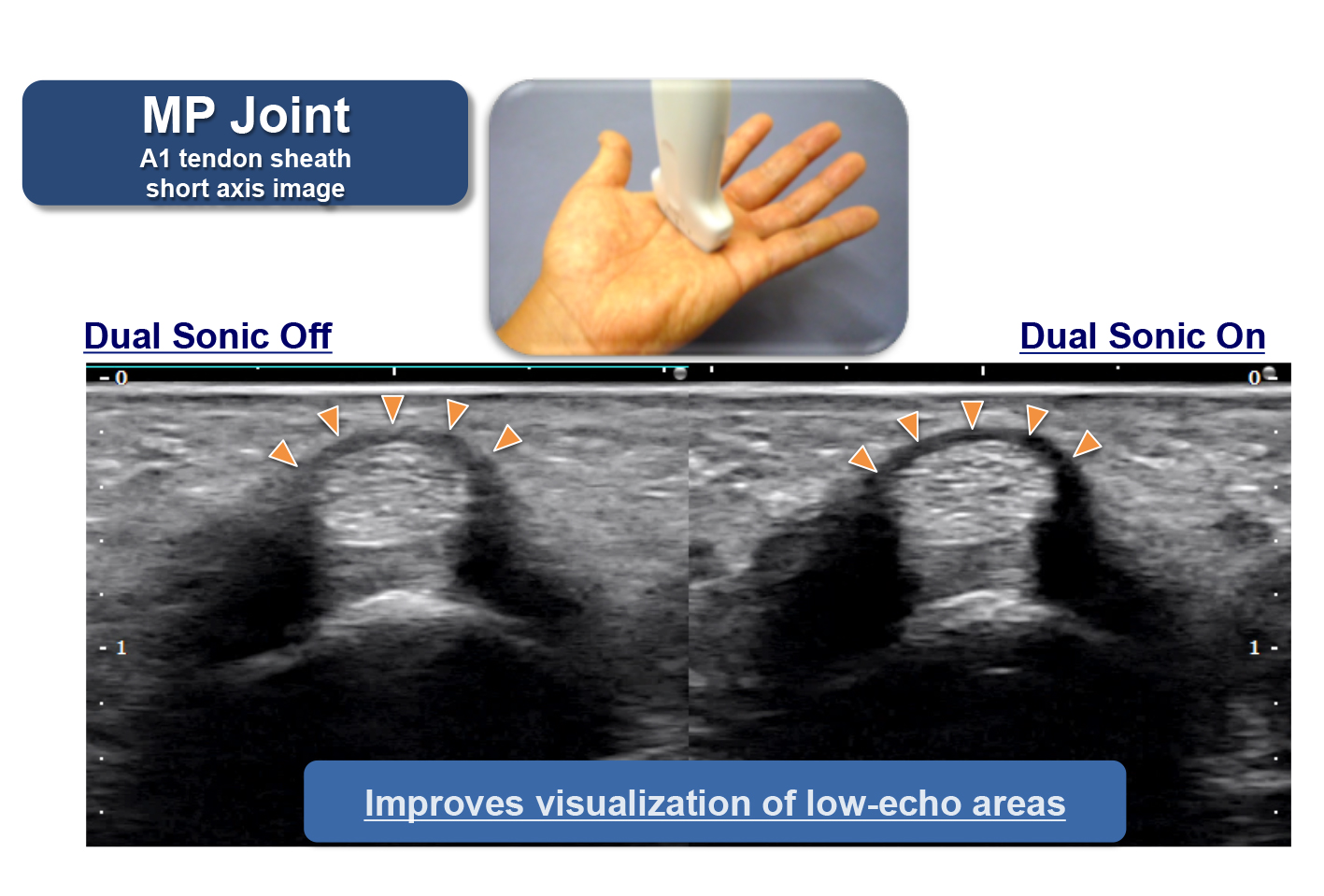 Improves S/N (signal-to-noise) ratio and penetration through efficient harmonic generation
By concentrating transmission energy of the outer aperture on lower frequencies, it is possible to increase the efficiency of generating harmonics at depths. With improved S/N (signal-to-noise) ratio and penetration, clear and superior image quality has been realized in deeper areas.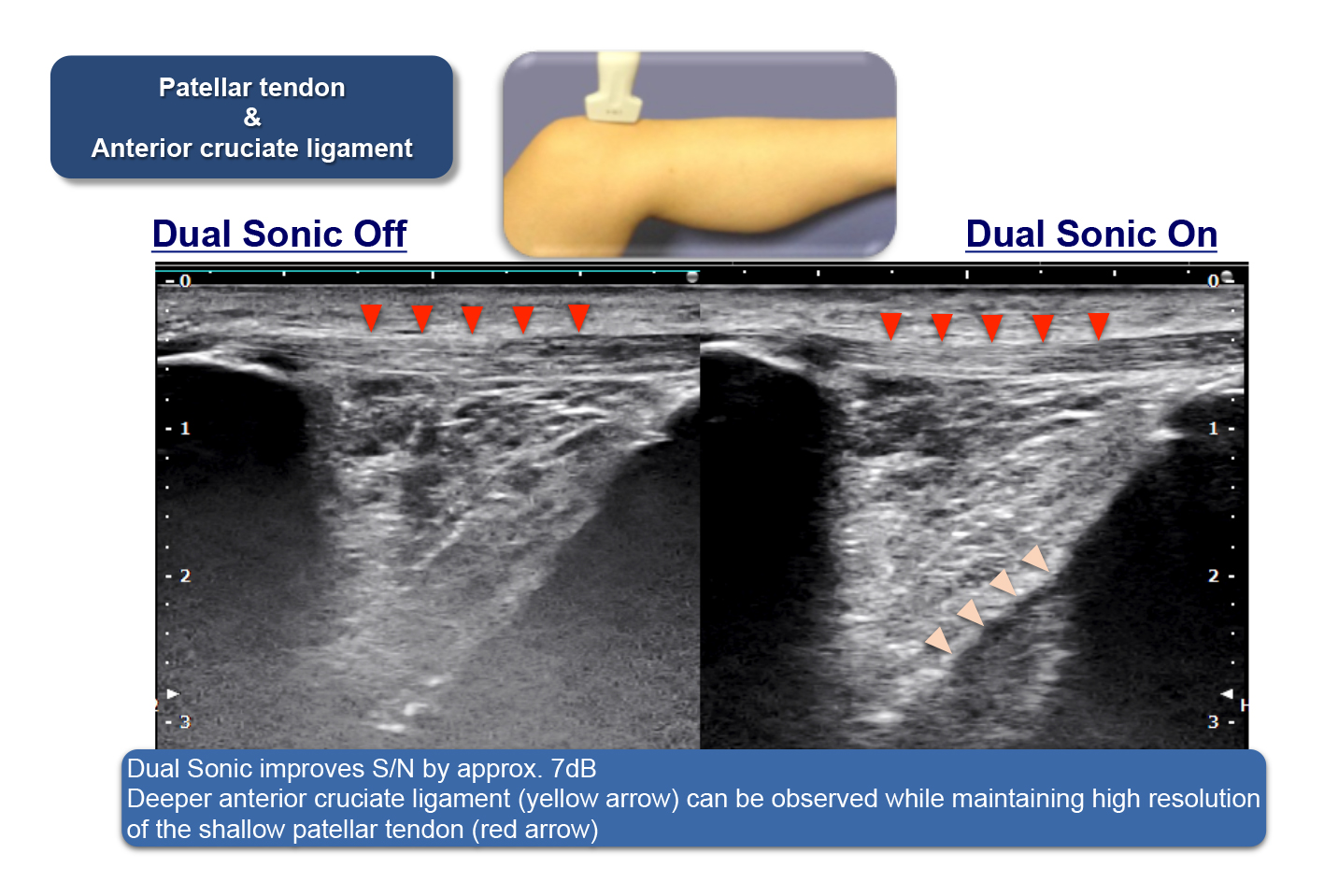 Ultrasound technology
Digital Radiography technology
*This site is intended for healthcare workers.