Industrial Business


Growth is expected in the industrial domain. We will expand our business in this area by evolving our proposal-making capabilities nurtured in the sensing business to provide new value that encompasses instruments, solutions and services.
In the sensing field, we will reinforce initiatives related to smartphones, tablets and automobiles, making use of synergies with Instrument Systems GmbH (acquired in fiscal 2012), while establishing a business structure that is highly responsive to the needs of major customers. In the optical products field, we will position interchangeable lenses for digital single-lens reflex cameras and projector lenses for digital cinemas as the core of our business. At the same time, we will use our strong optics, sensing1 and information processing technologies to cultivate new domains in the optics system business.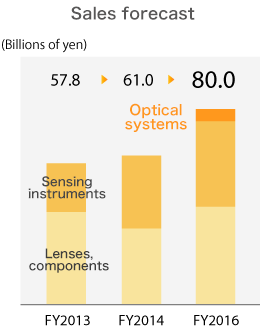 We aim to establish a foundation for growth by anticipating customer needs in growth fields and creating new businesses based on our unique technologies accumulated in photo film, TAC films for LCD polarizers and OLED lighting.
In TAC films, our goal is to use our strength in new thin film products to increase sales volume.
We are working to establish mass-production technology for environmentally friendly, highly convenient OLED lighting panels and new functional films, such as window films. We aim to utilize new value that only Konica Minolta can provide to cultivate markets and gain genre-top positions in these future growth markets.
*

Field name has been changed as of the year ending March 31, 2015.

1.

sensing: The use of sensors to gather data about physical quantities, sound, light, pressure, temperature, etc.

2.

OLED (Organic Light Emitting Diode): Devices, such as displays and lighting, incorporating light emitting diodes (LEDs) in which organic compounds emit light in response to electric current