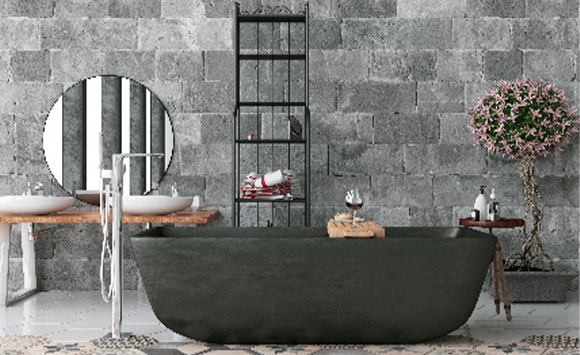 Trends in this Field
As architectural designs become more diverse, ceramic tiles are increasingly being used for architectural interiors, exteriors, and interiors.
The ceramic tile industry is focused on digital printing processes with less wasted materials and water-based inks with less environmental impact due to growing awareness of SDGs and circular economy.
Benefits of Inkjet Printing
Non-contact inkjet printing is widely used for brittle and fragile ceramic tiles before firing, and a wide range of ceramic tile sizes can be supported by changing the number of installed inkjet heads.
In addition to color printing, it is possible to express a variety of reliefs by converting the decoration printing process to an inkjet.
Advantages of Konica Minolta's Inkjet Printheads
A design with a thin head is adopted to enable the device to be designed compactly.
Konica Minolta's unique built-in circulation function near the nozzle enables stable operation even with ink containing particles.
Control waveform that matches the characteristics of the ink can be supported.
High ink durability corresponding to water-based ink.
High scratch resistance with SUS(Stainless Used Steel) nozzle plate technology.