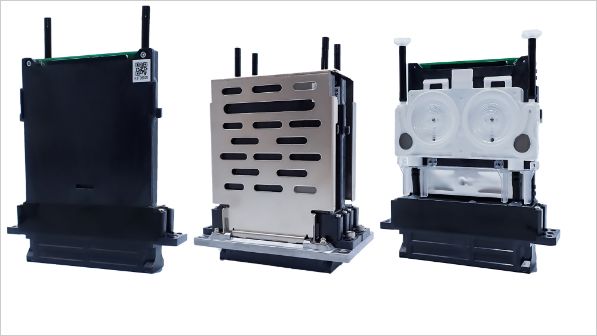 Thin film piezo drive technology enables high productivity, high resolution, and high-speed. Compatible with a wide range of inks from water-based to eco-solvent.
- High Quality Image with Wide Media Gap
Thin film piezo and unique nozzle processing technology enables satellite-less, high-quality printing even with wide media gaps.Prints on uneven substrates and 3-dimensional objects, as well as jetting horizontally.
- New Drive Waveform Supports Wide Range of Inks
Konica Minolta have developed a new drive waveform. By improving robustness, it supports a wide range of inks and improves usability.
- High Jetting Stability and Durability
The stainless steel ink flow path and nozzle plate, together with high jetting stability and nozzle durability ensures the print head meets the high reliability requirement for most industrial applications.
- Multicolor Printing with Single Print head
One print head supports printing up to 4 colors*, enabling full color printing (Cyan, Magenta, Yellow, Black)
*For KM1600 (180 dpi per color)
- Up to 1600 nozzles/720npi
KM1600 module (a combination of two KM800 Print heads), supports everything from graphic to commercial printing with the high resolution of 720npi. The small body enables compact printer design.