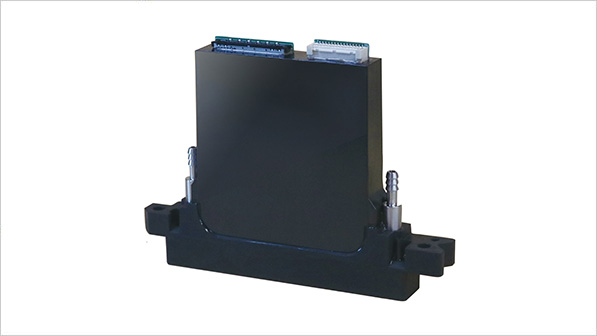 Delivering High Productivity, Reliability and Quality for Industrial Applications.
- High Productivity Analogue Waveform
Adopting analogue waveform that can achieve high productivity and print accuracy in multiple drops. High flexibility to optimize the waveform for individual inks. 6pl /40kHz, 20pl/ 22kHz is achievable.
- Compact Print Head
Light weight (150g) and compact (17.6mm wide) print head enables compact printer design. Mechanical compatibility with KM1024i series print heads.
- Water Based Ink Support ※1024aSAE-Q only
Chemical compatibility with water based ink in KM1024aSAE-Q.
- Robust Nozzle Plate
New nozzle plate material with even higher scratch resistance around 100 times* better than the previous version. *Based on internal measurement
- High Drop Accuracy
Introduced a new production method to optimize the drop velocity for individual nozzles. Analogue waveform also enables improved drop accuracy.