Environmental Communication
Communication with Society
A Global Message from Konica Minolta's President
The 22nd Conference of the Parties to the United Nations Framework Convention on Climate Change (COP22) was held in Marrakech, Morocco, from November 7 to 18, 2016. At the conference, a booklet entitled, "Climate Change—The New Economy" was distributed to stakeholders, featuring an article on Konica Minolta's global environmental management. In the article, Shoei Yamana, President and CEO of Konica Minolta, discussed the importance of providing the company's environmental expertise to stakeholders and expanding the practice of environmental management through co-creating value.
Participating in Shows and Exhibits
Presentation of environmental technologies and products at exhibitions and facilities
Eco-Products Environmental Exhibition
Konica Minolta has participated in Eco-Products, Japan's largest environmental exhibition, held every December since 1999 at Tokyo Big Sight (Tokyo International Exhibition Center).
At the exhibition, the company introduces various Group-wide initiatives to reduce environmental impact, including presentations of the Konica Minolta Environmental Policy, environmental initiatives, and environmentally friendly products.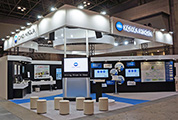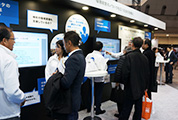 The Konica Minolta booth at Eco-Products
Osaka ATC Green Eco Plaza
Konica Minolta has established a permanent booth at Osaka ATC Green Eco-Plaza, which is the Kansai region's base for disseminating environmental information and a facility where visitors have fun learning about the environment. The booth presents initiatives for addressing global environmental problems, focusing on future developments.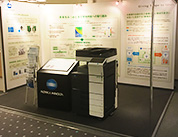 A permanent booth at Osaka ATC Green Eco Plaza
Dialogue with Customers
Konica Minolta aims to increase its contribution to the global environment throughout the value chain. To do so, it is offering its own environmental technologies and expertise to support the environmental management activities of customers.
In Japan, the company holds environmental seminars, lectures and factory tours, and in fiscal 2016, a total of 446 customers from 328 companies participated. Konica Minolta exhibited at EcoPro 2016 in December, and provided environmental consultations to 121 customers. In China, a total of ten environmental management exchanges and factory tours were held at five Konica Minolta sites in fiscal 2016, and a total of 277 customers from 173 companies and 11 local government officials participated. Many customers were impressed by Konica Minolta's environmental management and requested environmental support.
Dialogue with Local Communities
Community Communication on Plan to Set up a Co-generation System at the Kobe Site
In November 2015, Konica Minolta submitted the report on its prior an impact statement of advance assessment of environmental impact to the local government regarding its plans to install a co-generation system at the Kobe site in Hyogo prefecture, Japan, and also held briefings for all concerned stakeholders to hear their views.
Dialogue with Shareholders
In recent years, "ESG investment," which takes into account not only financial information, but also corporate approaches to the environment, society, and governance, has been rapidly growing. Konica Minolta proactively disseminates information in response to the interests of such investors.
In December 2016, the company held an investor briefing regarding ESG, which was attended by 16 securities analysts and 25 institutional investors, including overseas institutional investors. Additionally, the company constantly disseminates information via various channels, including by participating in ESG briefings held by Daiwa Securities and holding environmental exhibitions at the General Meeting of Shareholders.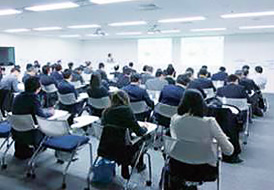 ESG briefing held in December 2016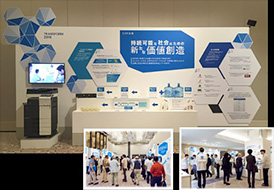 Environmental exhibitions at the General Meeting of Shareholders
Environmental and Social Contribution Activities
To earn the loyalty and trust of the local communities in which it operates, Konica Minolta is striving to fulfill its responsibility as a corporate citizen by engaging in a variety of activities that contribute to the creation of a better society.